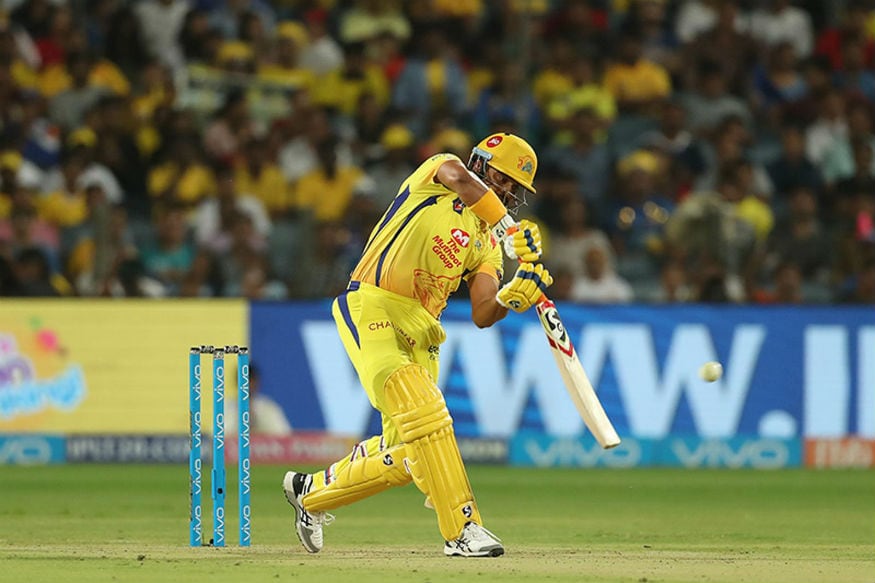 In the Chennai Super Kings squad, one of the mainstays has always been the Indian left handed batsman Suresh Raina as he has consistently performed well for the men in yellow. The southpaw may not be central to the Indian team's plans anymore but time and again he has made it clear that the CSK team is better off with him in the line-up.
As the Chennai Super Kings side look to nail a spot in the play-off stages of the on-going season of the IPL, on their return from a two year suspension, Raina has been instrumental in ensuring the performances are right up there. CSK, who were playing the Rajasthan Royals in Jaipur on Friday evening were once again grateful that Raina was in good nick, as he and Shane Watson steadied the ship with an 86 run partnership for the second wicket. CSK used that partnership as a platform to get a score of 176/4 in their 20 overs.
Raina who scored his 34th IPL half century, was dismissed for 52 of 35 balls. This half-century means Raina is just three fifties away from becoming the batsman with highest number of half-centuries in the IPL.

That apart, Suresh Raina's innings against the Royals in Jaipur has taken him once again to the top of the overall run-scorers list where he has overtaken the Indian captain Virat Kohli. The RCB captain though will look to put the record straight on Saturday when he takes on the Delhi Daredevils.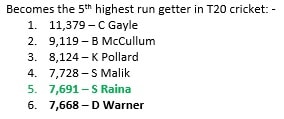 If that was not enough for the CSK batsman who has scored more than 300 runs for 11 successive seasons, he is also now the fifth highest run-getter in the history of T20 cricket after he overtook Australia's David Warner. Ahead of Raina are Shoaib Malik, Kieron Pollard, Brendon McCullum and Chris Gayle. Raina has also become the first CSK player to score more than 4000 runs in the IPL.