Report card: Mohit, Unadkat the pick of India's rookies in Zimbabwe
Cricketnext rates the performances of the four players who earned ODI caps during India's 5-0 sweep of Zimbabwe.
Updated: August 4, 2013, 10:35 AM IST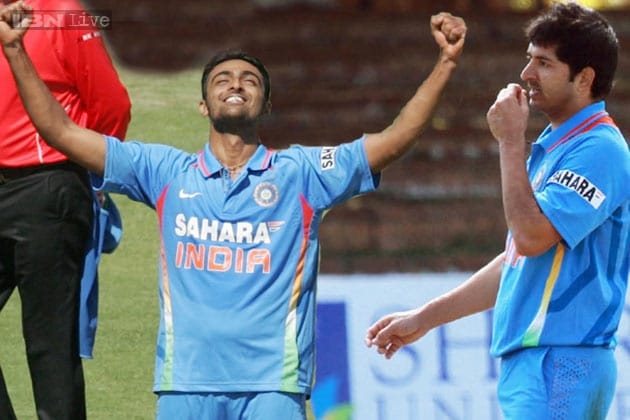 Following the 5-0 sweep, Cricketnext rates the performances of the four players who earned ODI caps in Zimbabwe.
Mohit Sharma Mohit, who made his Ranji Trophy debut for Haryana in the 2011-12 season, was called up into India's ODI squad with key pacers Ishant Sharma, Umesh Yadav and Bhuvneshwar Kumar rested for this tour. On debut in the fourth ODI, he was named Man of the Match for figures of 2 for 26 which helped set up India's nine-wicket win. It marked only the second instance that an Indian cricketer had won the match award on ODI debut.
Across three spells, Mohit did not give the Zimbabwe batsman room to work with and repeatedly worked them over with sharp lateral movement. Most striking was his discipline, an extension of the good work he put in for Chennai Super Kings in IPL 6. Given the new ball, the 24-year-old began with a peach of a delivery that pitched on a good length around off stump and jagged back into Vusi Sibanda, narrowly missing the top of the stumps. That set in motion a miserly first spell (6-2-13-1) in which Mohit removed Sikandar Raza for his first wicket. It was a fine delivery too, moving away and luring the batsman forward before taking the edge with sharp seam movement. Zimbabwe were stifled and struggled to recover. Mohit's next spell was of two overs, in which he conceded eight run. Called back for another burst in the 37th over, Mohit snapped an obdurate half-century stand by removing Malcolm Waller for 35, caught behind the wicket. His last over was a maiden, capping a very good start to his career.
In the last match, Mohit took 1 for 25 from six overs. It was not as fluent a performance as in the fourth ODI, but Mohit did dismiss Zimbabwe captain Brendan Taylor while producing a couple deliveries that zipped past the bat. His performance in Zimbabwe may open more doors for him as India's selectors search for a pace bowler beyond the main three who have done the job in recent times. What he lacks in raw pace can be made up for with accuracy and movement, much like Uttar Pradesh's Bhuvneshwar has achieved in a short international career.
Ambati Rayudu Rayudu, who was touted as India material early in his career, earned his first international cap in the series opener and made an immediate impact. On debut, the 27-year-old scored a promising 63* as India completed a one-sided victory in Harare. Chasing 229 on a decent batting pitch, India lost both openers inside 13 overs but Rayudu and Virat Kohli combined for a 159-run partnership that helped take the tourists home.
Rayudu was solid in technique and reciprocated his captain's keenness between the wickets. He was watchful initially and appeared intent on making his first innings count; spin was played with dabs and steers and the fast men worked into the gaps with little fuss. Forty-eight deliveries separated his first and second boundaries as Rayudu chose to shun his attacking ways. He reached his half-century in 74 balls, thus becoming the 11th Indian to do so, and stayed on to hit the winning runs.
But Rayudu found life tougher in his next two games. In the second ODI he made just 5, spanning a laborious 25 balls, before he slashed outside off stump and popped a simple catch to cover. Where he was fluent on debut, here Rayudu looked stiff and uncertain.
In the third game, Rayudu again struggled to force the pace initially. Once he got past his struggles he played a couple pleasings shot before, on 33, he chipped a return catch to Brian Vitori. Rayudu did not bat in the fourth ODI and was dropped for the fifth. In all, middling first foray into ODI cricket. It is tough to see him get much playing time in the middle order once MS Dhoni returns.
Jaydev Unadkat The 21-year-old used his opportunity in Zimbabwe well, taking eight wickets in five matches to finish second in the tally behind Amit Mishra. On debut, he took 1 for 39 from ten overs, his maiden wicket coming from an ordinary delivery. But the discipline shown in that first outing was maintained all series. In the second ODI, the left-arm quick took 4 for 41, claiming the first two and last two wickets of the innings. Unadkat provided the breakthrough by getting rid of Raza and ten overs later snapped a threatening stand with a good delivery. He finished the match with two full deliveries to the tail.
Unadkat, who played a Test in 2010, does not have much pace but the control shown against Zimbabwe could augur well for the future. In the third ODI he took 1 for 24 from seven overs; in the fourth he had 1 for 27 from seven; in the last match he finished with 6-1-8-1. The best fast bowler on tour, Unadkat may have to wait a while before he gets another call-up. Bhuvneshwar, Ishant and Yadav remain India's preferred trio and despite being a left-armer Unadkat could find himself leapfrogged by Mohit in the future.
Cheteshwar Pujara Clearly Pujara is obviously better than his return in two matches show. This is, after all, a man who has two double-centuries in 13 Tests. But it won't be soon that the 25-year-old gets another ODI. On debut, Pujara made 13 off 24 balls opening the innings, driving loosely at a full delivery and having his leg stump pegged back. In the final match he was bowled for 0, pushing at a good-length delivery from Kyle Jarvis that cut back and sneaked through the gap.
With Shikhar Dhawan and Rohit Sharma enjoying their time as India's new opening pair, and Ajinkya Rahane scoring 50 in his only opportunity in Zimbabwe, Pujara is unlikely to find playing time in ODIs when Australia tour in October.
---
---
Team Rankings
Rank
Team
Points
Rating
1
Australia
3028
116
2
New Zealand
2406
115
3
India
3085
114
4
England
4326
106
5
Sri Lanka
2454
91
FULL Ranking
Rank
Team
Points
Rating
1
England
5405
123
2
India
5819
119
3
New Zealand
3716
116
4
Australia
3941
109
5
South Africa
3345
108
FULL Ranking
Rank
Team
Points
Rating
1
Australia
6047
275
2
England
5959
271
3
India
9319
266
4
Pakistan
6009
261
5
South Africa
4380
258
FULL Ranking
Upcoming Matches