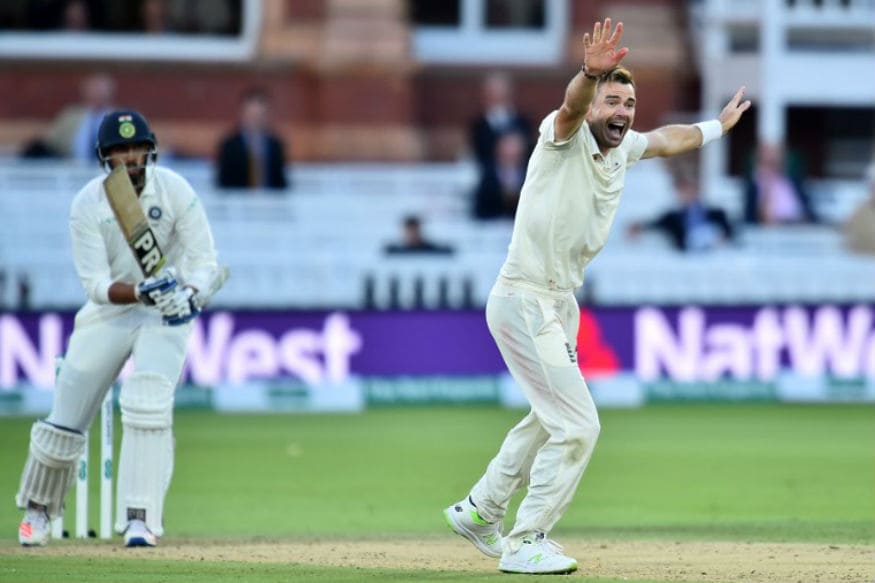 Lord's: As they sat in their dressing room, watching day one slowly and torturously washed out, India must have been willing the English rain to go away. By the end of day two they would have found themselves praying it would come back.
From the moment that Joe Root won the toss, this was England's day – India's most valuable player ultimately the regular downpours, allowed only 35.2 overs of play.
India's innings lasted just 212 balls, after only five they had already lost their first wicket, James Anderson showing a mastery of the swinging ball that would both define the day and ruin it for the tourists.
Murali Vijay was the first victim, his magnificent mullet no match for a full Anderson outswinger that he tried to work through midwicket while it was busy rearranging his stumps.
While other bowlers took most of the headlines, Anderson bowled beautifully last week at Edgbaston for comparatively little return – here at Lord's a Test later he fully reaped the rewards.
Under leaden skies it was a good toss to win, but England exploited the conditions to the full – CricViz calculated that they found 1.2º of swing, the most they've found in any Test since Australia were decimated at Trent Bridge in 2015 – India simply had no answer.
After a brittle performance last week, India had hoped they had shored up their batting card –Cheteshwar Pujara brought in, KL Rahul's promoted up the order – as it was the pair managed less than 40 minutes at the crease between the two of them.
Edging through to Jonny Bairstow, Rahul became yet another victim of Anderson's relentless length. Less than seven overs in and India were already two down.
A comic run out and nearly three and a half hours of rain delay later, once again it fell to Virat Kohli to man the trenches against England's all out swing assault – once again his duel with Anderson demanded your attention.
Just as at Edgbaston, fortune it seemed was on the side of the Indian captain, CricViz calculated that Anderson has induced 33 false shots from Kohli in this series without dismissing him – a number that would typically produce 2.75 wickets.
This though was not mere riding of luck from Kohli, who, doing his best not to prod at the ball and playing with soft hands, maximised his chances of any edges dropping short of the slips.
Even with a slightly under-par Stuart Broad, England though were much more than just Anderson, and where he left off Chris Woakes soon picked up – India afforded no respite from their trial by swing.
Not even their woeful slip catching could hold England back, twice Jos Buttler dropped chances, twice he caught the same batsman the very next ball. Kohli might have survived going mano-a-mano with Anderson, but in these conditions Woakes proved no less worthy an adversary.
With Sam Curran chipping in as well, England's swinging assault was relentless – 44% of Woakes' deliveries drew false shots from Indian batsmen, a fearsome prospect considering the average in Tests is 14%.
While Lord's has proved a happy hunting ground for Woakes – his 16 Test wickets in two and a half Tests coming at an average of just 9.93 – no bowler has had as much success here as Anderson.
By the close he had taken his 99th Test wicket at the ground, the wicket of Ishant Sharma sealing a sixth Test five-for here, and a 26th overall – just one short of Ian Botham's England record of 27.
That wicket too made him the most successful fast bowler against India in history, his 95 wickets one more than Pakistan's new prime minister Imran Khan – and in form and conditions such as this that total certainly looks set to go up.
Ultimately little highlighted India's troubles against the moving ball more than the scoreboard at the end of the day – 107 all out – their hopes in this Test disappearing down the drain as fast as the puddles in the outfield had earlier in the afternoon.