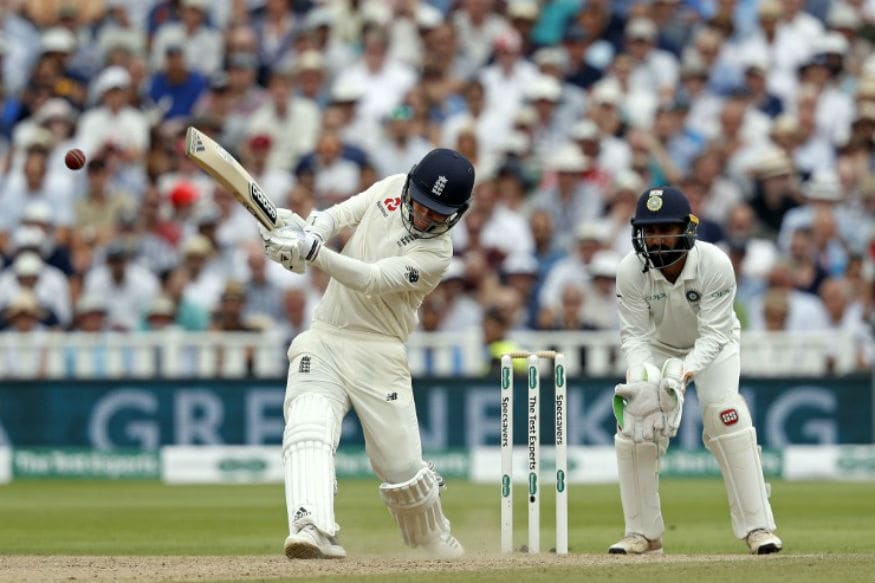 This is England's 1000th Test match – in the morning session here they had what felt like their 1000th batting collapse.
At lunch they were 86/6, having spent most of the morning scrambling to unconvincingly man the defences against an endless barrage from Ravichandran Ashwin, they never saw Ishant Sharma's cavalry charge coming.
Less than 100 runs ahead, the writing could only have been more on the wall if it was spray painted in huge letters across the giant glass upper deck of the Edgbaston pavilion.
Two balls after the break, Sharma removed Jos Buttler – in the space of one over he'd removed Jonny Bairstow and Ben Stokes, stopped for a bite to eat, and then come back and added England's vice-captain too. CricViz rated India's chances of victory at 97% – that writing was now positively fluorescent.
Nobody however appeared to have told Sam Curran.
"The bigger the stage, the better he performs," his county director of cricket Alec Stewart once told Cricinfo.
And on the biggest stage of his career so far, he certainly set about proving that right.
Curran has from an early age been marked out for greatness, at 17 years and 40 days he became the second youngest man to play for Surrey – his 5/101 in that game making him the youngest man to pick up a five-wicket haul in County Championship history.
And yet when he was named in England's side on Tuesday, even among those who have seen the most of him, there was still the sense that this all might be coming a bit too soon.
How wrong that proved to be.
Ashwin had been torturing England's bevy of left-handers all day, Curran had a look at him for two balls and then beautifully on-drove him wide of mid-on for four, it was so strong an opening statement that Ben Stokes' barrister might be asking to borrow it in court next week.
Three overs later England's destroyer-in-chief Sharma was similarly scolded, a four handsomely driven through the covers by the 20-year-old.
What were you doing when you were 20 years old? Probably if you're honest not even having dreams of playing cricket this well.
There was a slice of luck early on, Shikhar Dhawan putting down a chance in the slips with Curran on 13, but then this wasn't the first great innings of the match to benefit from a drop or two.
With a calmness sorely missing from any of his colleagues higher up the order, Curran picked off everything India threw at him, accumulating runs as he went. A few off the edge but the majority from the middle.
Adil Rashid stuck with him for a while as a willing junior partner, the pair taking England to 135, before the leg spinner saw his stumps rearranged by Umesh Yadav – their partnership had at least saved some face but England were still heading for defeat.
Curran though was just getting started, and showing the lack of faith in Stuart Broad's batting that it has earned as his career has worn on, he went on the attack.
Booze-soaked and starved of much England success, Curran had the Eric Hollies Stand roaring in the 48th over, nonchalantly dispatching Ashwin straight down the ground for an enormous six and then repeating the shot for four the very next ball.
Two short of a maiden fifty there were the first sign of nerves, an entire Yadav over swished at and missed outside his off stump.
By the next one they were clearly gone, Curran stepping to leg stump, advancing down the track and slapping Sharma over extra cover for six – he had 54 from 54 balls and suddenly England found themselves 179 ahead.
Eventually he fell for 63, but by then England had managed to set India 194 to win – just when everyone thought they were out, Curran had pulled them back in.
His day though wasn't quite done, he popped up to whittle out Ajinkya Rahane and reduce India to 63/4 – suddenly CricViz had England at 53% likely to win the match – their algorithms forced to adjust to the new reality Curran was creating.
Inevitably though there remains one man standing in England's way, but it is testament to Curran's afternoon that only Virat Kohli at the peak of his powers has stopped the hosts from springing the most unlikely of comebacks.
We return on Saturday – India need 84, England five wickets – as Test matches go this one has been pretty special.