England, it appears, may just about remember how to play Test cricket after all.
On an absorbing third day at the Ageas Bowl, they negotiated not only some determined Indian bowling but also their greatest recent foe, the batting collapse, to leave them ahead in this Test at the close of play.
White ball cricket has been decried by some as the scourge of England's Test side, they would have you believe that as the ODI and T20 teams have gone from strength to strength, so the Test side has deteriorated – a cricketing reimagining of the Picture of Dorian Grey.
Ben Stokes is the most expensive foreign player in IPL history, Jos Buttler has three of England's five fastest ODI hundreds – and yet in the Southampton sunshine, it was their graft and application which has slowly ground their side back from the brink once again and into a position of strength.
When the pair came together, England were five wickets down, their captain sloppily run out, the lead less than 100 – with the side's current penchant for recklessness and dramatic collapse, the game was in danger of ending inside three days.
For more than 22 overs the pair toiled away, their reward on the scoreboard may have only been 56 runs but in reality, it was far greater. The collapse was averted, defeat slowly blocked, then nudged and nurdled away until it eventually started to move further and further away in the rear view mirror.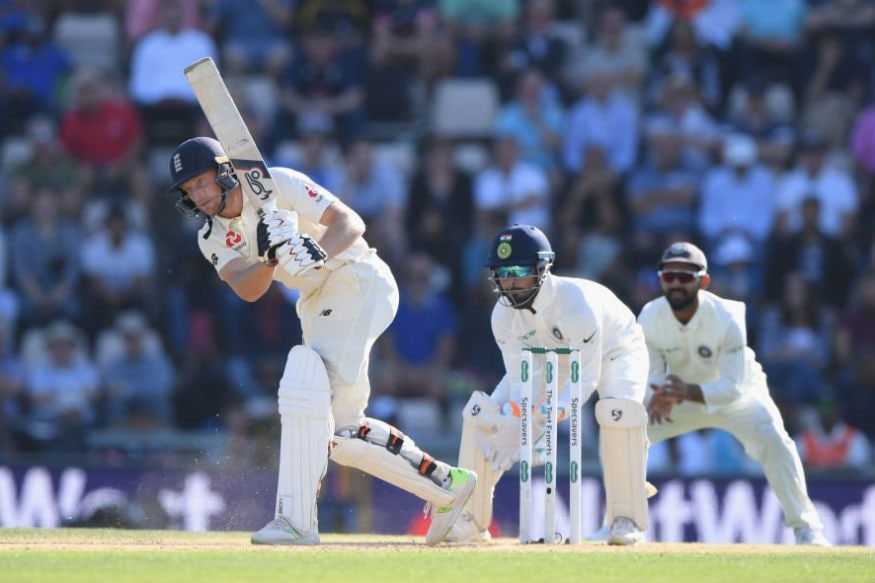 IMAGE: Twitter/ICC
Stokes was in a particularly watchful mood – the last time he successfully avoided a cross-examination this stern was in a Bristol courthouse – as he has been for much of a series that has seen him defend or leave more than 60% of the deliveries he's faced.
Only Ajinkya Rahane and Virat Kohli have faced more deliveries batting together in this series than Stokes and Buttler, and hereafter their effort in vain in Nottingham, they produced a partnership to slowly turn the tide in this tussle of a Test.
If Stokes has shown the application and patience needed with the bat, he has never faced more balls per dismissal in a series in his career, then Buttler has also had the success to go with it – no man has scored more Test runs for England since his recall.
Here, just as at Trent Bridge he was superb, racking up consecutive 50 partnerships with Stokes and then the irrepressible Sam Curran to first stop the rot and then, ball by ball, over by over, move England very gradually ahead.
This was Test cricket at close to its nuance-heavy best, advantage slowly shifting from one side to the other as the afternoon wore on, moving definitively but almost imperceptibly to the naked eye, like pods on a ferris wheel.
Has any Test side been as bottom heavy as this England one? Few certainly can have been so fortunate to have the failures of their top order so often bailed out by the successes of their lower one – and in Curran, they appear to have found a bucket-handler extraordinaire, the 20-year-old batting brilliantly under pressure once again in this series.
Despite ultimately ending the day having ceded a position of great advantage, India were still excellent with the ball, their seamers superb once again. All three of their frontline paceman were once again testingly consistent, with 40% of their deliveries on both a good line and a good length, well above the 2018 Test average – England were not simply handed back this position in the match, they had to fight for it.
Even Ravi Ashwin, who, following the success of Moeen Ali, failed as expected to thoroughly ruin England's day, was not as ineffective as some were saying – he found the most amount of spin he has managed in any innings on tour and similarly drew the most plays and misses, but luck was not with him or India.
The tourists did at least strike twice with the new ball before the close, England's advantage cut back just as it was threatening to grow out of control. Two wickets remain, the lead is 233 – if you had any plans for Sunday then I suggest you cancel them.
The last time India won a Test away from home with a 4th innings chase was 2010.

The last time they chased a 4th innings target of above 75 outside Asia was 2003.

Highest successful chase in England – 174 (Oval 1971)

— Charlie Reynolds (@cwjreynolds) September 1, 2018