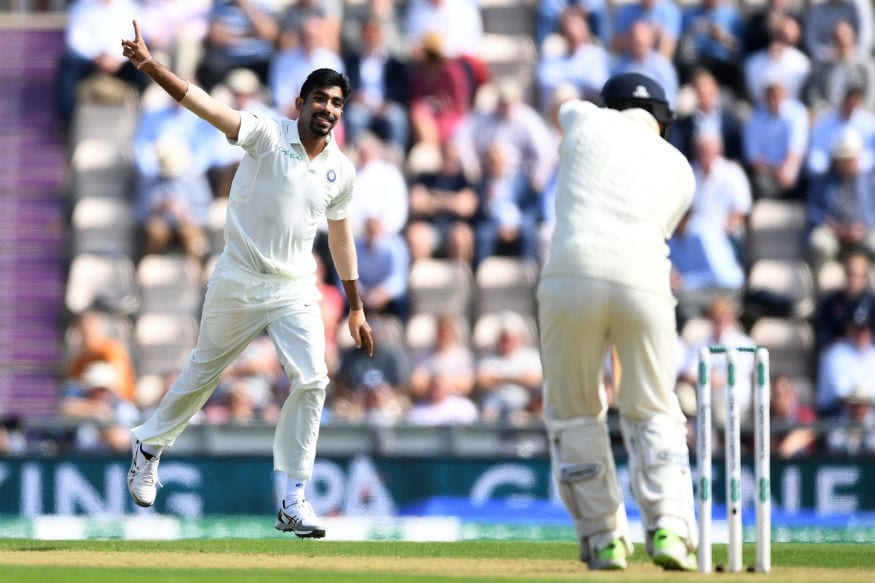 The worst thing for England is that it is no longer a surprise. 30/3 used to be a shock, now it has become nearly as habitual as the playing of Jerusalem before each day's play.
The collapse has become the norm, competent batting the deviation. Win the toss and bat first no longer a slice of luck, more a chance to hop back on the merry-go-round of ritual humiliation.
If there is any comfort for England, other than the fact that their lower order are at least usually competent enough with the bat to wipe some of the egg off their collective face, it is that India were superb with the ball here on day one, finding the, admittedly sizeable, crack in their opponent's city walls and bulldozing it wide open.
In current form the prospect of facing England's openers must be as energising as downing a double espresso, and suitably enthused, India's bowlers were soon running riot in Southampton.
Keaton Jennings has managed to get out to some pretty bad balls in this series, faced with a good one, he never stood a chance.
Only two balls that Jasprit Bumrah has bowled in his Test career have swung more than the one that got Jennings, whose demise, trapped flailing and stone dead in front – when he had expected the ball to swing harmlessly away from him – could only have been more undignified if his trousers had also split in the process.
Ishant Sharma has been the bane of England's left handers so far in this series, on Thursday as the other half of a fiendish opening salvo with Bumrah he removed their most prized right hander, Joe Root.
Root had already been saved from one plumb LBW by a Bumrah no ball, this time there was no such reprieve. Full and swinging in late, it was clearly cannoning into the stumps – as shown on Hawkeye not long after by a pointlessly egotistical, wasted review.
It was a spell of prodigious swing bowling from Sharma, who was finding an average of 4.3º of swing – the most by an Indian in a new ball spell for all the Tests that analysts CricViz have ball-tracking data.
India were relentless and at the other end Bumrah was proving just as devilish, armed with the new ball and his idiosyncratic action, England had little response. Bumrah clearly relishes having the new ball in his hand, he averages 19.05 with it compared to 43.33 when brought into the attack later, and barely an hour into the game he had Bairstow back in the shed and England 28/3.
There was an uncharacteristic looseness to the dismissal of Alastair Cook, slicing a wide ball from Hardik Pandya to third slip as if playing a tennis drop shot, but that is so often a consequence of a hostile opening spell, a batsman who survives it relaxes and fails the fair easier examination set by the man bowling first change.
If England were sinking fast at lunch, 11 overs after it they were practically on the sea floor – Mohammad Shami joining India's fast bowlers' party with the wickets of Jos Buttler and Ben Stokes, ensuring no repeat of their Trent Bridge partnership in the process and reducing England to 86/6.
At this point 44% of India's seam bowling had been on both a good line and a good length, only three times in the past two years have they bettered that.
After Trent Bridge England had an entire week to do intensive work on the batting problems that have plagued them in this series, a week to work on techniques and to try and build back some confidence – in just over a morning's work the tourists reduced all that to rubble.
Given the position they held, India might perhaps feel a little aggrieved that England ultimately limped their way to 246 all out – Sam Curran showing his more experienced teammates how to get the job done – but perhaps all it showed that this was not such a difficult pitch to bat on after all. England had batted badly yes, but against this Indian onslaught how many sides would have fared better?