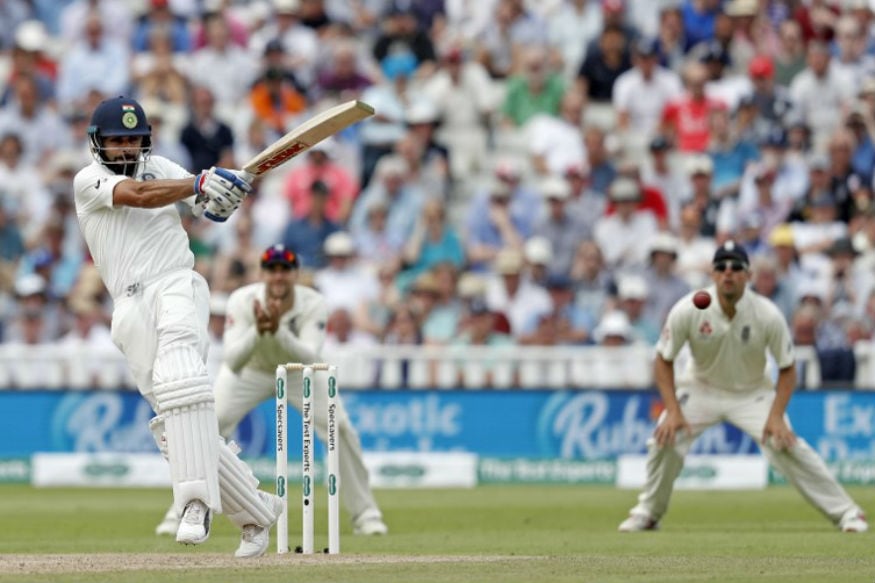 There were 59 days between the end of England's last Test match and the start of this one, but on the evidence of a captivating day two at Edgbaston, it was well worth the wait.
The series may only be two days old, but already we have a fascinating contest on our hands – neither side quite able to take a decisive grip on the match, the advantage shifting from one to the other, often quickly, sometimes gradually.
And looming over everything so far has been one man, Virat Kohli.
The first day of this game was defined by a single moment from India's captain – in order to lay claim to its second he had to work a good deal harder.
England has infamously not been a happy hunting ground for Kohli. Whatever his achievements all round the globe, his series average of 13.40 the last time India toured these shores remained a blot on his copybook. If not quite a millstone round his neck it was at least a particularly persistent insect that insisted on flying near his head.
Over the course of four and a half hours in Birmingham, Kohli all but ensured that he had swatted it away forever.
A very important knock by @ImVkohli. Lovely way to set up the Test series. Congrats on your Test hundred. #ENGvIND

— Sachin Tendulkar (@sachin_rt) August 2, 2018
It could though all have been so different, marching to the wicket accompanied by a few pantomime boos from the crowd, he found himself almost immediately fighting a rearguard.
India had been cruising at 50/0 but then came the first of some terrific spells throughout the day from England's bowlers, 20-year-old Sam Curran suddenly had three wickets and the tourists were 59/3.
The arrival of Kohli seemed to spark something in his old nemesis James Anderson, bowling 10 consecutive overs from the Birmingham end before lunch, England's master craftsman looked like he had picked up exactly where the pair left off in 2014.
From the second delivery he faced the swinging Duke's ball soon became firm friends with the edge of Kohli 's bat, his first runs coming in that fashion – a loose shot agonisingly just evading the clutches of Jos Buttler in the gully.
That's an incredible knock @imVkohli !!! 1 man battle against the moving ball ..... #ENGvIND

— Michael Vaughan (@MichaelVaughan) August 2, 2018
The lunch break couldn't come soon enough for India's captain who had clawed his way to nine runs, a third of which had come squirting from the edge of his bat.
After lunch Anderson and England's onslaught continued, Kohli finding a way, albeit not very convincingly, to cling to his wicket. The edges kept coming, two falling tantalisingly short of catchers behind the stumps.
By the time his innings was over, CricViz calculated that Kohli had played 22 false strokes, a total he has surpassed in only one other innings and that lasted 340 balls – it would be fair to say that a lot of these shots came either side of lunch.
While Anderson continued with his brilliant if unrewarded spell, at the other end Kohli's teammates were failing to resist a superb Ben Stokes.
Ajinkya Rahane had looked in so much trouble against him that when he eventually tamely prodded the ball to third slip you felt as if you'd watched the dismissal slowly approaching from over the horizon. Dinesh Karthik could not stick around for long, Stokes splayed his stumps and India were 100/5.
Then came the moment on which the day slowly started to turn. Anderson finally earned the reward his bowling had deserved, Kohli playing at a full outswinger and edging the ball to Dawid Malan at second slip – the ball went down, Kohli on just 21 at the time earning a reprieve he would certainly go on to make the most of.
An over later he made his first run for 27 balls and when Anderson eventually gave way to a largely ineffective Stuart Broad, slowly the shackles started to loosen.
The ball after he reached his half century, England and Malan still managed to drop him once more, a far trickier chance off the bowling of Stokes, but from that moment on he barely looked back.
Wickets continued to fall at the other end, indeed Shikhar Dhawan's 26 proved to be the highest score any of his compatriots could muster, but Kohli batted on undaunted – masterfully manipulating the strike to shield his tail from most of what England could throw at them.
Day 2 at Edgbaston is all about Kohli..Kohli..& More Kohli..there's not a soul anywhere near @imVkohli in both teams..honestly this gr8 little Fella is taking too much upon himself..mentally,physically & emotionally..surely some1 cn share workload w/Indn Capt in next 3 days..!!

— Bishan Bedi (@BishanBedi) August 2, 2018
It was a good job that for the most part he did, Adil Rashid needed just one delivery to bamboozle Ishant Sharma, a wicket that left Kohli stuck on 97 at the non-striker's end and with India nine wickets down.
Fortunately for him Umesh Yadav managed to see off two balls, and an over later Kohli was roaring in celebration of his hundred, the crowd standing in applause, and joined by England's captain, the theatrics of their recent exchanges replaced with respect.
By the time Kohli fell for 149, he had single handedly dragged India back into the game, England led by just 13, and ultimately were a wicket down by the close.
The day had been wrestled out of the host's hands by Kohli, for the second day in succession he had willed his side back into the game. If England want to stop him seizing the series too then they are going to need to find something special.