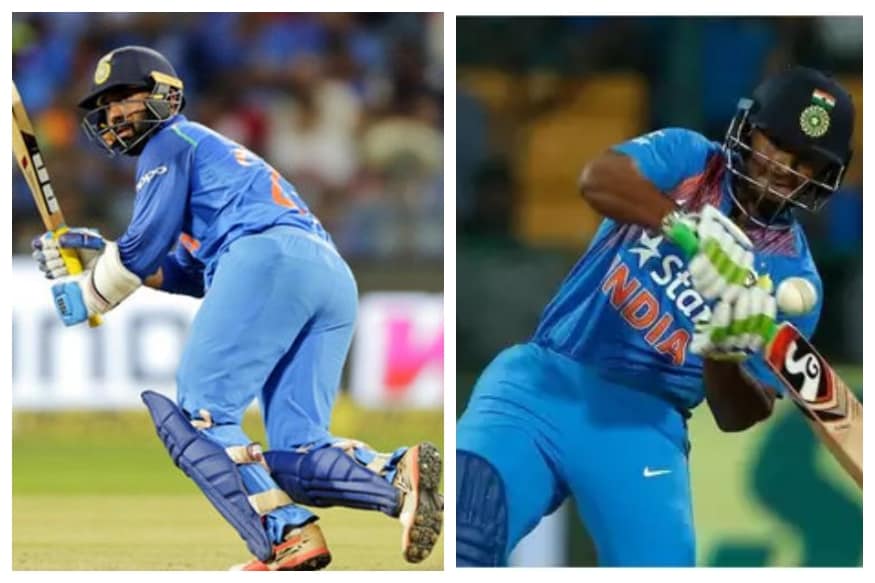 So, the Indian middle-order merry-go-round is all set to continue in the lead up to the World Cup, with a couple of changes in the batting order for the first two One-Day International against Windies.
The first one is forced and obvious – Kedhar Jadhav injured his hamstring in the Asia Cup and makes way for Virat Kohli.
The other change - Dinesh Karthik going out and Rishabh Pant coming in – is not so straightforward, especially from the former's perspective. There's no doubt Pant is the form horse, having made runs in his most recent Test appearances, but there's also no doubt Karthik has done little wrong since his return, particularly in one-day cricket.
The bare numbers, first. Since his return to the Indian team in the tour of Windies last July – he was in the squad for the Champions Trophy the previous month but didn't get a game – Karthik averages 50 from 13 innings, having scored 350 runs with two half-centuries, including six not outs. Nine of the 13 knocks have come batting at No. 4.
Much like his career at large, the chances have been sporadic and Karthik has been in and out constantly. Unlike in the past though, Karthik showed definite signs that he is no longer the fidgety, inconsistent batsman he was; while his average tells the story, what makes the point more lucid is his performances while chasing.
(Twitter/ BCCI)
Karthik's average in the period goes up to 85 while batting second, largely helped by five not outs from eight innings. Six of the eight knocks came in successful run chases, while one came in a tie (against Afghanistan in the Asia Cup). That game too could have ended differently had he not been incorrectly given LBW at the fag end of the chase.
Most of the chases were not what one would qualify as 'difficult' – either due to moderate targets or good platforms or both. However, what is also true is that Karthik hasn't thrown away his chances and taken everything that came his way. That he's no longer a nervy batsman was also on display in the IPL this year, where he took on the role of finisher for Kolkata Knight Riders with 498 runs at an average close to 50, plenty of them coming in run chases.
If this is indeed the end – he is 33 – Karthik will consider the scenario unfortunate, even unfair, given the team just about began showing faith in him at the middle order. He was kept out of the XI for all six ODIs in South Africa and the first two of three ODIs in England, but played all the games in the Asia Cup. He did a fair job too, scoring 33, 31*, 1*, 44 and 37 in a tournament where sticky pitches and big grounds meant the highest team score was India's 285 against Hong Kong.
Karthik's omission means the questions India have been facing for a while – surrounding the No. 4 in particular – are set to continue. Karthik's 15 matches since the Champions Trophy was the most among the other middle-order contenders; Manish Pandey has played 11 matches in the period, Ambati Rayudu played six games (all in the Asia Cup) while Shreyas Iyer too played six games. India also tried Ajinkya Rahane in the middle order in South Africa before leaving him out, while it's now clear that KL Rahul too won't be considered anything but a back-up opener.
India now have a maximum of 18 ODIs to try and find the answers before the World Cup. It's also the time they have to figure out Pant's role, as he's unlikely to straightaway slot in at No. 4 where his predecessor batted. Either Rayudu or Pandey are likely to audition for that role, which would mean Pant would go down the order.
Unlike first-class or T20s, Pant's List A numbers aren't great – he averages less than 29 from 34 matches and has only one century to his name. But he did show a marked improvement in India A's tour of England recently, averaging more than 52 in five matches scoring 158 runs.
Most importantly, what Pant will provide is the power-hitting which India lack badly, especially in Hardik Pandya and Jadhav's absence. Pant's strike-rate in List A is 104.35 – much more than the Pandeys, Karthiks, Rahanes and Iyers.
Pant is the only other specialist wicketkeeper-batsman in the squad, but India have showed plenty of signs that he will not be a threat to MS Dhoni's place. The former India captain's recent performances have been worse than Karthik's: Dhoni has scored 225 runs from 10 innings this year at an average of 28.12 and a strike-rate of 67.36. But his intangible contributions as a senior player and wicketkeeping brilliance means he remains India's first-choice keeper-bat.
Whether that's right or wrong, or fair or otherwise, is up for debate. But given the current scenario and India's fixation with Dhoni, the entry of someone like Pant will only help him and the team. It's clear that Dhoni is neither the finisher nor power-hitter he once was, and Pant's presence below him – probably at No. 6 - could free him up of such responsibilities.
The No. 6 or 7 is no easy role though, and Pant has limited time to make a case for himself for the World Cup. Fortunately, he has already shown he won't be overawed by the big stage; he, after all, got off the mark in Test cricket with a six and already has a Test century in England!
Karthik, meanwhile, would wonder what the future holds, and hope he's still in the mix.