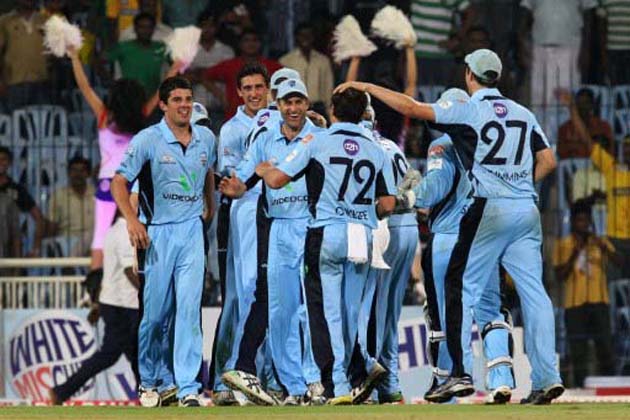 Chennai: It was a risk having a spinner bowl the Super Over but it eventually paid off for New South Wales Blues according to skipper Simon Katich, who was a relieved man after his team got past Trinidad and Tobago in the Champions League T20 tournament here ON Wednesday.
The match was decided in the Super Over after both teams scored 139 and in the Super Over, Blues hit 18 runs, all by Man-of-the-Match Moises Henriques, to Trinidad and Tobago's 15.
"It was a risk going with Steve O'Keefe in the Super Over. We wanted to take the pace off the ball, but luckily it paid off," said Katich and heaped praise on Henriques for his last over flourish when Blues scored 16 in the 20th.
"We always back our players and I thought we left it rather too late, but Moises was fantastic in the Super Over and O'Keefe bowled well under pressure," said Katich.
Trinidad and Tobago skipper Daren Ganga was obviously disappointed. "We had the match but in the last over, a couple of full tosses cost us.
"It is difficult to swallow. I thought 140 was a good total to defend on a surface like this, but it wasn't to be. We fought till the end," said Ganga.
Regarding the Super Over, Ganga said: "Scoring 19 was always always difficult, but we had guys like Simmons capable of hitting the ball out of the ground. However, all credit to Blues."
Henriques, who took two wickets, scored 18 not out during the chase and the Super Over, said: "The wicket suited my style of bowling. During the Super Over, I was determined to remain still, watch the ball and react. I had made some mistakes in the past, and so didn't want to repeat them."