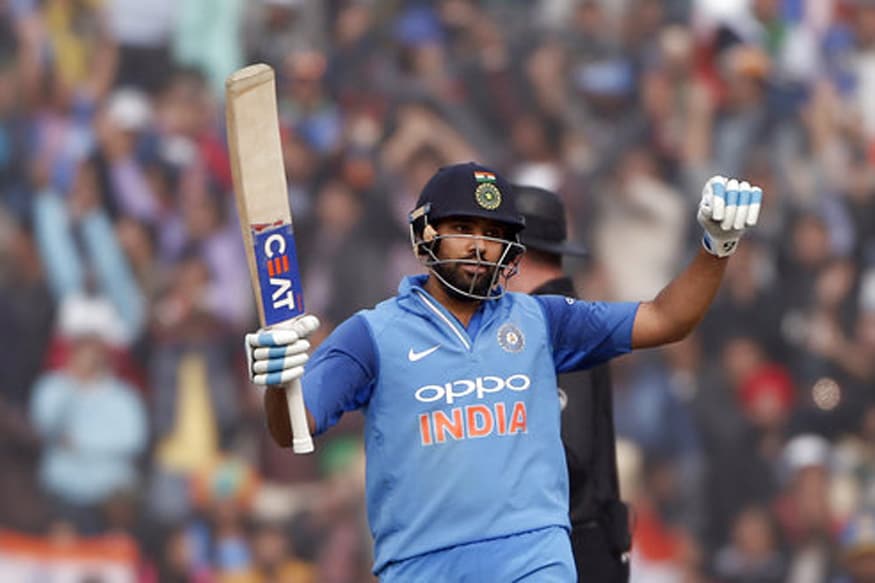 New Delhi: Stand-in skipper Rohit Sharma led from the front in the second ODI against Sri Lanka in Mohali on Wednesday after India put up a dismal show in the opening game in Dharamsala and brought up his 16th ODI hundred to not only set the platform for a blockbuster finish to the India innings, but also equalled former India opener Virender Sehwag to score his 14th century as opener in the 50-overs format. Rohit finished unbeaten on 208, his third ODI double century. He now has 3 of the 7 double hundreds scored in ODIs.

Interestingly, Sehwag had scored 14 ODI hundreds as opener in 204 games while Rohit brought up his 14th hundred as an opener in just 89 games. He now has master blaster Sachin Tendulkar and former India skipper Sourav Ganguly ahead of him.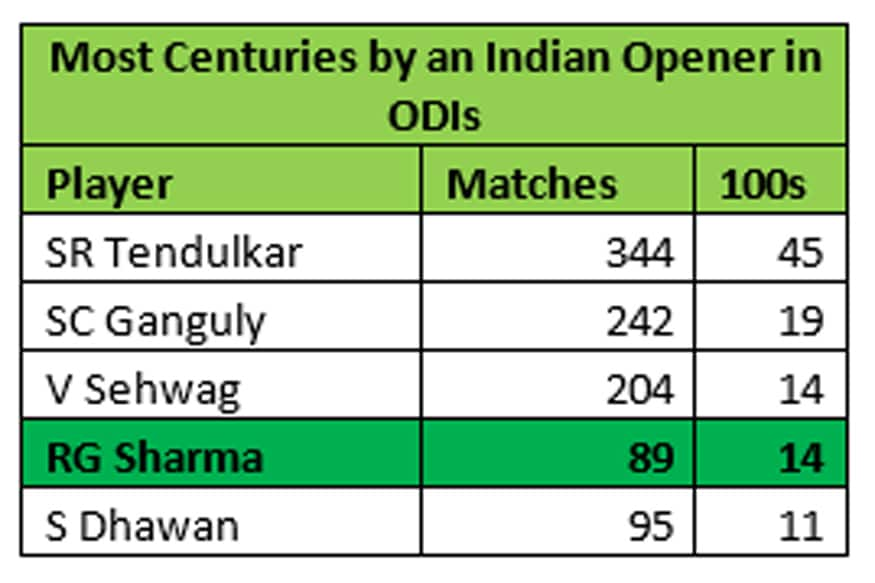 While Tendulkar scored 45 ODI 100s as opener in 344 games, Sourav scored 19 centuries as opener in 242 matches. Sehwag will now sit fourth on the elite list after Rohit scores another 100.

Fascinatingly, Rohit now also has 6 centuries in this calendar year in 20 games. Tendulkar scored more centuries in 1998 when he hit 9 centuries in 33 games. He also scored 6 centuries in 1996 from 32 games. Sourav scored 7 centuries in 31 games in 2000 — his first year as captain of the Indian team.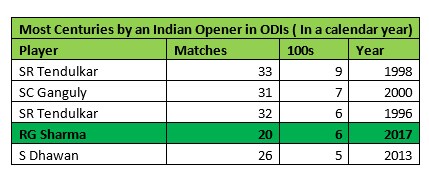 Speaking after India's inexplicable batting collapse in the opening game, Rohit had said that the Sri Lankan bowlers used the tough conditions to their advantage.

"In conditions like these, only one or two batsmen will score, not all batsmen will score runs. I don't think we played any rash shots, but they bowled at the right channel, kept us guessing all the time and batsmen were made to play all the time.

"We knew conditions were going to be tough but sometimes when you are put in such situations, you have to bat the situation, which means we got to respect the bowlers. This experience will teach us a lot of things as a team. We take it in our stride and move forward. Again if we are put in that situation we will respond better," he had said.

But the team did learn from its mistakes in the second ODI and the charge was led by none other than the skipper himself. He is equal with Virat Kohli, hitting 11 centuries in ODIs since 2015. Only David Warner has hit more with 12.


First Published: December 13, 2017, 3:00 AM IST