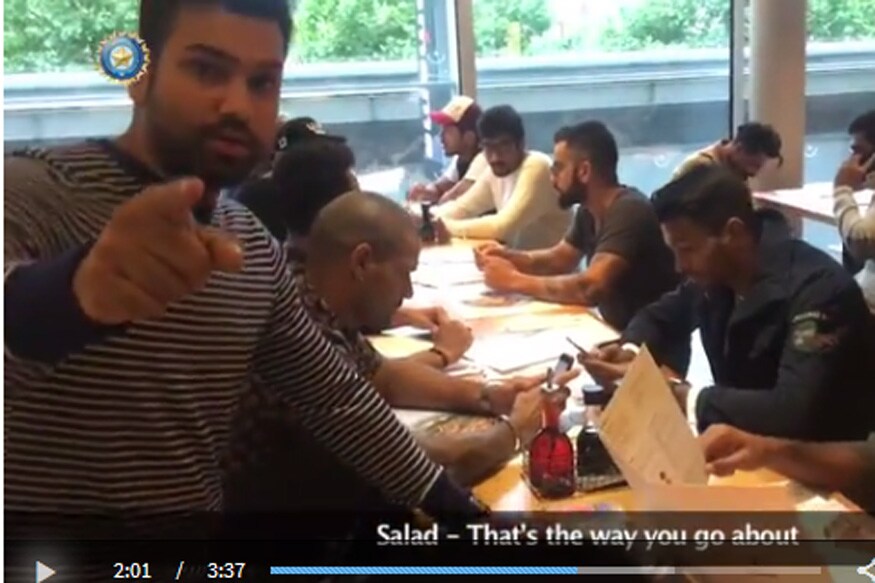 Ever wondered what dinner with the Indian team looks like? Indian opener Rohit Sharma gave the fans an exclusive glimpse of how dinner with Team India looks like, as he took the fans behind the scenes with India's first team dinner in the Champions Trophy.
"Guys I am Rohit Sharma from Team India. This is our first official team dinner and as you can see the guys are here and we are going to take you somewhere where not many people have been. So follow me," Rohit said in the video.
"Team India is in the streets of London as you can see all the guys. We are being followed by a lot of fans. We are having a good time walking on the streets of London."
Pointing towards Ravindra Jadeja, Rohit said, "A familiar face and a familiar weather report." Rohit asked Jadeja about the weather and the streets and the left-handed player instantly replied, "Weather is very beautiful." which led to Rohit having a hearty laugh.
Rohit then went to Kedar Jadhav and Ajinkya Rahane and added some more stuff to this interaction. "Kedar Jadhav is all set for a nice dinner in his leather jacket. There is Mr. Rahane with Sanjay Bangar and R Sridhar our coach ," he said.
The team dined at the famous Japanese restaurant Wagamama, R Sridhar too came in front of the camera and talked about the outing with team.
"Hi guys, We are here in Wagamama. One of the top Japnese restaurants in UK. I'm trying to find my stuff here because I am a hardcore vegetarian. Here I am eating some Tama Yasai. Yasai means vegetarian in Japnese. It's a soup, rice noddles with a lot of Tofu, beans, broccoli stems, mushrooms smeared with coconut gravy and peppers. It is really tasty and this is the best I can lay my hands on in Wagamama."
India will start the Champions Trophy with a show down against arch-rival Pakistan on June 4.
First Published: May 31, 2017, 7:39 PM IST