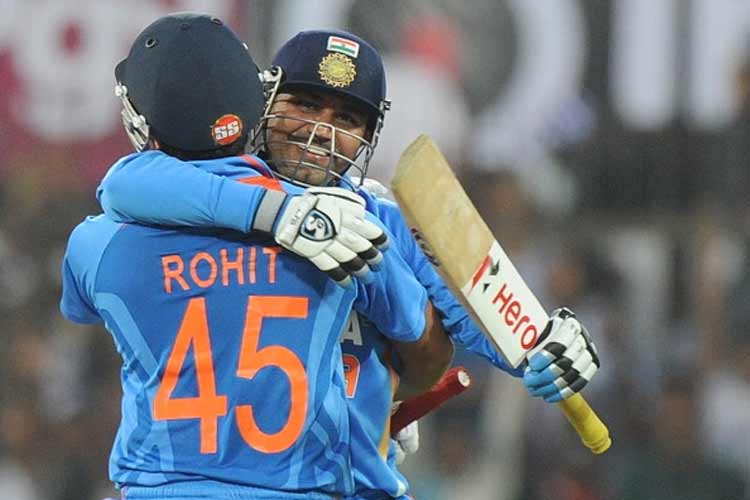 Dubai: Former South Africa skipper Graeme Smith believes Indian batsman Rohit Sharma has all the qualities and shots in him to be the next Virender Sehwag, who on Tuesday retired from all forms of international cricket.
Delhi-born Sehwag will play in the Masters Champions League (MCL), which he launched here on Monday with other stars like Brian Lara, Smith, Michael Vaughan -- a tournament to be held early next year for retired cricketers.
"It is very difficult to replace players like Sehwag. He was a naturally attacking batsman and Rohit Sharma has shown that kind of flare in the series so far. It is all about combinations at the end of the day and how opening partners complement each other," Smith was quoted as saying by bcci.tv.
"Rohit has got all the shots to be a Virender Sehwag. He has been dynamic, has got two double hundreds and already has a 150 to his name (in ongoing series against South Africa). He is a good player of spin and picks up fast bowling really well. India would like Shikhar Dhawan to find form and if that is sorted, then you have a good combination going."
The former left-handed batsman pointed out that Rohit might have scored big in home conditions but his main challenge will be when he plays abroad.
"His challenge is always going to be when he goes abroad to Australia or South Africa to adapt well to the harder and newer ball there. But he has certainly got all the strokes. He is confident in himself and his own game has grown immensely. He has been a beautiful player to watch on this tour," he said.
In a career spanning over 15 years in international cricket, Sehwag featured in 104 Tests and scored 8,586 runs at a staggering average of 49.34. In 251 One-Day Internationals (ODI), he amassed 8,273 runs at an average of 35.05.
When the Johannesburg-born was asked about Sehwag's specialty, he said, "If you think about Sehwag, he was really strong on the off-side and your margin for error was very less. He would hit deliveries on off-stump to backward point for four. He was a good player of spin and not afraid to take risks."
Smith also praised India's Test captain Virat Kohli, terming him as currently the best No. 3 batsman in the world.
"Virat Kohli is the best No. 3 in the world at the moment. He should bat there and that is completely my perspective. It is such a key position in one-day cricket. You want to be giving him as much time as possible to get in and win games for India," the 34-year-old said.
"Ajinkya Rahane is an outstanding player and he has shown that in his form. But I just think Virat is a different class player at the moment. Virat's form is very important for India. He is India's top batsman. We have seen that India have a lot more success when he does well."