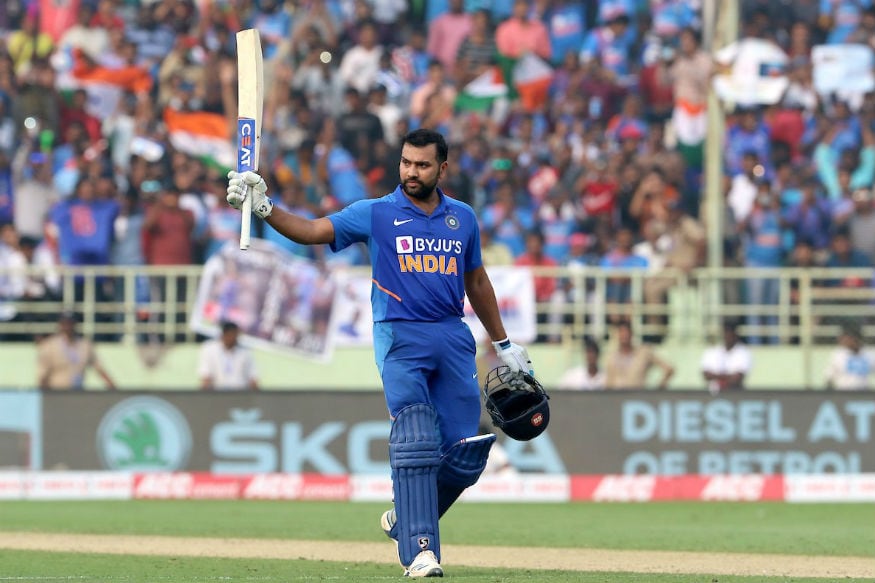 Rohit Sharma aggregated a whopping 2442 runs from 47 international innings at an average of 53.08 and strike rate of 91.28 in 2019.
It was that kind of year for the Indian opener.
Only one man – his captain Virat Kohli – scored more runs than Rohit in the calendar year.
But in terms of the big runs – the hundreds and Rohit even outnumbered King Kohli. Rohit recorded 10 international tons in the year – the most for any batsman in the world.
Overall, Rohit's aggregate in 2019 is the 17th highest of all-time for any batsman in a calendar year. And the 8th highest amongst Indians. Only three batsmen – Sachin Tendulkar (12 in 1998), Ricky Ponting (11 in 2003) and Kohli (11 in 2017 and 2018) – have registered more hundreds in a calendar year than Rohit.
Rohit also broke Sanath Jayasuriya's 22-year old record of the highest aggregate for an opener in a calendar year in international cricket.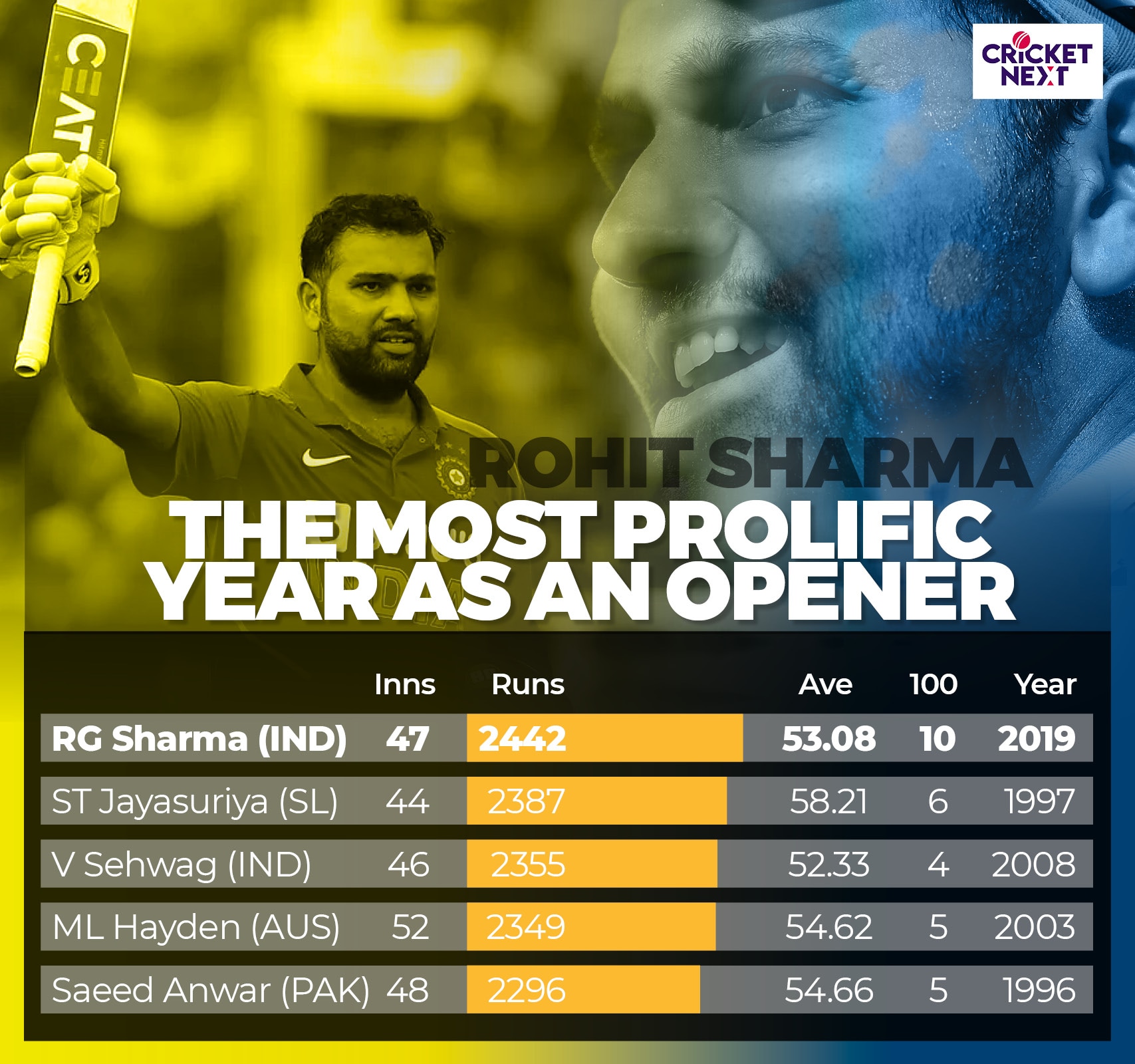 However, the most significant statistic is his contribution in India's victories in 2019. Rohit scored 1921 runs in victorious matches in the calendar year. Only two batsmen (Ponting in 2003, 2005 and 2006 and Kohli in 2017 and 2019) have scored more winning runs in a single year.
Moreover, the winning percentage (winning runs to total runs as a percentage) for Rohit (78.67%) in 2019 is the fourth-highest in this decade for all batsmen who have scored a minimum of 1500 runs in wins in a single year in international cricket.
What is startling is that Rohit features thrice in the top 5 list showcasing what a great match-winner he has been for India.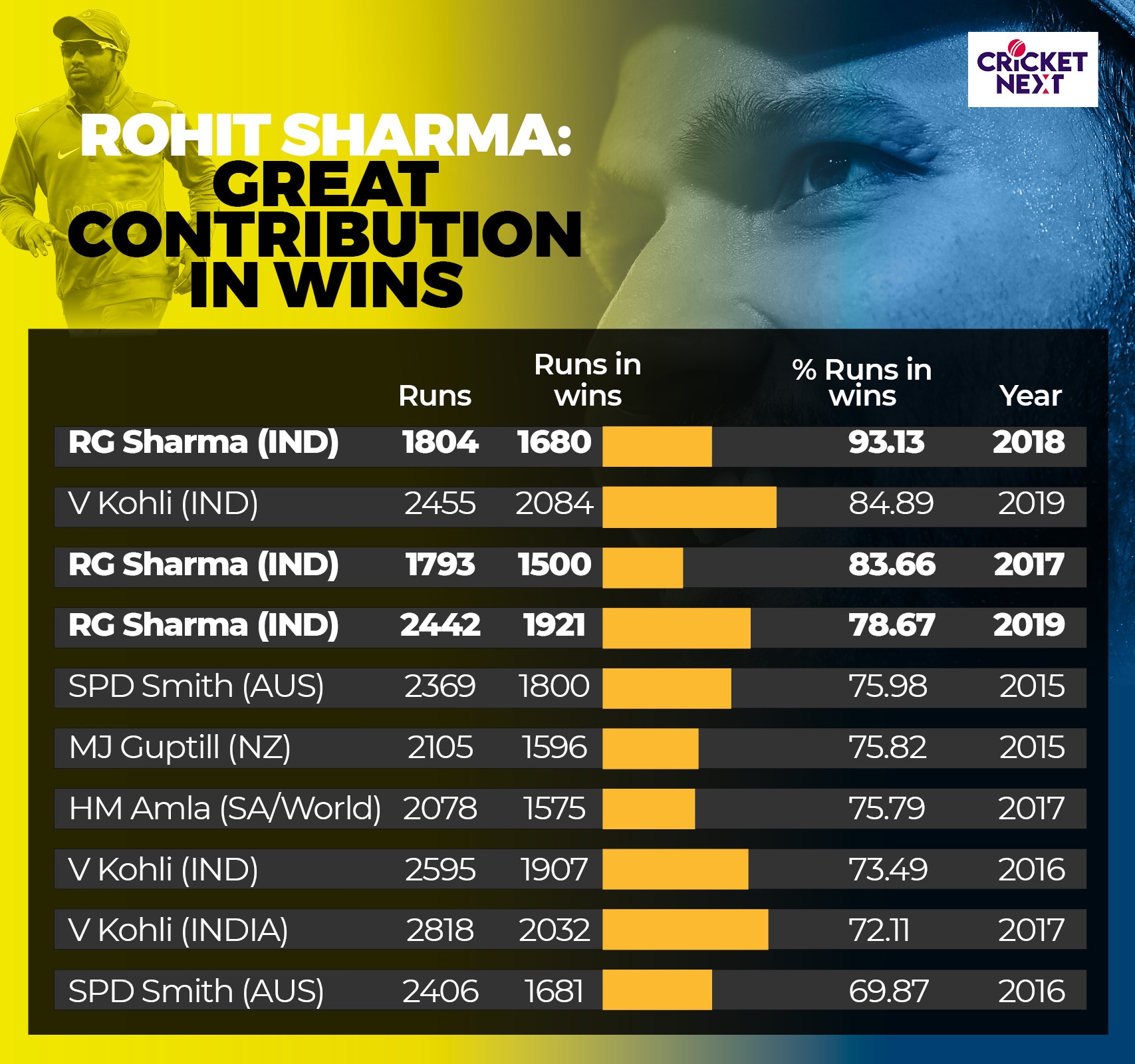 THE HIGHEST SCORER IN ODI CRICKET IN 2019
Rohit aggregated 1490 runs in just 27 innings in 2019 – he eclipsed even the great Kohli who was at number two with 1377. Even in terms of Actual Average (runs per innings), Rohit was marginally better than Kohli (55.18 vs 55.08) and the third-highest (min. 700 runs) behind Jason Roy (70.42) and Shakib Al Hasan (67.82).
Overall, it was the eighth-highest aggregate in a calendar year in the history of ODI cricket.
No one scored more ODI hundreds than Rohit's 7 this year. Only Tendulkar (9 hundreds in 1998) has scored more in a single year in the format. What made Rohit doubly dangerous was the rate at which he scored these big runs – almost touching 90 runs per hundred balls faced!
9 of his 13 fifty-plus scores and 70% of his runs resulted in a win for India in 2019.
He was the highest scorer of the ICC World Cup in England with 648 runs in 9 innings at an average of 81 and strike rate of 98.33. Only Sachin Tendulkar (2003) and Matthew Hayden (2007) aggregated more in any single edition of the World Cup. His 5 hundreds were the maximum for any World Cup.
140 against Pakistan in Manchester and an unbeaten 122 chasing South Africa's 227 in Southampton were his standout innings in the flagship tournament.
But perhaps his best innings albeit in a losing cause came in the very first match of the year – in the series opener against Australia in Sydney where he scored more than 50% of India's total (133 of 254) in a difficult chase having lost their first three wickets for just 4 runs.
DREAM DEBUT AS TEST OPENER
2019 also saw Rohit making his debut as a Test opener. And what a debut it was!
His twin hundreds in Visakhapatnam and his double ton in Ranchi helped India sweep the three-match series against South Africa. India's win at Ranchi was the sixth-largest ever in their Test history!
Rohit scored 529 runs in his debut series as opener in 4 innings at a stunning average of 132.25. Only three Indian batsmen – Kohli (610 runs against Sri Lanka in 2017), Virender Sehwag (544 against Pakistan in 2005) and Sourav Ganguly (534 against Pakistan in 2007) have aggregated more in a series of maximum three Tests.
Rohit's three hundreds in the series were also the joint-highest for an Indian in a series of maximum three Tests.
Almost as significant as the big runs he scored was the rate at which he scored them. The average strike rate of the other Indian batsmen in the series was 61.36. Rohit scored at a rate of 77.45. This not only demoralized the South African attack but also created time for the Indian bowlers to bowl South Africa out twice – emulating what the great Sehwag did so successfully for India over the course of his career.
SECOND-HIGHEST SCORER FOR INDIA IN T20I CRICKET
Rohit was the second-highest scorer for India (after Kohli) in 2019 in T20I cricket. He aggregated 396 runs in 14 innings at an average of 28.28 and strike rate of 138.46.
More significantly, all his four fifties resulted in a win for India. His most prominent innings came in the series decider against West Indies in Mumbai earlier this month where he smashed 71 off just 34 deliveries hammering 5 sixes.
Rohit is currently the joint-highest run-getter in T20I history (along with Kohli).
He also had the distinction of ending the year as the maximum six and four hitter – he blasted 78 sixes and 244 fours in the calendar year across the three formats.
Rohit also teamed up with Shikhar Dhawan and KL Rahul and scored more than 1000 partnership runs each with both of them – the only batsman to do so in 2019. Only Jonny Bairstow-Jason Roy recorded as many hundred partnerships in the year as Rohit-Rahul – 6.
2019 was Rohit's year and he looks hungry for more.
2020 beware!