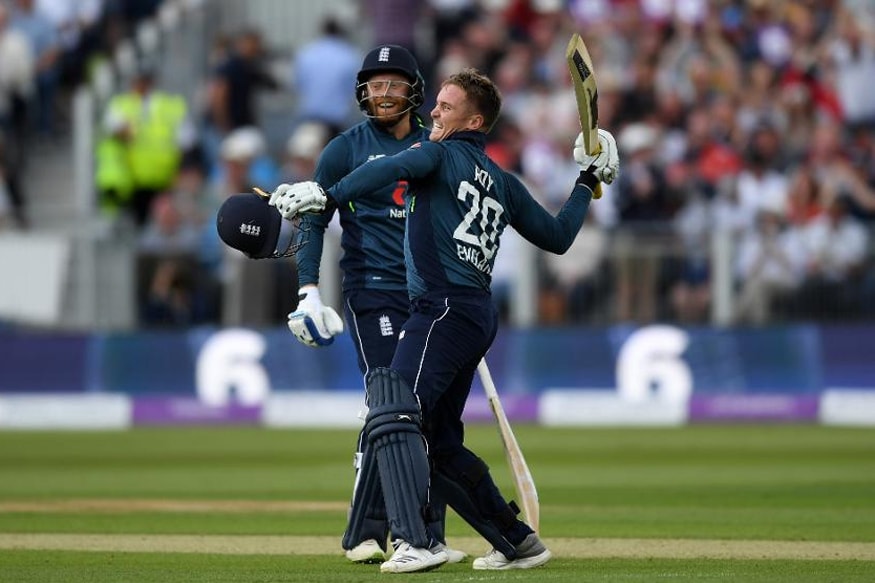 England opener Jason Roy is proud of the batting records the team have been amassing in one-day international cricket but has warned they should only be seen as "stepping stones" on the way to the 2019 World Cup.
No England side have won the men's World Cup but Eoin Morgan's team can put that right on home soil next year.
They are currently top of the ODI rankings and lead world champions Australia 4-0 in a five-match bilateral series ahead of Sunday's finale at Old Trafford.
Roy has been a key figure in England's excellent recent run in 50-over cricket, bouncing back in style from the disappointment of being dropped for the team's Champions Trophy semi-final defeat by eventual tournament winners Pakistan in Cardiff last year.
The 27-year-old hit an England ODI record 180 against Australia in Melbourne in January.
And the ongoing series has seen Roy score two hundreds, with his 101 at Chester-le-Street on Thursday key to a six-wicket win that left England in sight of their first 5-0 ODI series sweep of Australia.
In between his latest centuries, Roy made 82 as England piled up an all-time men's ODI record score of 481 for six at Trent Bridge.
Roy and Jonny Bairstow have now shared five century stands for the first wicket -- more than any other England duo at this level.
"The records are fantastic obviously, and it's a nice reward for the hard work we have put in," said Roy.
"(But) our main aim is to make sure these are just stepping stones to the bigger picture -- the World Cup.
"It's great breaking all the records and stuff but at the end of the day, the aim is to have this confidence come the World Cup," he added.
Roy has now scored six hundreds in 89 ODI appearances but, unsurprisingly for an attacking opener in this format, there have been setbacks too, including a second-ball duck when he was bowled by Billy Stanlake at The Oval last week.
That dismissal meant Roy had gone nine innings without a fifty but he never lost faith in his own ability.
"It was interesting hearing that I was struggling," he said. "I got a couple of 40s, and obviously those aren't good enough as an opener.
"I felt pretty good in New Zealand, (but) just didn't get a big score ... I just wasn't kicking on."
- 'Heartbreaking' -
Roy's main ambition, though, is to help England, whose lone major global limited overs title remains the 2010 World Twenty20 in the Caribbean, win another 'white-ball' trophy.
"As a kid I did look up to the Champions Trophy and wanted to play well," he explained.
"But I got dropped -- and that was heartbreaking for me -- so going away and putting in the hard work, I know I'm going to get my rewards.
"Let's hope this time next year I'm at the World Cup, I'm in decent form and can win some games for the team."
Meanwhile Roy said there was no great secret to England's climb to to the top of the ODI rankings, which came before a shock six-run defeat by Scotland on the eve of the Australia series.
"It's not a surprise - we are working extremely hard," he explained. "We have put in a lot of hard work and deserve the results we are getting.
"We are all very good friends - it's just a case of wanting the best out of your mate.
"It's pretty simple," Roy added.