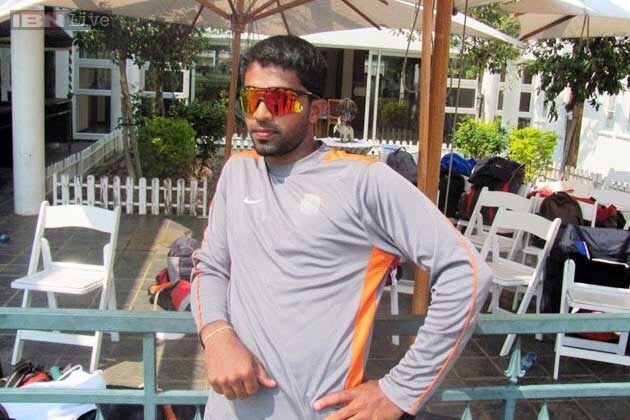 There's a Sachin in the India A limited-overs squad to face New Zealand A, but it's not the legendary batsman. It's his namesake, 24-year-old Sachin Baby from Kerala who is one of the rising stars of the southern state's cricket scene. Baby, who made his first-class debut in 2009, was the fourth-highest run-scorer in the 2013-13 Vijay Hazare Trophy and scored a century in the quarter-finals to help Kerala make the final four. With a List A average of 48.58 and an astonishing strike rate of 103.36, Baby - who has also captained Kerala - has also played for Rajasthan Royals in this year's IPL.
Cricketnext caught up with the talented left-hand batsman. Excerpts from the interview:
After good performances for Kerala, especially in limited-overs, did you expect the India A call-up?
Honestly, I did not. I just gave my best in domestic cricket, especially in the shorter formats. I even led Kerala in Twenty20s. I would give credit to the hard work that paid off in the end. It will be an honour for me to play for India A, especially against a strong New Zealand side.
How have you prepared for the series?
I spent a lot of time on nets and now the squad will train at the NCA in Bangalore. There are a number of pacers who will be bowling to us in the nets. New Zealand are a strong side but we will give our best against them. Recently, I scored good runs in the Subbaih Pillai Trophy. I am in good touch now and will try to carry the momentum in the limited-overs series.
You will be playing under Unmukt Chand, who led India U-19s to World Cup glory. Tell us something about him.
Honestly, I haven't interacted with him yet but most probably will soon. I have seen his game and heard from the seniors too. He is very intelligent and brilliant on the field. He is a superb leader. He led the Under-19 team to victory in the World Cup final against a side like Australia. I am thankful that I have got a chance to play under him.
I am sure many people would have asked about your name ...
(Laughs) Yes, I feel proud with this name. It gives me spunk. Actually, my birth place is Kerala. My parents love cricket, especially my mother. They are huge Sachin fans. I was born before Sachin sir made his debut and they gave me this name. There is a memorable moment due to this name. It was our [Rajasthan Royals] game against Delhi Daredevils in IPL 6. I wasn't playing the match. Due to the on-field injury of a player, I was asked to replace him as a substitute fielder during the match. The moment I took the field, spectators started chanting "SACHIN, SACHIN, SACHIN" because the name 'Sachin' was on my t-shirt. It was such a memorable moment. I still cherish that moment when thousands of people in the pavilion were taking my name. What else I could ask for during that moment? Even the on-field players started staring at me and then they laughed and clapped too.
Apparently you interacted with Tendulkar during the IPL?
Yes, we were playing against Mumbai Indians. Dinesh Karthik is a good friend of mine. He knew that I wanted to meet Sachin sir. He took me to the dugout where Tendulkar was talking with his team-mates. Dinesh bhai introduced me with him. His words were, "Sachin, meet Sachin Baby". Tendulkar offered a handshake and smiled and said, "Oh, you are Sachin Baby. Great to see you. All the best for your future." It was such a nice experience talking to the legend.
You have a very good limited-overs record, but not so impressive in first-class cricket.
Yes, I have done well in the shorter formats and led the Kerala team too, but I want to perform in the longer version. I know I can do well in first-class games. Currently, I am working on my skills and want to do well. I am talking tips from my coach Sujith Somasunder. He is the best person to guide me for the upcoming Ranji Trophy season.
How was your experience of playing with Rahul Dravid?
Rahul sir is a great person. Playing with a legend was a great experience. Honestly, in the initial days, I was scared of talking to him but he is ready to talk about cricket any time. Especially with the youngsters, he was always ready to share experiences and offer valuable tips. Even in the nets, he used to come and gives us batting tips. His calm and composed demeanour is awesome. His tips will always be remembered to me and will be applied to my game.