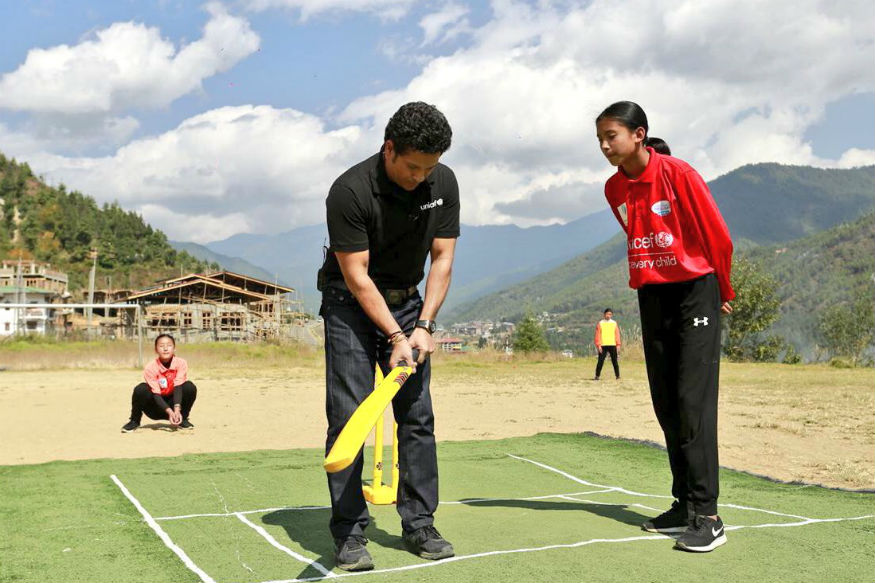 Sachin Tendulkar has been involved with numerous projects off the field throughout his playing career and post retirement. The Indian batting legend was in Bhutan for UNICEF's Hand Washing Initiative as an ambassador, and took some time out to interact with members of Bhutan's national cricket team.

With Global Handwashing Day being observed on 15th October annually, Tendulkar arrived in Bhutan shortly after and spent a couple of days doing various activities and interacting with different groups, one of which was spending time with the country's cricket team. Tendulkar tweeted about how he was enjoying playing cricket in the mountains, and the players would have surely learnt a thing or two from one of the all-time greats of the game.


The only thing better than playing cricket, is playing cricket in the mountains.. Enjoyed being back on the pitch with Bhutan's Cricket Team. Wishing them all the best for the future. pic.twitter.com/8QCm0HppgO

— Sachin Tendulkar (@sachin_rt) October 23, 2018



Earlier, Tendulkar played football with school children, and then spent time with them explaining the importance of washing one's hands after any activity and before eating food.


Had a great time playing football with these cute little kids in Bhutan. After the game, we washed our hands with soap to demonstrate that playing is important but what's even more important is to wash our hands after any activity, especially before eating food. #IWashMyHands pic.twitter.com/SI5WNobzHq

— Sachin Tendulkar (@sachin_rt) October 22, 2018



Tendulkar also spent time with the Interim Prime Minister of Bhutan, Dasho Tshering Wangchuk, which he described as "an honour", and discussed various sanitation awareness initiatives.


Meeting the Interim Prime Minister of Bhutan, Dasho Tshering Wangchuk, was an honour. Was wonderful discussing the various hand sanitation awareness initiatives. @UNICEFROSA https://t.co/qLNKYJxmEp

— Sachin Tendulkar (@sachin_rt) October 22, 2018



Tendulkar's association with the UNICEF is more than a decade long. Apart from sanitation awareness, he has also featured heavily in campaigns spreading awareness about Polio.


First Published: October 23, 2018, 12:38 PM IST