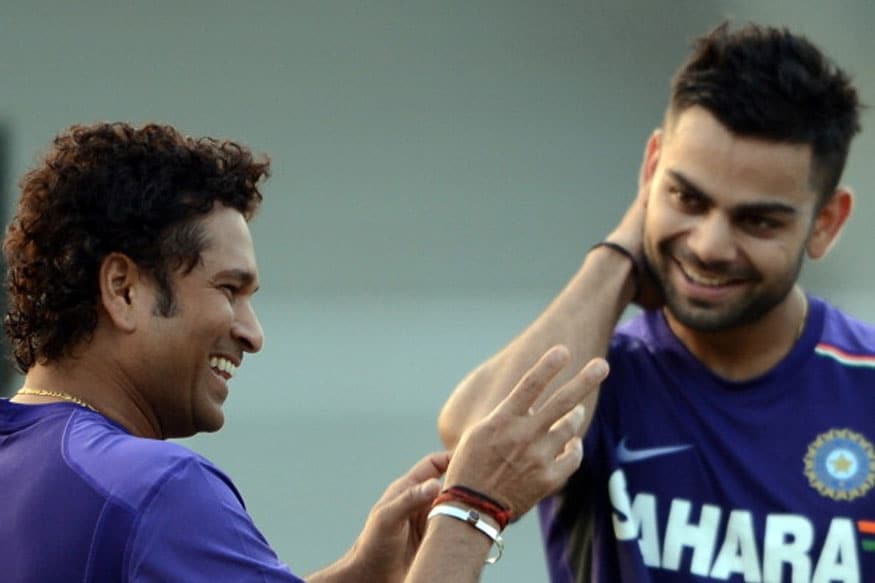 New Delhi: "Poor is the pupil who does not surpass his master," so said the iconic Italian painter Leonardo da Vinci. While we don't know in what context did da Vinci say those words, we know of a 'master' and his pupil, who are both world beaters and have a lot of mutual admiration for each other.

Yes, we are talking about Indian cricket's biggest star ever, Sachin Tendulkar, and its current first citizen Virat Kohli. While Sachin Tendulkar ruled the roost in world of cricket for two decades, with his elegant stroke play and champion batsmanship, Virat Kohli has taken over the mantle from his self confessed idol in the current generation.

Sachin, was regarded by many as the best batsman of his generation and Kohli is moving in the same direction. The Indian captain in fact has been on a record breaking spree in all three formats of the game since the beginning of 2016 and that has brought accolades and adulation from all corners.

Kohli recently became the first batsman ever in the history of Test cricket to score double centuries in four successive series, when he scored 204 against Bangladesh in the ongoing Test match at Hyderabad.

And Sachin Tendulkar didn't waste time in praising the man who has filled his big boots in Indian cricket. Sachin posted a message on twitter hailing Kohli's great batting.


The sweet spot on your bat speaks about the awesome form you are in, don't need scoreboards.May god always keep your bat like that @imVkohli pic.twitter.com/zSgLgTeTYY

— sachin tendulkar (@sachin_rt) February 11, 2017



Sachin Tendulkar was a champion batsman when he was playing cricket, and he continues to be a champion who inspires an entire generationof cricketers to keep performing at their best for India, which includes Virat Kohli as well.




First Published: February 11, 2017, 10:10 PM IST