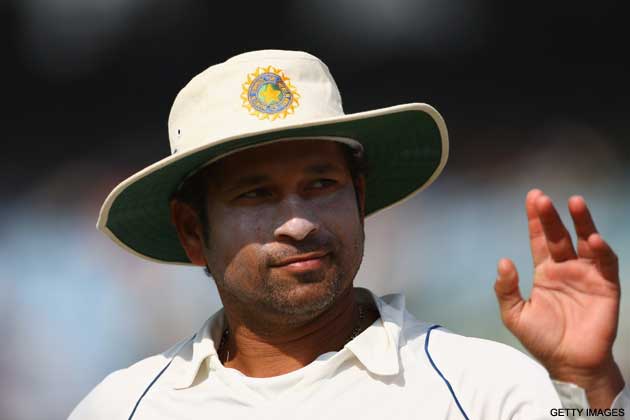 New Delhi: His first international hundred came in the second innings of the second Test of the 1990 series against England at Old Trafford when he was still only 17 years and 122 days old. As Sachin Tendulkar turns 38 on Sunday, the master blaster is just one century away from a 100 international hundreds. And after the World Cup triumph, this is the most anticipated moment in world cricket.
When the World Cup started on February 19 in Dhaka, Tendulkar was three short of that magical figure. In only the second game for India, he scored 120 against England at Bangalore. Then as India chased a quarter-final berth, he hit another sublime 111 vs South Africa at Nagpur. Everyone was certain that the 100th hundred will come soon, maybe against Australia in the quarter-final or better still against Pakistan in the semi-final or the best of all in the final at Wankhede. But it was not to be. The closest he came to getting that 100th ton was in the game against Pakistan where they gave him five lives. When he was finally dismissed for 85, one heaved a sigh of relief. That hundred, if it had been achieved, would have brought him the milestone but it would not have been a masterpiece. It was too flawed an innings and the 100th hundred deserved a better show.
With Team India set to play the West Indies, England and Australia in the ensuing months, Tendulkar has plenty of chances to bring up that 100th hundred and even go past it. He is expected to be rested for the ODI series against West Indies, which means he will probably be seen in action at the international level with the first Test at Kingston starting June 20. The three-Test series is immediately followed by a full series in England that consists of four Tests, one T20 and five one-day internationals. Expect a premature Diwali this time.
Tendulkar has over the years raised the bar so high that very often his feats look more than just statistical achievements. Cliched it may sound, but Tendulkar's hundredth hundred will be celebrated for going where no other man has ever gone before and for having - at the age of 38 - blended the boldness of his youth with all his experience.
Over the years there have numerous debates over his best knocks or how his knocks have helped win matches, save games or come in lost causes. But the very fact that he stands on the threshold of a 100 hundreds points to his consistency and his ability to withstand expectations and that is what sets him apart from all cricketers.
And while the records have just kept coming, it hasn't been plain sailing. And it is his ability to work hard and perfect his skills against the best in the world that has made the difference between him and other talented players.
Take for instance his preparation for Shane Warne's arrival in India. In early 1998 he went to Chennai and got Laxman Sivaramakrishnan to bowl at him around the wicket into specially prepared rough outside the leg stump. He knew that was what he was going to get from Warne and he was ready.
Years later, in 2004 in Australia he encountered yet another bad patch. But he thought through his problems to the point of cutting out one of his most distinguished strokes, abandoning the cover drive and instead just waiting for the chance to hit to leg. He maintained this policy for 10 hours 13 minutes and 436 deliveries, scoring an unbeaten 241 in Sydney, his highest first-class score and as the Wisden Almanack recorded "the highest ever made by a man still nowhere near his own top form".
Some things will never change. When he scored his first hundred, the Wisden Almanack recorded: "What made his first so special were the circumstances in which he made it, as a 17-year-old coming to the rescue of his country."
It went on to add: "Yet those who had seen him stand up to a barrage of bouncers from the Pakistani fast bowlers at Sialkot the previous winter would have had no doubts about his genius, or his capacity to set an example to colleagues old enough to be father figures."
Now as the senior-most member of the team, and as a player who has inspired fellow team members to take up the game, he truly is a father figure. And when he does get that 100th hundred, what should be celebrated most is his unfailing ability to bridge generations that has made each ton a memorable journey.