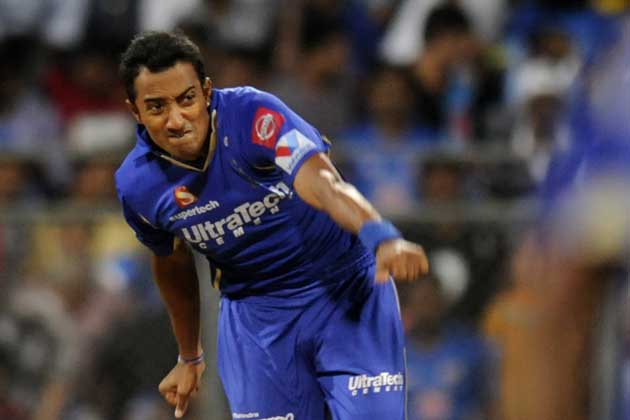 Mumbai: Mumbai Cricket Association joint secretary Nitin Dalal on Friday said he felt sad for promising left-arm spinner Ankeet Chavan, who was banned for life by the BCCI on IPL spot-fixing charges, saying that he was on the verge of being picked for India A.
"It's a sad day for Mumbai cricket. It's a pity that Ankeet Chavan has been found guilty. He was set to be picked for India A team as he's a wicket taking bowler," said Dalal while reacting to the BCCI decision to ban Chavan and other cricketers.
The BCCI's Disciplinary Committee, comprising N Srinivasan, Arun Jaitley and Niranjan Shah, enquiring into the allegations of spot-fixing against some Rajasthan Royals, imposed the ban on Chavan after a hearing in New Delhi.
Chavan and India Test pacer S Sreesanth were banned for life from playing any representative cricket, or in any way being associated with the activities of the BCCI or its affiliates, said the statement from the Board. Even as he expressed sadness on the life ban imposed on Chavan, Dalal was also relieved a bit that another Mumbai player and left-arm spinner Harmeet Singh was let off for lack of evidence.
"He [Harmeet] is now free to play for Mumbai if selected," said Dalal. Dalal explained that Harmeet, a member of India's victorious Under-19 World Cup-winning squad and also of IPL franchise Rajasthan Royals, has already decided not to play for Vidarbha CA, after having approached them earlier.
Harmeet's grandmother Preetam Kaur also expressed her happiness over the clean chit given to the youngster by the BCCI's disciplinary panel when contacted at the player's residence here.
Stating that the entire family was in Delhi, she said, "There was a lot of anxiety (over the impending Board decision) all these days. I got a call from Harmeet's mother from Delhi... now we are extremely happy."
Speaking through his lawyer Ashok Paranjpe, Harmeet told PTI that his stand has been vindicated.
"My stand has been vindicated. I am happy that BCCI listened to what I had to say. I have always maintained that I was innocent (of any wrongdoings). Now I can play, otherwise my career was at stake," said the young left-arm spinner. Paranjpe, who had accompanied the bowler to Delhi after the player requested to BCCI that he be present at the hearing of the Disciplinary Committee, said the Board gave a clean chit to his client after it found he had neither committed any offence nor breached its Code of Conduct.
"BCCI has given him a clean chit and found that he had not committed any offence or breach of its Code of Conduct. The allegation against Harmeet was that he should have informed the wrongdoings of co-players. However, the player had given a statement to the magistrate and also informed about the same to the BCCI's one-man inquiry commissioner (Ravi Sawani)," he said.
Asked whether he attended the hearing with Harmeet, Paranjpe said, "BCCI did not allow me to represent Harmeet and so I did not attend the hearing."