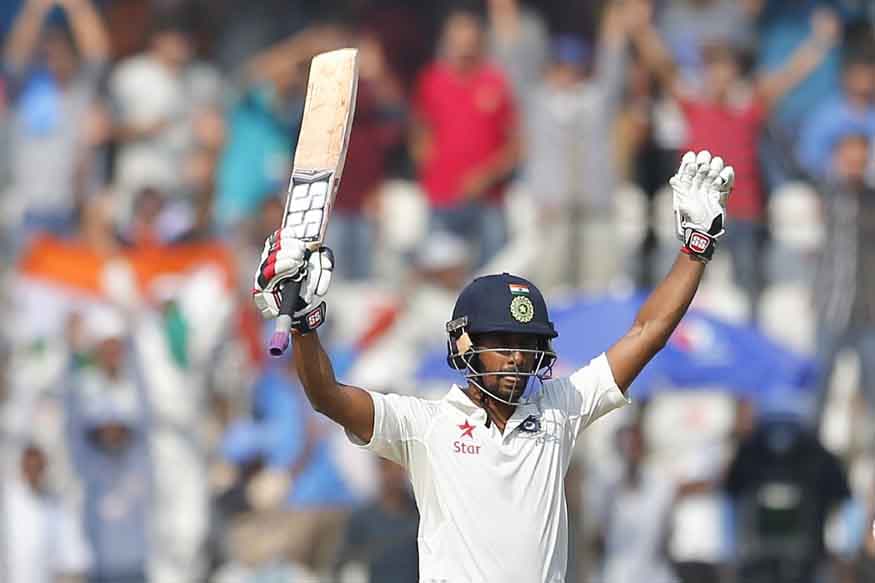 India's first-choice Test wicketkeeper Wriddhiman Saha has said that he will take atleast four more months to fully recover from the shoulder injury he suffered after the IPL, meaning he is likely to miss the Australia tour, with the Test series starting on December 6. Saha, who underwent a shoulder surgery in England last month, is currently undergoing rehabilitation at the National Cricket Academy in Bangalore.
"As per the doctors, it varies from body to body as far as full recovery is concerned. Safe to say, it will take four months," Saha told cricbuzz. "Getting back on the field is not on my mind right now, my focus is to just do the things I am being told to on a daily basis. I have just started the rehab two days back at the NCA, I haven't been told how long I would need to be here. But yes, a stretch of three-four months can take a toll, so I will be given breaks and be with family, come back and resume the rehab, something on these lines.
"Trust me, I am not thinking about how the positions would be in the team in four months' time. I don't talk about it to my wife, parents, and I am telling you the same thing. It is always 3-4 days ahead of a game that I start thinking hard about the game. The thought now is whenever I return, I will try to do my best in the domestic games. I don't know at what stage of the tournament will I return. It is about day by day work on this shoulder."
Over the last few months, there was plenty of confusion surrounding the nature of Saha's injury and the way it was handled by the BCCI. Saha missed the second and third Tests of the South Africa tour earlier in the year with a hamstring injury, and missed the latter stages of the IPL with a thumb injury. He also missed the one-off Test against Afghanistan in June.
Through the period, there was no mention of a shoulder problem by either the BCCI's medical team or the selectors, leading to confusion. Now, Saha has clarified the sequence of events, saying he first injured his shoulder in South Africa which was aggravated during the IPL.
"When I came for a rehab from the South Africa tour, my shoulder injury was detected, which probably was because of some dive or something I can't remember. I recovered fully after that," he explained. "Then came the IPL where I injured my shoulder because of a couple of dives. I injured my thumb after I came back towards the latter stages in the IPL.
"I always wanted to play for as long as I can, with injections and by undergoing rehab. I was really looking forward to the England tour, it was the opportunity everyone looks forward to. I don't know what was said and debated on outside. It's not my role to know if my physio is sending status reports of my rehab and injury, my job is to report the injury, follow the routine of rehab and give it my best to get back on the field fully fit. All of us are doing our jobs - the physios, me, everyone.
"So the flowchart is like if one picks up an injury, the player has to report it to the club or state team - wherever he's playing, then they get in touch with the NCA. The NCA takes stock of the situation and decides the line of treatment."
Saha said he tried his best to be fit for the England tour, but given his situation, he didn't want to let his team down.
"I pushed myself as much but it wasn't meant to happen," he said. "Everyone keeps talking about England tours. I have been on tour with the team in 2014, it is a real test not just for the wicketkeepers but for everyone to go there and do well. I wanted to test myself there in such a valuable series, I wanted to test my pedigree. I don't know the specifics but maybe because I had taken those injections twice before and hence the third didn't work as effectively. Again, the doctors can tell you better - the period of treatment and rehab keeps reducing with every injection but when I took the third, I wasn't getting my full range of movement and on an England tour, you don't want to let your team down by going 50-60 percent fit."