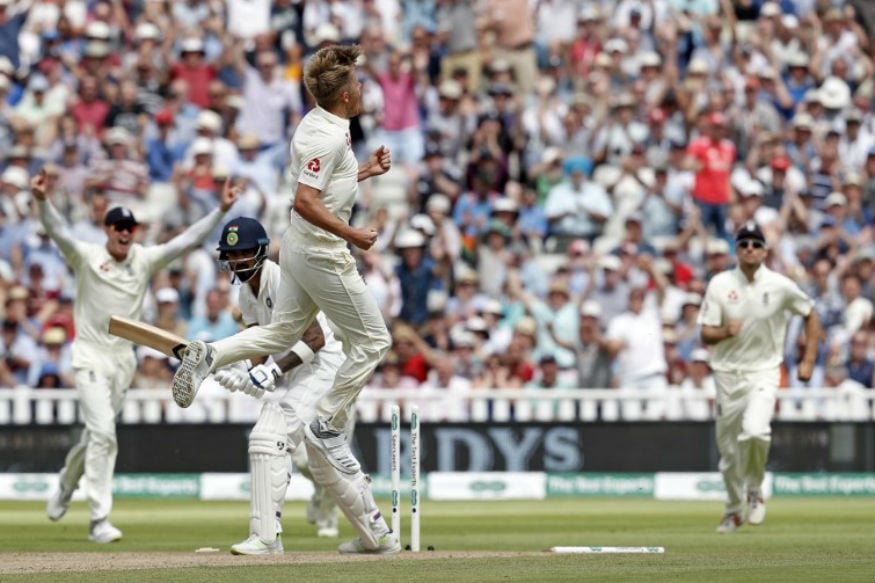 Ashes 2005. An indelible chunk of England's Test cricket history has a rather disregarded statistic. England's best bowlers in the series - Andrew Flintoff (24 wickets) and Simon Jones (18 wickets) - weren't their new ball bowlers. Matthew Hoggard and Steve Harmison were, and they were no doubt exceptional, ending with 16 and 17 wickets respectively, but it was Jones and Flintoff that were the driving force in the hosts sealing a the historic series win.
The role of the supporting seamer, hereinafter called the third wheel, is often neglected, especially when the top two are illustrious match-winners. Yet, an able third or fourth seamer is a major asset in any Test side.
Some of the best teams in the history of Test cricket have had more than two fearsome names in their fast bowling arsenal. Described as "the four horsemen of the apocalypse", the West Indies of late 1970s had Michael Holding, Andy Roberts, Joel Garner and Colin Croft. The Australian Test sides of the early 2000s had Glenn McGrath, Brett Lee, Jason Gillespie and Michael Kasprowicz. More recently, the South Africans played Dale Steyn, Vernon Philander, Kagiso Rabada and Lungi Ngidi in a Test match against India.
If there was something missing in the current England Test team's armoury as a fast bowling unit at home before the Edgbaston Test, it was a stand-out performance from their third wheel.
James Anderson and Stuart Broad, the two highest-wicket takers in England's Test history, more often than not step up and the need for a compelling show from the third seamer has not always been required. This is evident from the huge chasm in wickets tally between Anderson, Broad and the other England seamers since the latter's debut in 2007.
While Anderson and Broad have 400-plus wickets in this time frame, the next highest by an England seamer is 125 by Steven Finn. Ben Stokes just got 100 in the recently concluded Edgbaston Test against India.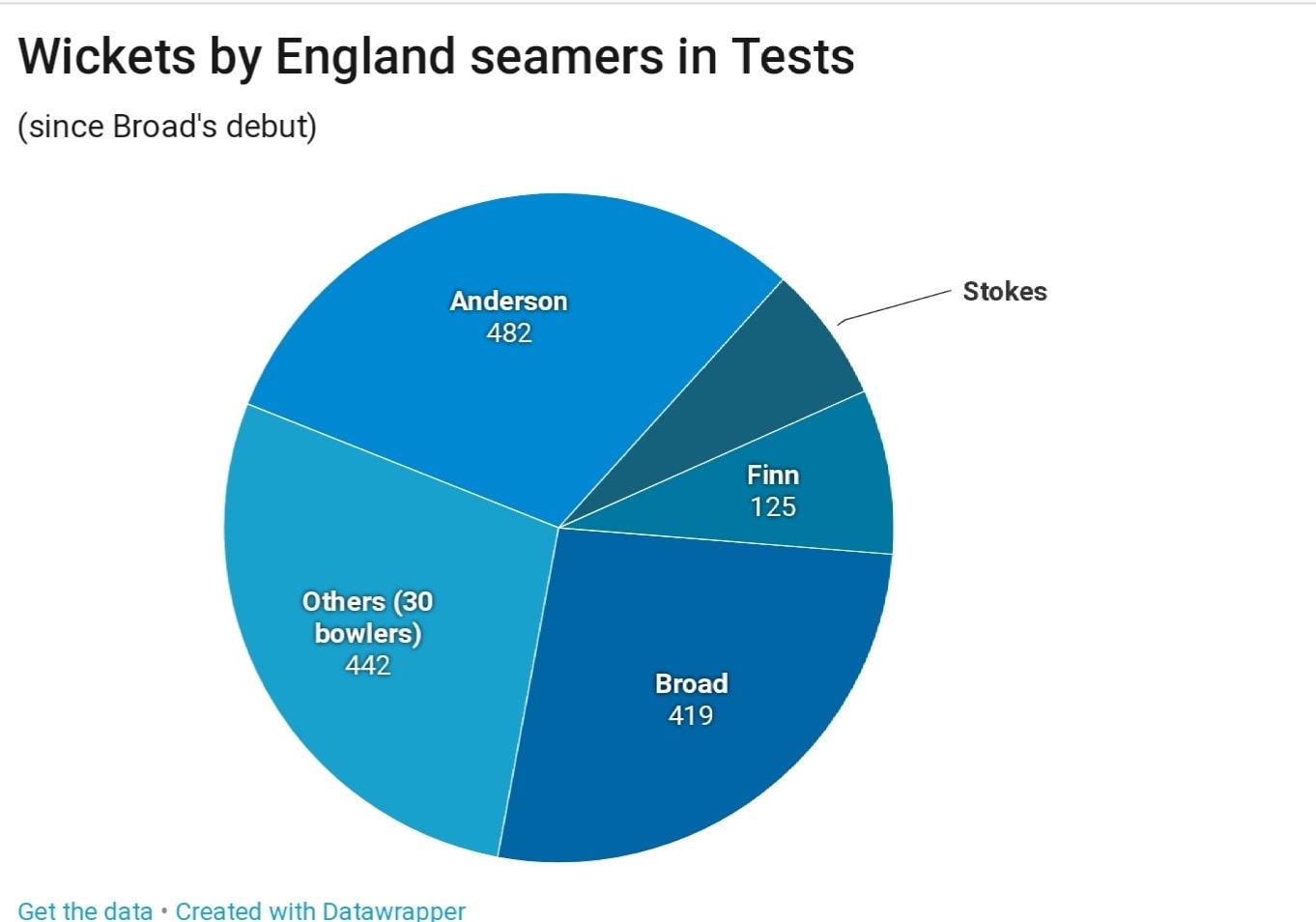 Finn has a phenomenal strike rate (51.2), comparable to the best in the world, with even Anderson and Broad coming behind him. Toby Roland-Jones, currently on a rehabilitation programme after suffering a back stress fracture, and Sam Curran, the latest hero, have had eye-catching starts to their Test careers and have remarkable strike-rates and averages, though the sample size is lesser.
Of England's support fast bowlers, Finn, Curran and Roland-Jones have strike rates and bowling averages lesser than the global average. Stokes has a lesser strike rate but edges ahead of the global average in terms of bowling average (32.16).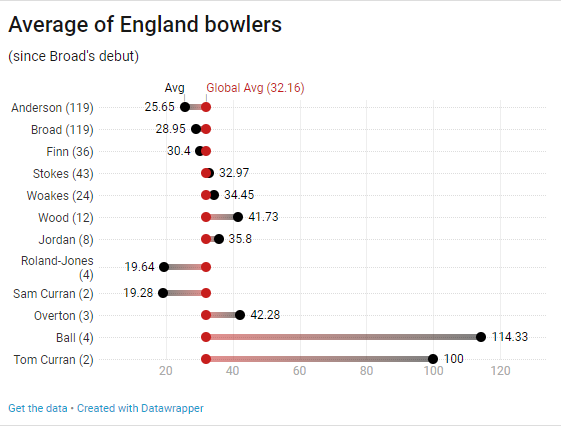 Wickets per innings is another reasonable way to analyse how good a seamer is. To gain perspective, Dale Steyn has a wickets per innings value of 2.61, Glenn McGrath has 2.31 and Wasim Akram has 2.28.
Of England's bowlers since Broad's debut, only James Anderson and Toby Roland-Jones have a wickets per innings value greater than 2. Broad just about falls short with 1.93. The global average in this time frame for wickets/innings is 1.6 which the likes of Ben Stokes, Mark Wood, Chris Woakes, Jake Ball and Chris Jordan do not breach.
Now, if we analyse the top change-up bowlers (the ones who come in first-change and so on)  since Broad's debut, we see there are two South Africans - Morne Morkel and Kagiso Rabada - and two Australians - Mitchell Johnson and Peter Siddle - while there is one each from England, New Zealand and India. India rarely have the need for a third pacer on wickets back home and as such it is understandable that there is only Ishant Sharma who has stood out. England, though, have just one (Steven Finn) which shows the minimal contribution their third-wheel fast bowler makes. Though Finn manages to take two wickets/innings as a change-up bowler, the lack of consistent support has hurt him. England also do not think of him as a suitable third wheel now with his last Test coming way back in 2016.
Sam Curran and Ben Stokes are the current incumbents in the third and fourth seamer roles for England in Tests. Curran's impressive performance with the ball at Edgbaston provided the impetus for England to beat India by 31 runs and gain an early lead in the series. This brings us to another important role the third wheel has in a Test side - impact performances.
We define impact performance when a bowler picks up four wickets or more in an innings. Anderson has 44 such impact performances since Broad's debut while Broad himself has 31. Finn has 11 and Stokes has 8.
It is, however, vital to check on frequency of such impact performances to analyse how consistent the bowler is. The global average of impact performances during the timeframe under discussion is 8, which means an average fast bowler is likely to take a four-wicket haul every eight innings.
In terms of frequency, Anderson, Finn and Broad come below the global average, but the other England seamers combined make an impact performance every 15 innings, which is rather poor.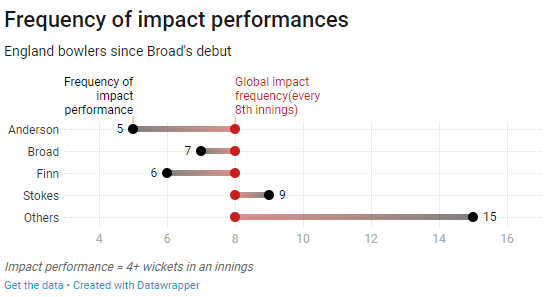 There is statistical evidence to suggest that England are a much better unit when their third or fourth seamer has an impact performance. For instance, Finn has nine such performances (all at home) and England have only lost one of those Tests. Overall, since Broad's debut, England's backup pacer has had an impact performance (4 or more wickets in an innings) 23 times, with 17 of them coming at home. England have won 12 and lost just two of these Tests. Away from home, such performances have had less of an impact on the final result since they have lost four out of the six Tests where the supporting pacer has an impact performance.
With Sam Curran making a compelling case with his all-round show at Edgbaston, England have fewer worries despite Ben Stokes' unavailability for the Lord's Test starting Thursday.
(Rohit Sankar is a freelance cricket journalist stuck in a love-hate, live-in relationship with the game. To rile him, bring up the 1999 World Cup semi-final. He tweets @imRohit_SN)