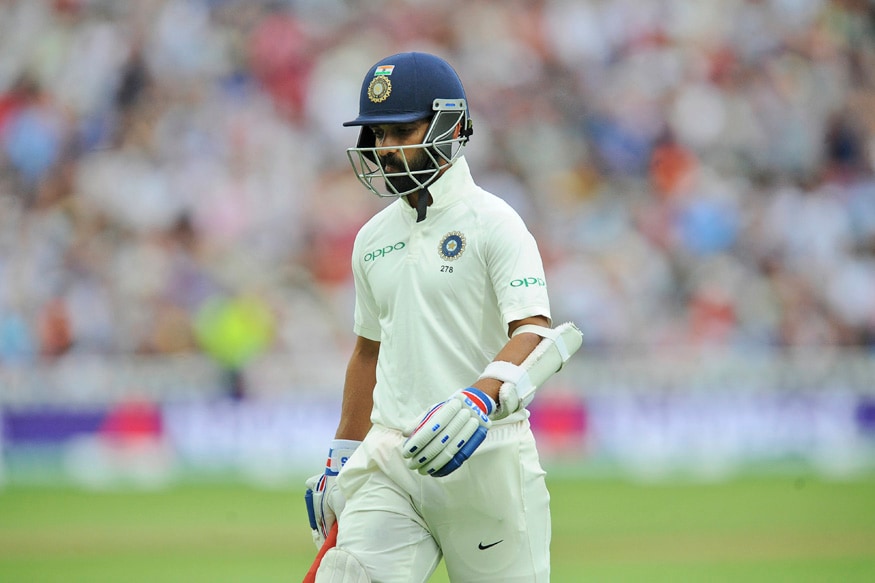 "The batting has been so naive and irresponsible; it has bordered on stupidity."
Geoffrey Boycott's brutal assessment of India's batting fiasco in the ongoing Test series against England isn't too far off the mar. The visitors' last nine innings in Tests on English soil - 130, 107, 162, 274, 94, 148, 161, 152, 178 – are a clear reflection of their inability to adjust to the conditions in the country. With just one score over 200, India have barely managed to put up a challenge, let alone win.
The batsmen have been dismissed too often on low scores and those that have managed to escape from the stranglehold have often thrown away their starts. Of India's top seven batsmen on this tour, majority have fewer scores above 20 than below it in England. The likes of Shikhar Dhawan, KL Rahul and Hardik Pandya are yet to score a half-century in the country.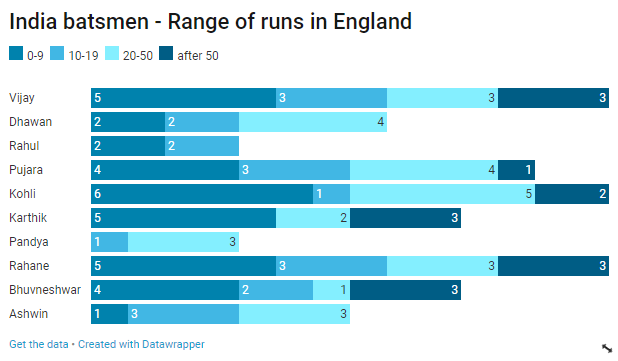 The string of low scores could easily be a case of struggling to adapt to surfaces unseen back in the sub-continent. But a large chunk of them aren't on their first tour to England and players like Cheteshwar Pujara and R Ashwin have studiously attended County lessons to accustom themselves to the conditions.
If it isn't an issue with the state of mind, are India's batting pillars in dire need of upskilling, as Nick Compton, the former England opener, argues? The more you stay away from the ball, the higher the chances of survival. However, merely surviving without scoring is akin to looking to complete a marathon by standing still to not tire yourself out. The mode of dismissal of India's batsmen suggests that survival hasn't been priority. But when looking to score, they have relied on methods bordering risky, eventually playing into England's hands.
Statistics show that top seven batsmen who have played in 2014 and are playing now, have nicked behind the wicket (either to the slips, gully or keeper) a whopping 32 times. They were bowled and LBW less often with England's seamers using the fourth stump line - the very channel that kept Virat Kohli in the list of ordinary batsmen until Edgbaston happened - and late movement to befuddle them.
In 2018, the trend hasn't totally changed but England have managed to find another chink in India's batting technique. The inswinger or balls seaming into the batsmen have accounted for a fair share of wickets this time around.
At Lord's, in the second innings, Pujara, Kohli and Dinesh Karthik were all found wanting against deliveries that moved in late. Pujara was cleaned up by an in-dipper that swung back 3.8° as per CricViz data. Similarly, Kohli received a delivery that seamed into him by 2.7° and Karthik received a corker that moved back in late at 3.2°.
India might just have focussed a bit more on countering their fourth stump line woes that they exposed themselves to the one coming in. Skilled as they are, all it apparently took England's bowlers was an innings (India scored 274 in the first innings of this tour) to figure out the latest weakness in their batting technique.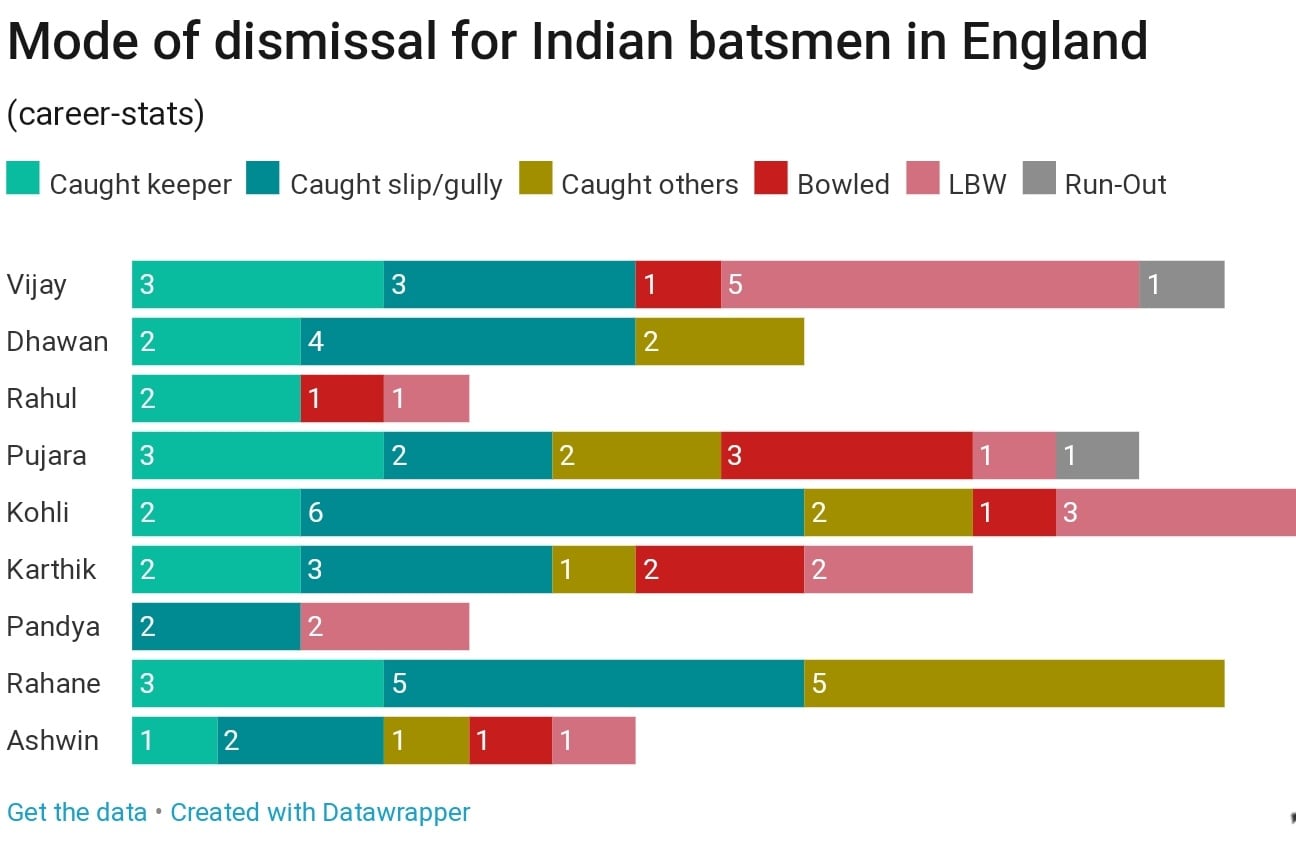 Make no mistake, Indian batsmen haven't been allowed to settle down one bit with them being constantly peppered around the off-stump channel with varying degrees of inward and away movement. The visitors, barring Kohli to an extent, haven't deciphered a way to survive or score.
When the ball swings around as much as the England seamers have managed, batsmen are bound to be tested. As the CricViz stats show, India's top-order are sitting ducks when the ball does something in the air. Other than Pujara, Kohli and Vijay, no other batsman seems adept at handling swing.
Cheteshwar Pujara comes into the Indian side, and he may be better suited to combating swing than Shikhar Dhawan. Pujara averages over 90 against balls moving >1.475° - the average movement in the first Test. #ENGvIND pic.twitter.com/q5FOxX8qc7 — The Cricket Prof. (@CricProf) August 10, 2018
With England packing their side with pretty accurate seam bowlers, the batsmen have found little to no avenue to catch a breather. James Anderson, the unquestionable leader of the pack, lands the ball on a good length more than 50% of the time. In this part of the world, when you hit the good length (6-8m from stumps), you are likely to take a wicket for every 24 runs scored according to a recent insightful article on The Cricket Monthly by Nathan Leamon, England team's Performance Analyst.
Contrary to when you land it fuller (2-6m from stumps), the good length opens up the possibility of more seam movement while retaining roughly the same amount of swing that can be found. Either way, it puts the Indian batsmen in a spot of bother for they are susceptible to both swing and seam. Digging further into the kind of length that troubles current Indian batsmen in England, a profound weakness is blatantly visible against balls that are in and around the good length area.

Majority of their dismissals on this tour have come off a good length. Kohli, though, has managed to evade this trap. In 2014, six out of his 10 dismissals came off a good length with the ball on and around a fourth stump channel. On this tour, he has been mindful of his past blues. None of his dismissals have come off a good length or from a fourth stump line.
Vijay has been done in by balls swinging or seaming into him three out of four times and Dhawan went out with a fishing rod instead of a bat at Edgbaston only to be promptly dropped for Lord's, much akin to his fate on similar tours before. Dinesh Karthik, like Vijay, has been indisputably exposed against the inswinger with the wide gap he leaves between bat and pad.
Rahul and Rahane have been lured with balls wide outside the off-stump although the latter, alongside Ashwin, seems to be the most compact of India's batting gang. Rahane was the architect of India's win at Lord's four years back with a fabulous century on the opening day and if he can wind the clock back a few years, Kohli would have an armed companion to douse the fire.
The manner of dismissals is also an indication of what has changed in England's pace attack. In 2014, Anderson and Stuart Broad were well supported by Chris Jordan, Chris Woakes and Moeen Ali. Spin has had little role to play this time around and Ben Stokes has taken over the mantle from Jordan. Broad and Stokes have a natural angle that comes into the batsman and Anderson and Woakes are very similar kind of bowlers who swing the ball away. Sam Curran adds a dash of variety with his left-arm variations.
With varied skill-sets, working their way through India's batting line-up has been rather easy, particularly with the visitors banking on their skipper to produce majority of the runs. England can afford to spend two whole days plotting against Kohli for he seems to be the only one stopping them from a series whitewash.
At Lord's, he was thoroughly worked over in supreme fashion by Chris Woakes. The all-rounder Shrek-like, a friendly, non-toxic ogre. Put together Lord's (18 wickets at 10.16) and India and he turns into a Velociraptor that devours batting line-ups for fun. In the first innings of the second Test, he bowled nine unplayable meteors at Kohli, all swinging away from outside off-stump, inducing a total of five false shots. The ball that produced the wicket though, was at the stumps, as he played mind-games with the skipper's footwork. It was brilliant planning, exceptional execution and a rather ordinary retort. But at least, Kohli made them work for the wicket.
Arguably, constant, annoying drizzles, murky skies and a quartet of outstanding seamers in Halloween mood did make it an exceptionally hard challenge to bat at Lord's but didn't India see this coming? They had glaring technical errors four years ago and except for Kohli, the others have done little to evolve. For a country where every cricket fan turns into a phlegmatic prognosticator, the recent batting cataclysm presents another opportunity to quip, "I told you so".
(Rohit Sankar is a freelance cricket journalist stuck in a love-hate, live-in relationship with the game. To rile him, bring up the 1999 World Cup semi-final. He tweets @imRohit_SN)