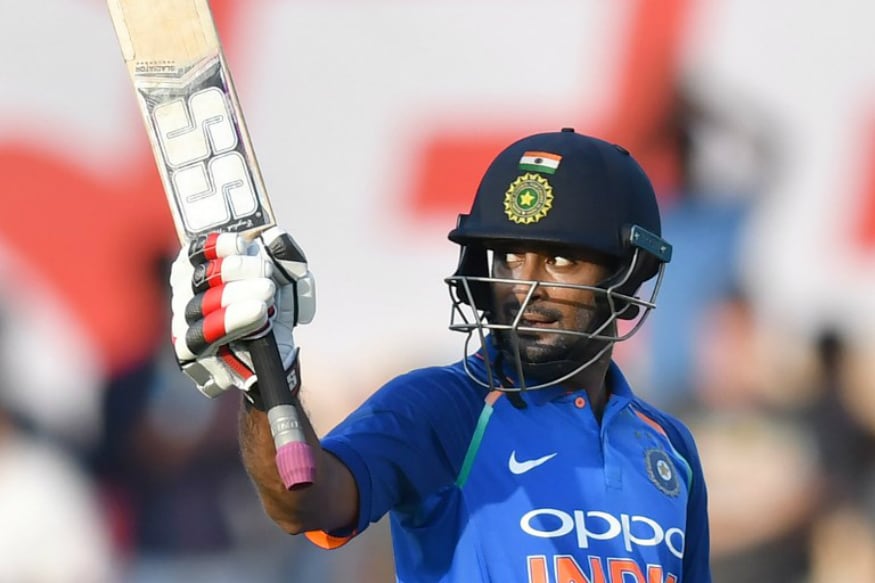 How often has one batting position been the subject for constant discussion? Yet, India's unceasing issues at no.4 had hogged attention like no other debate. Seemingly, putting an end to all that chatter was Ambati Rayudu, who showcased unwavering temperament and flair at the position in the recently concluded ODI series against West Indies.
"Rayudu has taken the chance with both hands and we need to back him till 2019 World Cup. He is feeling good about his game and we need to give him the confidence, he reads the game well and we are happy that someone as intelligent is batting at number four," Kohli had said in the post-match presentation after Rayudu plundered the Windies attack to become only the third Indian centurion – after Manish Pandey and Yuvraj Singh - since the last World Cup.
Rayudu was so clinical that the discussion over his position as an issue appears to have ended at the conclusion of the series. Perhaps, it is fitting as no other Indian batsman has a better runs/innings average at the position since the last World Cup.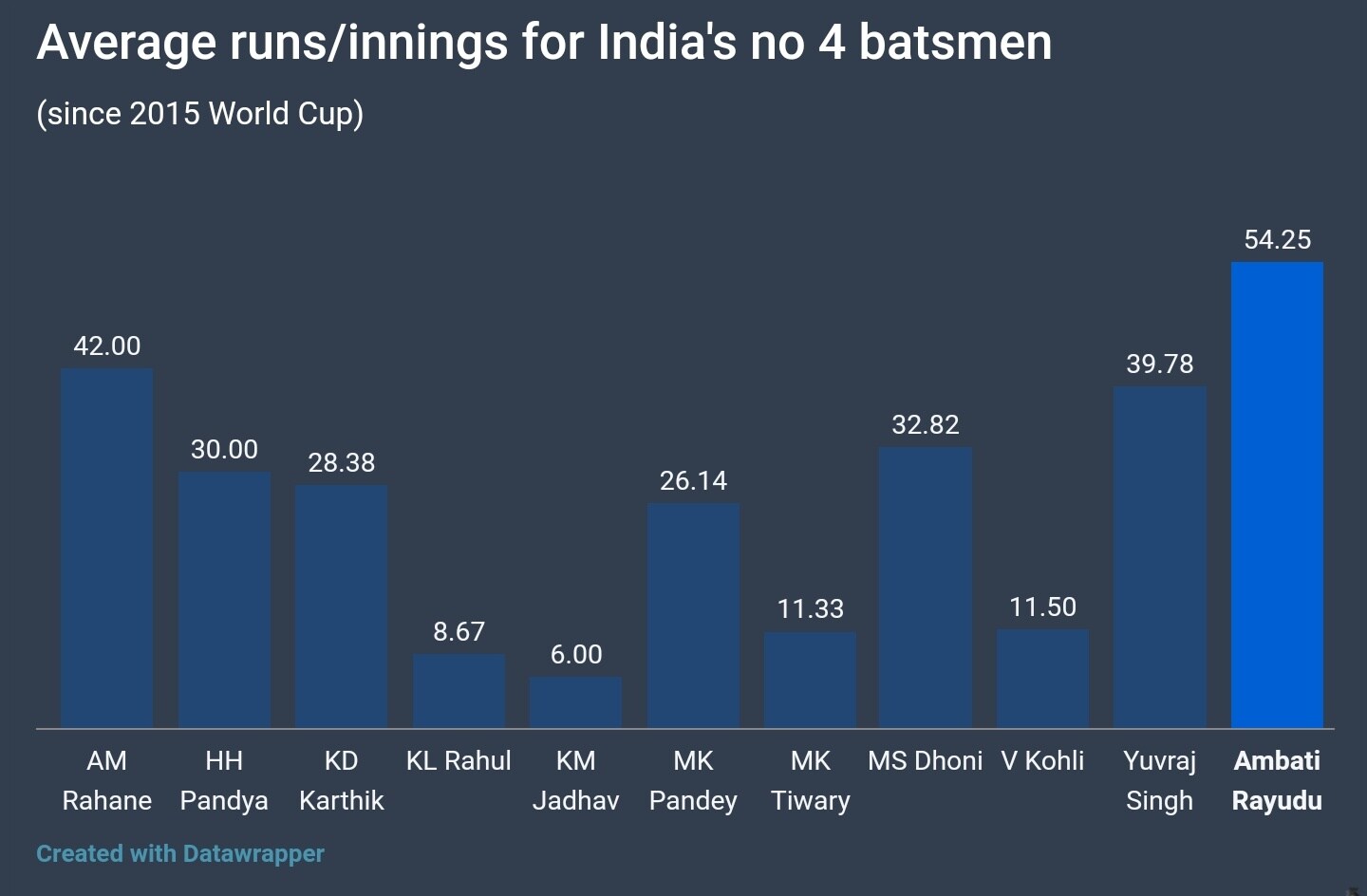 But has he done enough to completely put the debate to rest?
• Weren't his returns coming against a West Indian side that conceded 300-plus in three out of four matches where India could plausibly score 300 (the fifth ODI saw the Windies bowled out for 104 thus scratching off the possibility for another Indian run fest)?
• Hadn't Ajinkya Rahane and Manish Pandey, aside from the veteran Yuvraj Singh, also enjoyed a purple patch at the position before hitting a roadblock?
• Importantly, he might be a good no.4 by normal standards but is he a good no.4 to bat behind India's outstanding top three?
It is perhaps ideal to understand the dynamics of this Indian batting line-up before we analyse how good a find Rayudu can be for India at no.4.
It is no secret that since the defeat in the Champions Trophy final in 2017, India's top three have been murdering bowling attacks for fun. They have faced 64.4% of all balls India have faced since the multi-nation event in England. While this has meant records being broken every match by one of the top three batsmen, the issues in the middle-order have been fairly well masked.
Glance through India's batting performance in the eight matches they have lost (out of the 41 played) since the Champions Trophy final and you see that they lost two out of the top three within the first 20 overs six times out of eight.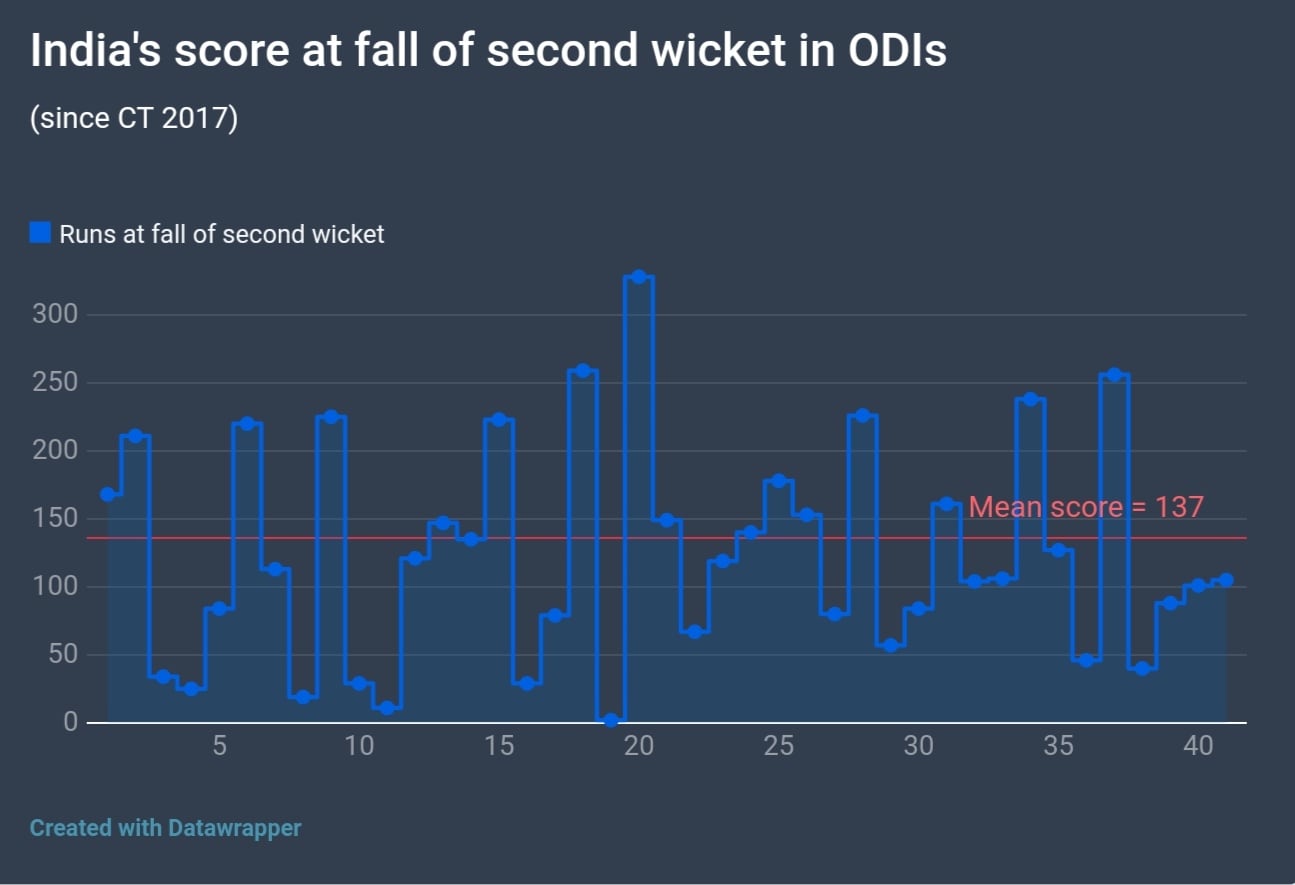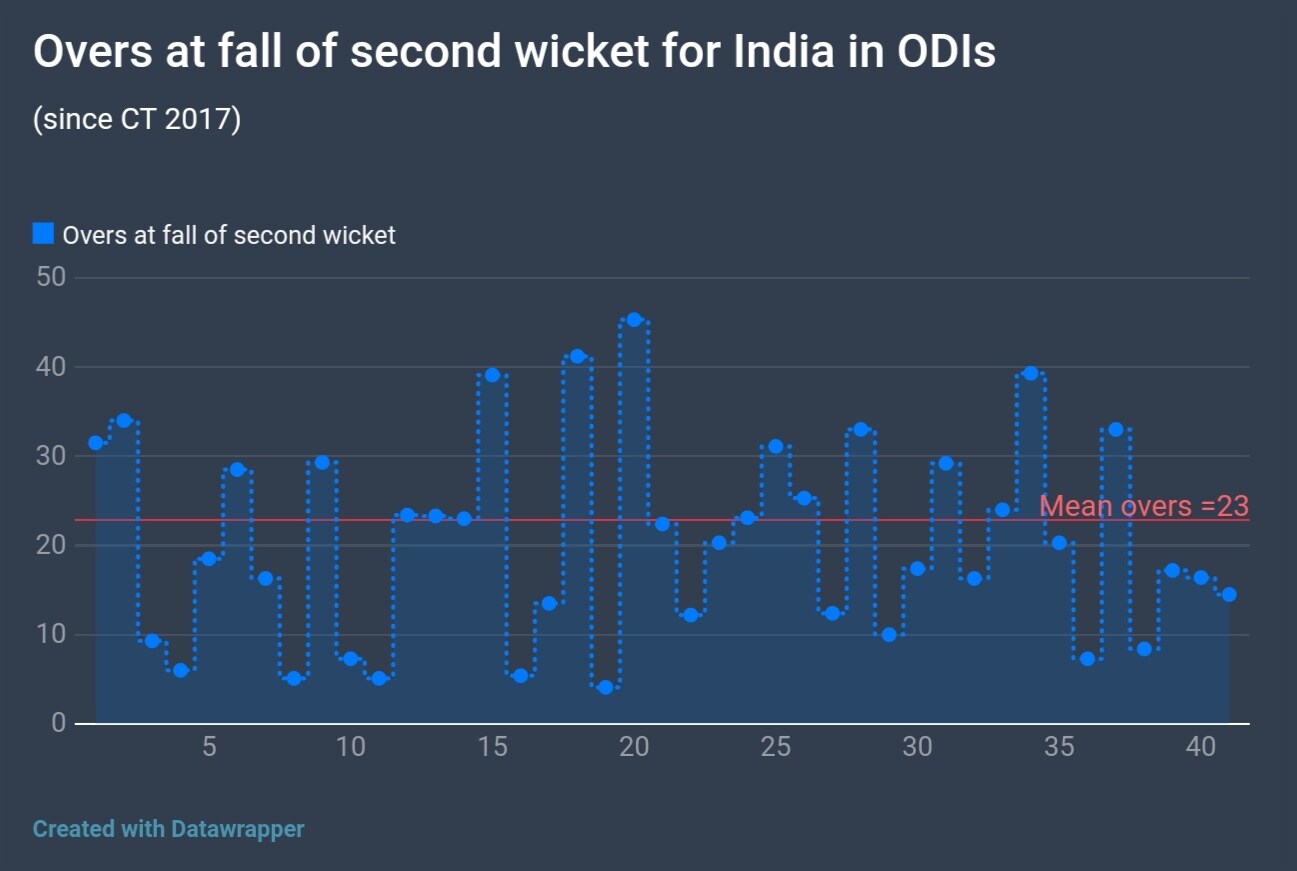 On an average, India's top two wickets add 137 runs in 23 overs in ODIs since the Champions Trophy. That corresponds to a run-rate close to six in nearly half the number of overs allotted. The standard thought process in modern ODI cricket is to double the score you have after 30 overs if there are wickets in hand. Yet, while batting first (where they score 135 in 23 overs on an average), India make an average total of 276, another factor which points towards the inefficiency of their middle-order to find quick runs.
Strike rate is a major discussion for India's no.4 owing to three prominent reasons:
• The incredible efficiency of the top three which results in the no.4 walking in to bat with close to half the number of overs already being played out.
• The presence of MS Dhoni, apparently immovable from the line-up. His strike rate of late is a major cause for concern because his presence denies India a chance to play a power hitter in the lower middle-order where none aside from Hardik Pandya is capable of going full tilt at the death.
• The lack of bowling options in the top 5 mean that Kedar Jadhav has to be a certainty in the XI for he doubles up as the sixth bowler. Although his strike rate is good, Jadhav is no big hitter. With Dhoni and Jadhav at 5 and 6, there is security in terms of runs but not in terms of strike rate.
All of this combined make India's attacking potential in the final few overs negligible. This is reflected if you go into team performances at 4-6 in ODIs since the 2017 Champions Trophy. The average batsman at 4-6 (among the nations that are going to the World Cup) scores at a strike rate of 83.97 and has an average of 32.88.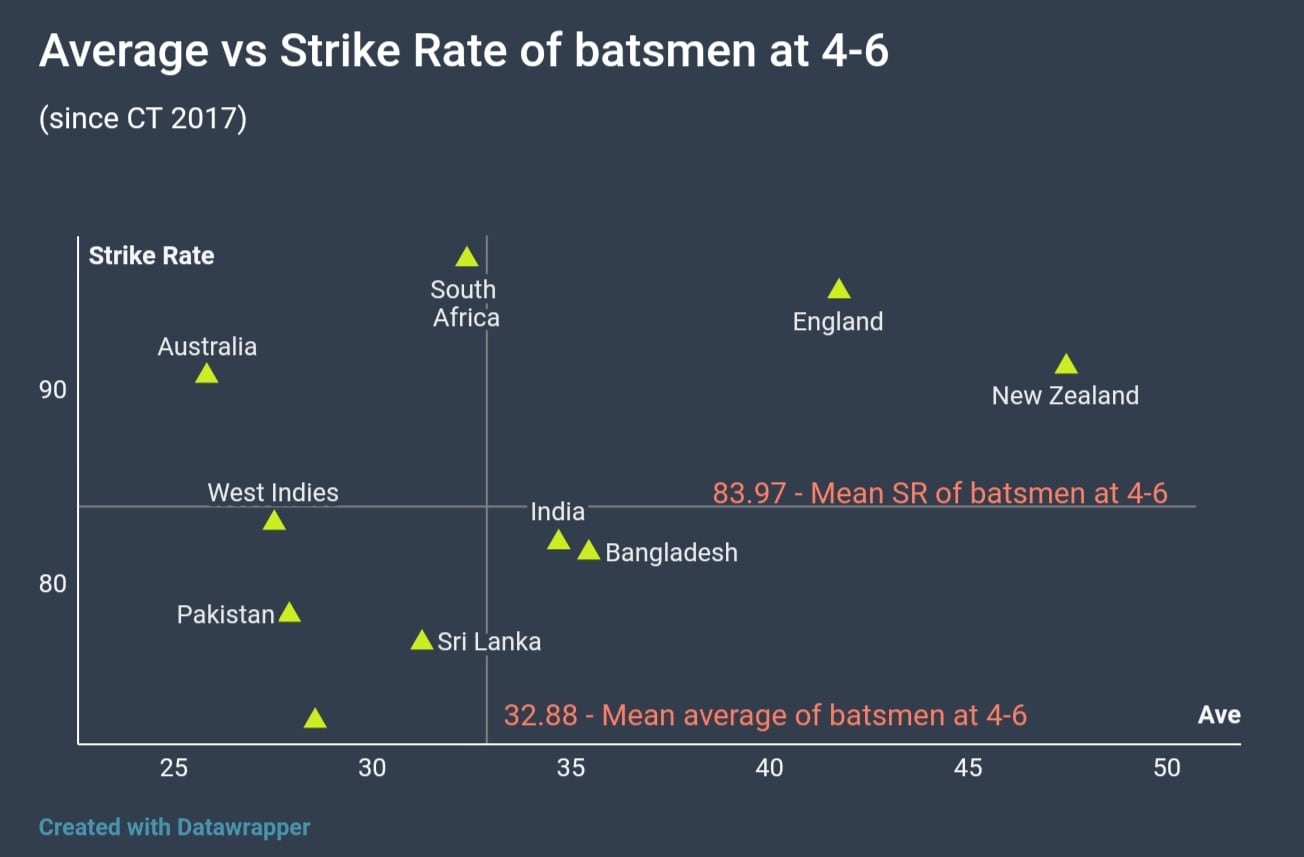 India's 4-6 have a mean average of 34.69, higher than the global average but lag behind in terms of strike rate (82.12). It wouldn't have been a major cause for concern if India's top three weren't so dominant. That the top three hog more than 23 overs on an average make strike rate an important factor for India's middle-order because the bulk of their time at the crease is spent in the second half of the batting innings. Yet, they have failed to match up to the mean strike rate despite being ably helped by a stable platform provided by the top-order.
Coming back to Rayudu, the middle-order batsman has been impressive with his striking prowess this series but in the two matches where he scored 50-plus, Rayudu came in early to the crease (in the 9th and 17th over to be precise) and had time to settle down before going big. That won't always be the case given the consistent success of the top three.
Rayudu's career strike rate of 79.72 suggests that he struggles to up the ante from the word go. He offers "intelligence" and security at no.4 but can he do what this Indian team actually need their no.4 to do?
His run of form this series is impressive but Rayudu needs to sustain that kind of momentum against bigger opposition. Over his career, the no.4 batsman has racked up very average performances against top bowling teams – his average against Australia, Pakistan, Afghanistan and New Zealand show that he has a lot more to prove to nail down that no.4 spot. With dynamic players like KL Rahul, Manish Pandey and Rishabh Pant warming the bench, this debate could well be ignited all over again very soon.