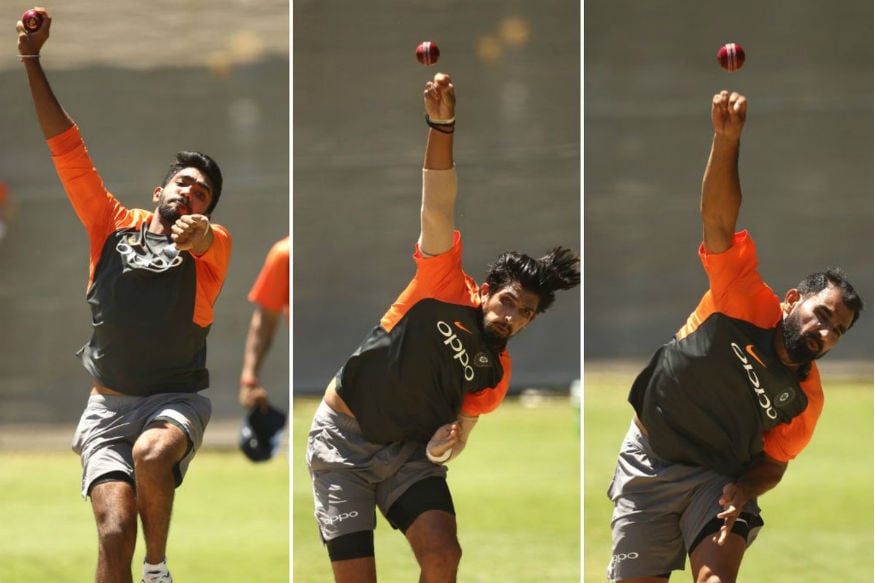 There were days when a tour of Australia meant a big manhunt for fast bowlers in the Ranji Trophy. It was usually a futile search. Fast bowling was never one of India's strengths and more often than not the onus of picking wickets fell to the spinners who tirelessly sent down extended spells.
However, since the start of 2016, India's fast bowlers have produced consistently strong performances and lead the list of teams with the best averages and strike rates away from home. India's seamers have struck at a rate of a wicket every 50th ball on an average, a number matched only by Afghanistan (small sample size).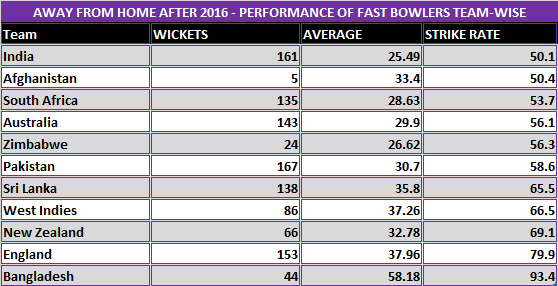 Pakistan are the only side to take more wickets than India away from home in this period but it must be remembered that their away record is skewed by their adopted home UAE which is counted as an away venue.
India's average and strike rate are unmatched in this time. They have toured Sri Lanka, West Indies, England and South Africa which makes for a definite, conclusive sample size to establish that their seamers have been made to toil.
To take a peek into how much progress India's seamers have made in the past eight years, we divide the time frame into two – one before 2016 and one after. The players are sorted from bowler 1, bowler 2….and so on based on the number of wickets taken in descending order, so essentially bowler 1 has the maximum wickets in the said time period.
To further understand the table below, you need to remember what the colours and numbers stand for. The parameters – bowling average, strike rate and economy are self-explanatory. The colour for each goes from green to yellow to red based on which value is lower (good in this case as it represents bowling parameters where lower the better applies). The top six seamers in each time period are compared.

As you can see, the pre-2016 era is marked by the presence of two pacers who completely outdid the others– Ishant Sharma and Zaheer Khan. Praveen Kumar who has impressive numbers did not play too many games while Umesh Yadav was a wicket-taker who was pretty expensive.
Compare this to the post-2016 era where each of the top six seamers have been excellent. Umesh is perhaps still there and thereabouts in terms of numbers but is an improved version of himself. Now, the tendency is to compare one bowler to his former self in the table but it is suggested to compare the top bowler to the top, the second best to the second and so on because it gives a clear idea about how much of a metamorphosis this Indian pace attack has undergone.
The average in pre-2016 is compared to average in post-2016 and similarly for other parameters to decide upon the colour range. Clearly the right half has a lot more greens than the left which is mostly in the red gradient.
The potency of this pace attack has gone up year by year. Plotting a graph of wickets taken and strike rate of Indian pace bowlers for every year since they started playing cricket makes for interesting viewing. 2018 has been the best year for India's pace bowlers (home and away combined) with the quicker men taking 132 wickets, the most in any year ever for India, eclipsing the 125 wickets in 1979.
In 2018, the wickets bar goes the highest while the strike rate line comes to the lowest, a tremendous achievement for a side whose fast bowling was never viewed as a threat.
That 2018 has seen them hit a peak is evident but it is possibly opportune to check how well they have done better in SENA countries compared to previous years. For this, we take the two latest tours – to England and South Africa this year – and compare previous tours since 2000 to the two nations and see how the pace bowlers have fared when compared to the hosts' own formidable attack.
In South Africa this year, the Indian seamers picked up 50 wickets on the green mambas, strikingly close to the numbers South Africa's own pace bowlers managed. The difference between the numbers (wickets, average and strike rate is denoted and colour coded as we did before).

It is pretty evident from this that the Indian seamers had their best year in South Africa in 2018. Their seamers performed well in 2006-07, headlined by a Sreesanth snorter at Jacques Kallis, when they won their first ever Test in the country but lost the next two matches to concede the series. In 2018, the quick bowlers nearly matched the Proteas' pacers but the batsmen failed to put on good enough totals and India once again suffered a series loss.
Cut to England and once again the pace attack was at its sharpest. They had a brilliant year in England in 2007 when they won the three-match series 1-0 and it is perhaps the benchmark for Indian pacers' performances in the country. 2018 saw them nearly challenge England's own seamers. The difference between wickets, averages and strike rates were the closest since that 2007 tour as India bowled their hearts out.

Australia is considered a better place to bat than England and South Africa while fast bowling is equally well rewarded. The problem in South Africa and later England, as evidenced by numbers, was definitely not with the pace bowling attack which competed fiercely with the hosts each time.
In Australia, Indian fast bowlers had a reasonably good time on their last tour in 2014-15 where they picked up almost as many wickets as the Aussies and bettered them on strike rate by a whisker.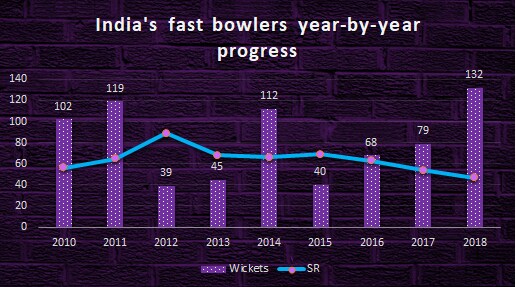 If the Aussies plan on dishing out lively wickets for the visitors, it could backfire as the Indian pace attack, over the years, has improved by leaps and bounds.
(Rohit Sankar is a freelance cricket journalist stuck in a love-hate, live-in relationship with the game. To rile him, bring up the 1999 World Cup semi-final. He tweets @imRohit_SN)