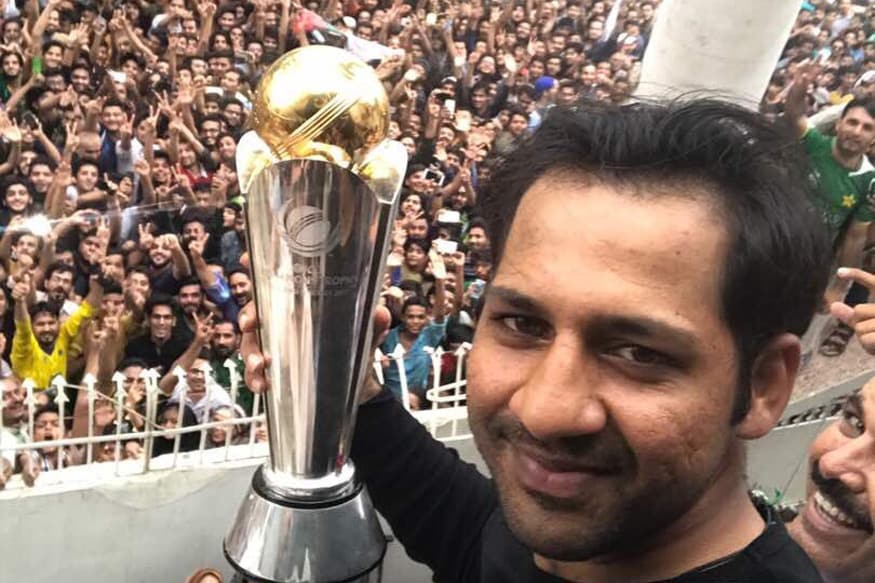 Karachi: Hundreds of fans gave Pakistan captain Sarfraz Ahmed a hero's welcome as he arrived home carrying the Champions Trophy early on Tuesday. Men, women and children packed Karachi airport as Sarfraz returned from England, where Pakistan thrashed arch-rivals India to be crowned surprise winners.

Sarfraz held up the trophy to loud cheers and chants of "Long live Sarfraz!" as a police band played patriotic songs nearby. "(We won) thanks to Allah and the prayers of the whole nation," Ahmed said in brief comments as he jostled his way through the crowd of well-wishers.


Pakistan #CT17 heroes given rousing welcome at Lahore Airport #AikJeetAur 🇵🇰🏆 pic.twitter.com/c5GfGvyTCd

— PCB Official (@TheRealPCB) June 19, 2017





The fans followed suit, posting pictures and videos of the Pakistan team's return to the country after thrashing arch-rivals India to lift the trophy at the Oval.


#ChampionComesHome @RealPCB_Live Allah ka shukar!#Proudmoment pic.twitter.com/S2nK52Sgxt

— Abdur Rahman (@imabdur25) June 20, 2017
Goosebumps!!!!! Love the reaction of crowd when they saw first glimpse of @SarfarazA_54 with 🏆 in his balcony pic.twitter.com/E74Q8Xvtil

— Nabeel Hashmi (@HashmeNabeel) June 20, 2017



Pakistan's victory on Sunday sparked widespread celebrations in the country, where cricket is the number one sport. Sarfraz was showered with bouquets and given a traditional skull cap and an 'ajrak' shawl, which is usually presented as a mark of honour.

Senior local officials also turned up to greet the captain before he was whisked away under escort by police commandos along with teammate Rumman Raees.

Sarfraz's residential block in central Karachi was adorned with colourful lights and Pakistan flags, while fans climbed on rooftops and balconies to watch him return home.

Jubilant photographs of Pakistan cricket fans dancing in the streets were plastered all over national newspapers on Monday after their eighth-ranked team produced a thrilling win against arch-rivals India in the Champions Trophy final.

Pakistan inflicted a massive 180-run defeat upon title-holders and favourites India at the Oval in London on Sunday to win the tournament featuring the world's top eight one-day international nations.

The victory was splashed across most major newspapers, with leading English daily Dawn proclaiming: "Pakistan breaks jinx, trounce India in dream final".

While the country's largest paper, the Urdu-daily Jang, announced: "Pakistan Champions, trounced Indian team."

Banks, government and other organisations ran full-page advertisements congratulating the team for their historic win.

In an editorial titled "Victory is sweet", the Express Tribune said: "When you are an underdog in a high-octane tournament final and your highly-regarded opponent is the defending champion, hardly anyone has any expectations of you -- except of course your cricket-mad 200 million plus compatriots."

The News, in a piece headlined "Champions", said: "When Pakistan was thrashed by India in its opening match of the Champions Trophy, the obituaries were already being written. But if there is one thing you can say about the Pakistan cricket team, it is that it exists to confound everyone."


First Published: June 20, 2017, 12:12 PM IST