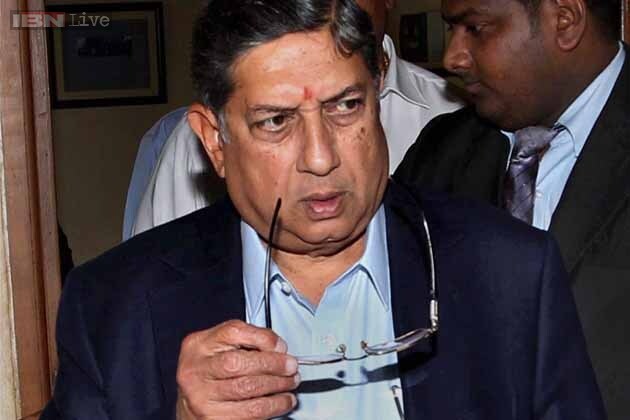 New Delhi: Supreme Court made it clear on Monday that N Srinivasan, re-elected as BCCI President, will not participate in matters relating to IPL and the spot fixing issue, observing there is "something seriously wrong" with the apex cricket body which has lost its credibility.
"He will continue (as BCCI President) but will not participate in the IPL issue," the apex court said, noting that "the fairness of the probe should not be affected".
The court asked Srinivasan not to be in a "hurry" and allow the Cricket Association of Bihar (CAB) to mull over his suggestion that a committee under the chairmanship of either Arun Jaitley or Vinay Dutta, both of whom are lawyers, be constituted to probe the IPL spot fixing scandal, also involving his son-in-law Gurunath Meiyappan.
"Don't be in hurry. Give them (CAB) the proposal and let them consider your suggestion," a bench of justices AK Patnaik and JS Kehar said, adding that the court will have to see the "effect" of his presidentship on the free and fair probe into the IPL spot-fixing case.
"One thing is clear from the fact that so many things are coming from the IPL. So many things are there. Something is seriously wrong with the apex cricket body," the bench said, adding, "Please tell us, as to why it (BCCI) has lost the credibility."
"Oh, we are back," one of judges of the bench remarked at the start of the hearing and then, the other judge said, "he (Srinivasan) is also back."
"You (Srinivasan) are there now (as President). Only thing we have to see how far you being there (as BCCI President) will affect the probe," the bench said.
Senior advocate CA Sundaram, appearing for BCCI, said certain actions, as per the constitution of the cricketing body, are required to be done by the President and it was willing to assure the bench that "so far as IPL is considered, he (Srinivasan) will have no role."
He then suggested constitution of a committee for probing the IPL spot fixing by a panel to be headed either by Jaitely or by Dutta.
First Published: September 30, 2013, 10:03 PM IST