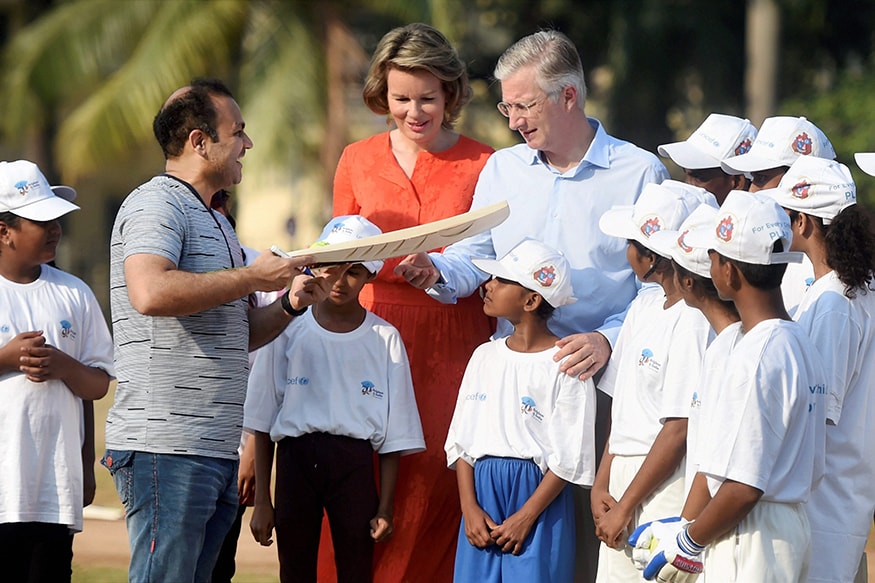 New Delhi: Virender Sehwag, ever since his retirement from international cricket, has been a champion of social causes. On Friday, he supported an initiative by UNICEF, that aims at promoting sports in safe environment among children, irrespective of their background or ability.
Every boy 👦 & girl 👧 irrespective of ability or background have the right to play #sport in a safe & healthy environment: @virendersehwag as he talks about #cricket🏏 with Their Majesties the King and Queen of the Belgians#BELIND2017 @MonarchieBe @BelgiuminIndia @UNICEFBELGIE pic.twitter.com/v5IW01sHIQ

— UNICEF India (@UNICEFIndia) November 10, 2017
The dashing batsman was seen at Mumbai's Oval Maidan swinging bat with school children. Also present at the event were King Philippe and Queen Mathilde, from Belgium. The duo are on an official visit to India, celebrating 70 years of diplomatic ties between the two nations.
The Royal couple from Belgium started their tour with a trip to Agra, followed by a ceremony at the Rashtrapati Bhawan on 7th November.
Belgium's Queen Mathilde and King Philippe with Virender Sehwag during a cricket clinic at Oval Maidan in Mumbai. (Image: AP)
Belgium's King Phillippe plays a shot during a cricket clinic organised at Oval Maidan in Mumbai. (Image: PTI)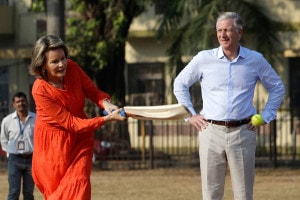 Belgium's Queen Mathilde plays a shot during a cricket clinic organised at Oval Maidan in Mumbai. (Image: AP)