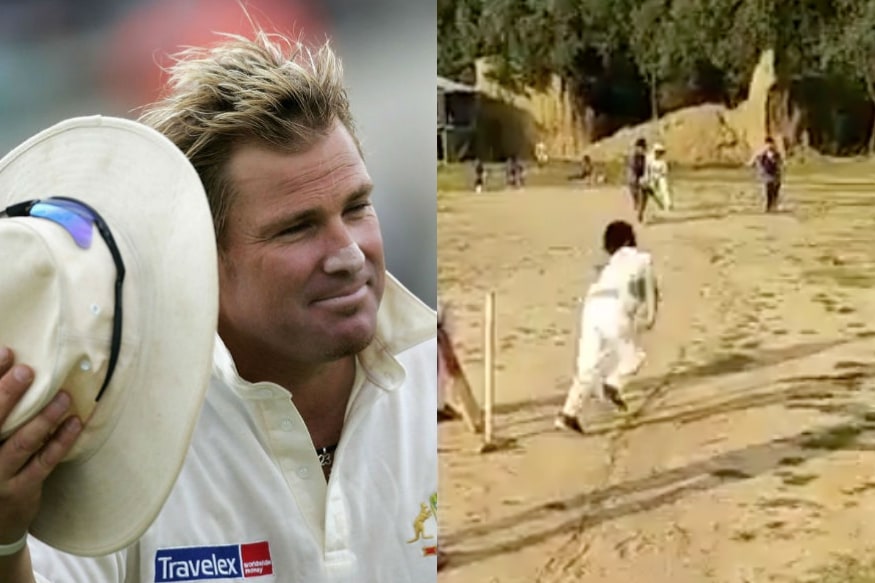 Saturday will be the most cherished morning for the Ali family and their son Ahmad Abbas, as the seven-year-old came to know of his clip catching the eyeballs of legendary leg-spinner Shane Warne and cricket fans around the world.
''I love Shane Warne. He liked my googly,'' Ahmad, the tiny Kashmiri cricketer who has become a cynosure for cricket buffs world over told News 18 from Dubai.
Ahmad's family have been based in the United Arab Emirates for last 14 years, with his father Nawab Ali working in an insurance company and his mother being a teacher in a local school.
''I broke the news to Ahmad that Shane Warne had discussed his googly that he had bowled on a live television show. He was ecstatic,'' said a beaming Ali. ''The very next moment he climbed out of his bed and put on his pads. He was holding his cricket bat. He was over the moon,'' added Ali.
Ali said the youngster took his breakfast, took off the pads and started bowing in the corridor – where Ahmad practises his turners.
''He was unstoppable for one hour," he said. We did not interfere. It was his day.''
Early this summer at a cricket camp in Ganderbal near his Srinagar home, Ahmad bowled a ripper of a wrong 'un that turned nearly a metre and a half to dislodge stumps of another youngster Ebrahim Andrabi, a southpaw almost identical his size and age. In the video, Andrabi left alone the ball pitched well outside leg but was bamboozled by the sharp turn that eventually cleans him up. Ahmad, as a young kid would, went berserk in celebrations and surrounded by his teammates.
Easily ball of the century. A googly that turns a metre and a half. @ShaneWarne take a look. You have some competition. pic.twitter.com/GEanTVuVME

— Mufti Islah (@islahmufti) July 23, 2018
The few moments before he bowls the magic delivery are like this. The video of the 'mystery' ball shot by the Bastion Cricket Academy - became the talking point on social media and also caught the attention of the spin wizard Warne on Thursday. The former international retweeted the journalist's clip and wrote 'This is outstanding! Well bowl young man'.
This is outstanding ! Well bowled young man 👍 https://t.co/NfADPHXj4F — Shane Warne (@ShaneWarne) December 5, 2018
Warne's retweet didn't go unnoticed, as it was picked up by Fox Cricket, which broadcasts India's tour of Australia, and discussed during Lunch on Day 2 of the Adelaide Test. The legendary leg-spinner was a part of the panel, along with former England international Isha Guha and former Australian batsman Michael Hussey with anchor Mark Howard, and they shared the youngster's delivery on TV. Warne even went on to coin it as 'The Ball of the Century'!
Father Ali says he had never expected his son to become famous in one day and that, over a single delivery.
Haroon Rashid Khan, his coach T Bastion academy reckoned that Ahmad has the potential to make it big.
''The best part of his bowling is that the release point of his delivery is above his head," he told News 18. "Most leg-spinners deliver the ball from the side. And that makes him different and difficult to pick.''
Khan may not played the game at a major level but his passion forced him to start an academy a few years back.
''My academy is not remunerative. It is worship,'' he said.
Khan spared a good chunk of his 11 kanal private land for the indoor academy. He said he has laid four astroturf pitches with a proper roofing at the indoor facility so that kids don't miss practice sessions during Kashmir's adverse winters and rains.
''Ahmad joins us in summers and he and his father are very keen on his practice. In fact, his father travels 40 km to bring and fetch him from the academy,'' he said and added that Ahmad never touches the bats like the other kids do but bowls tirelessly in the nets.
''That is crazy for a kid like him. I think he likes the smell and the leather of the ball. As of now, he is spraying the ball but with more practice, he will get sharp and accurate.''
Back in Dubai, Ali is livid that he cannot find any academy for seven-year-olds.
''The academies here are for bigger boys and I have to make do with corridor as of now.''
While Ahmad does not like the idea of bowling in a small passage, he's waiting for the summer to arrive to be back at the academy and under the wings of Khan.