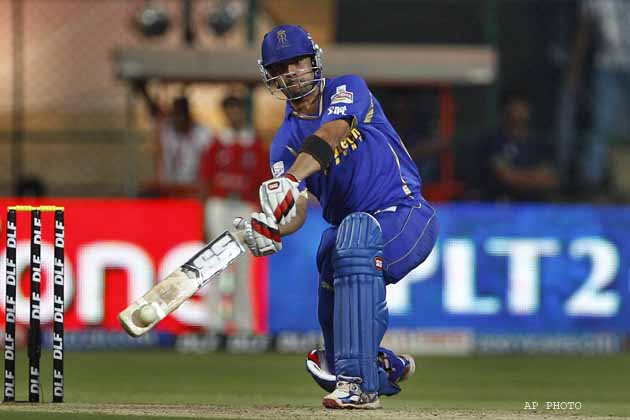 Bangalore: His blazing fifty was one of the highlights of Rajasthan Royals' 59-run triumph over Royal Challengers Bangalore on Sunday but English batsman Owais Shah said it is his team's bowlers who deserve to be credited for the win.
Shah, who made a 26-ball 60 in the match in which Rajasthan posted a massive total of 195, said though his team's score was good, it was not good enough given the solid batting line-up of RCB. "I felt we had a very good score, but not an amazing score, that we were unbeatable. I think the batting conditions were good and our bowlers, especially Pankaj Singh, Siddharth Trivedi and Amit Singh, did a good job," Shah said.
"I stressed the point to Rahul [Dravid] and our bowlers that the total was good but not amazing enough to defend and hence we have to be clever or else we will lose the game," he added. Although Rajasthan do not boast of big names in bowling, Shah said the team believed in its attack. "That's the beauty of our team. We don't have too many big names apart from one superstar [Dravid], who used to play here and now he is retired. It is for the guys to get on with the team and work ethics required to win games," he said.
Shah also felt that Rajasthan were lucky to bat first as conditions were good in the first innings but became quite difficult when RCB batsmen started the chase. "Daniel Vettori said earlier that teams have struggled this year batting second. I guess we were lucky enough to bat first. Maybe conditions here go worse as the game progresses. It worked in our favour for the kind of bowling attack we have and obviously it worked out very well for us," he said.
Shah said he considered himself lucky to build a match-winning 121-run partnership with unbeaten centurion Ajinkya Rahane. "He is a special talent. He has a calmness about him which shows he is always in control. He plays the ball very late. He times it beautifully. Definitely he has got a bright future. He plays proper cricket shots. He is not a slogger. He always plays nice and straight. I think he batted beautifully," he said.