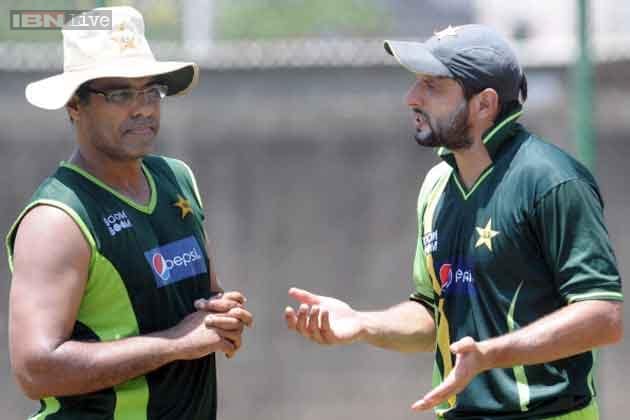 Pakistan's flamboyant all-rounder Shahid Afridi left for Sri Lanka for the three-match ODI series by declaring that his feud with the national team's head coach Waqar Younis in 2011 was a thing of the past.
"Yes there were problems between me and Waqar mainly due to ego issues but now everything is sorted out and the matter is closed," Afridi said.
The feud that erupted in the West Indies in April-May 2011 when Afridi was captain of the national ODI and T20 squads and Waqar was head coach, who led to the removal of the all-rounder as captain.
Disgusted by the PCB's failure to back him after manager Intikhab Alam had blamed him for the feud in a special report sent to the Board, Afridi also announced his retirement in protest but later that year took back his decision to make a comeback to the side.
"That matter is over and now I am hopeful that under Waqar the national team will perform better," Afridi said. "Waqar was a great player and he has a good track record with the national team as coach so hopefully our performances are only going to improve leading to the World Cup," he said.
Afridi said that he would like to see the Pakistan team play with a more positive mindset.
"I think aggression and a positive mindset is very important nowadays since cricket has changed a lot in recent years. I think even in Test cricket whenever there is a opportunity our players should play their shots. Today cricket in any format is fast and if you play defensively for long the pressure increases on you," he said.
Afridi also lavished praise on the Sri Lankan senior batsman Mahela Jayawardene who is playing his final Test in the ongoing series. "Jayawardene is a great cricketer and I think the feats he has achieved for his country speak for themselves. It was always a challenge bowling to him. I am happy to see he is getting the farewell from Test cricket that he richly deserves," he added.