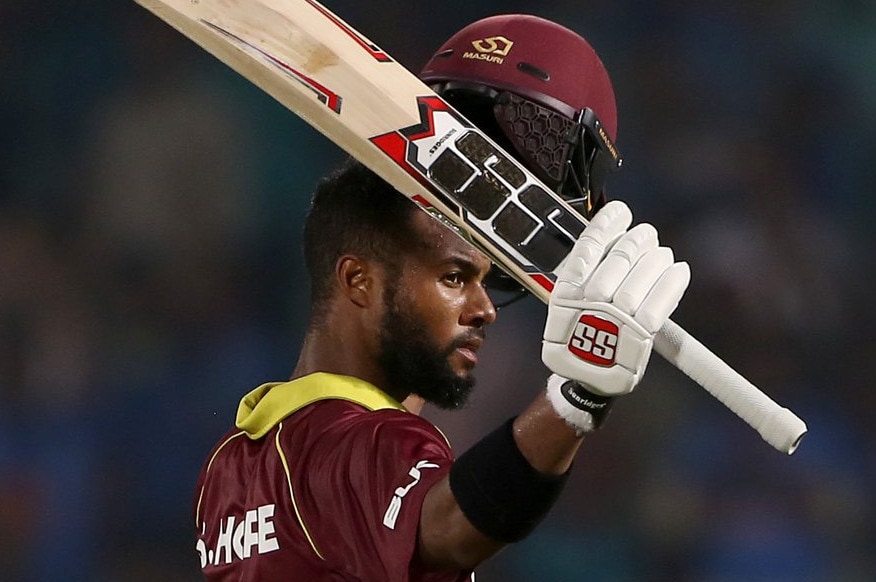 Shai Hope has scored 1662 runs in 41 ODI innings at an average of 47.48 and strike rate of 71.63. He has registered four hundreds and seven fifties in his career so far.

Although the sample size is small, Hope's average of 47.48 is outstanding. In fact, he has the highest average in West Indies' ODI cricket history (minimum 40 innings) – that is how good Hope has been in scoring big runs in his relatively short career.

It is too early to make comparisons with former West Indian greats but just for perspective, this means he has a higher batting average than the great Viv Richards (47) and Gordon Greenidge (45.03).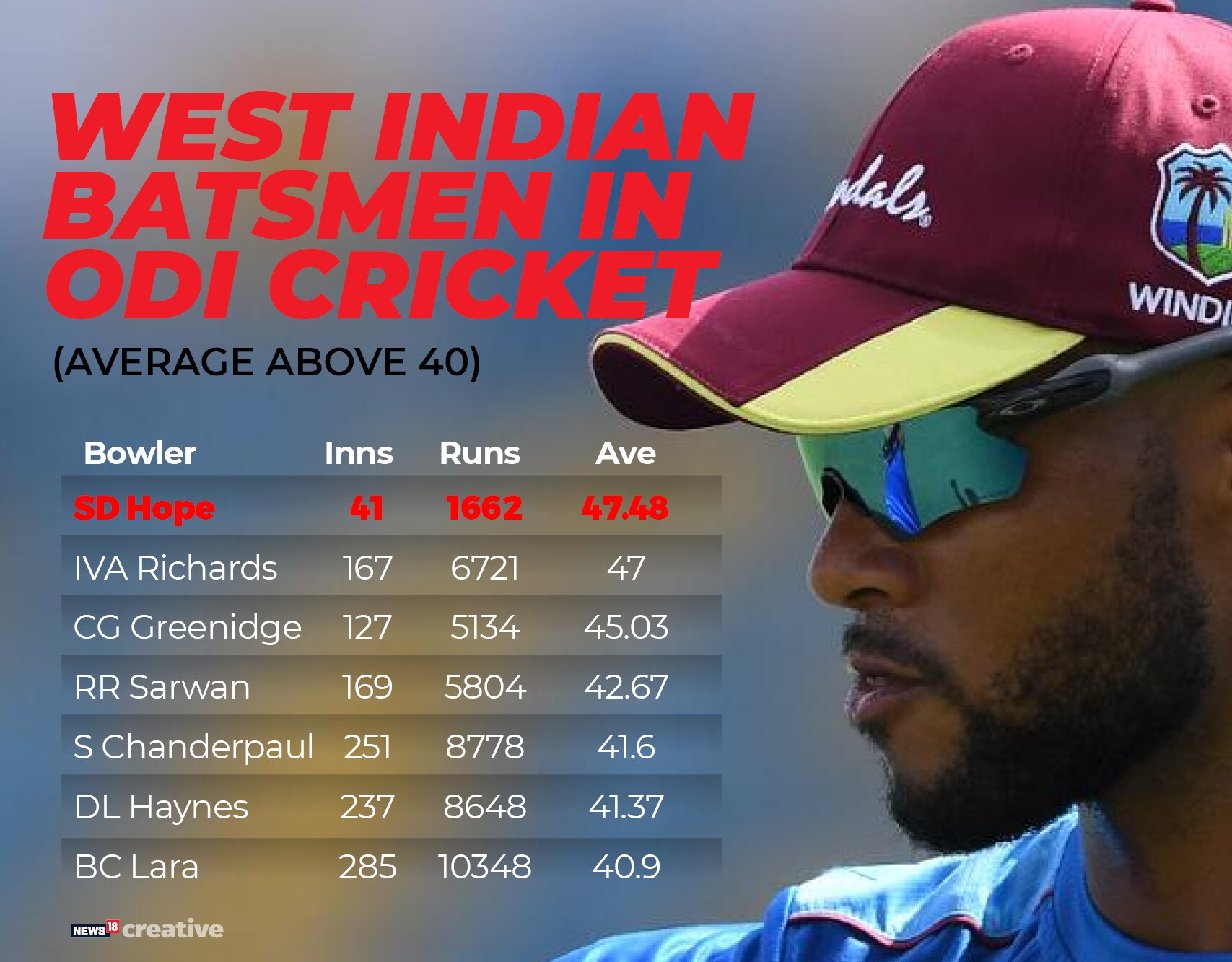 Even in terms of Actual Average (runs scored per innings), it is Hope with an Actual Average of 40.54 who is at the top amongst all West Indian batsmen (minimum 40 innings). He is followed by Greenidge (40.42), Richards (40.24), Desmond Haynes (36.49) and Brian Lara (36.31).

2018 was a great year for Hope. He aggregated 875 runs in just 18 innings at a staggering average of 67.30. Although his rate of scoring was slow compared to modern international standards and the standard norm of the period, it is the sheer volume of runs he scored which stood out.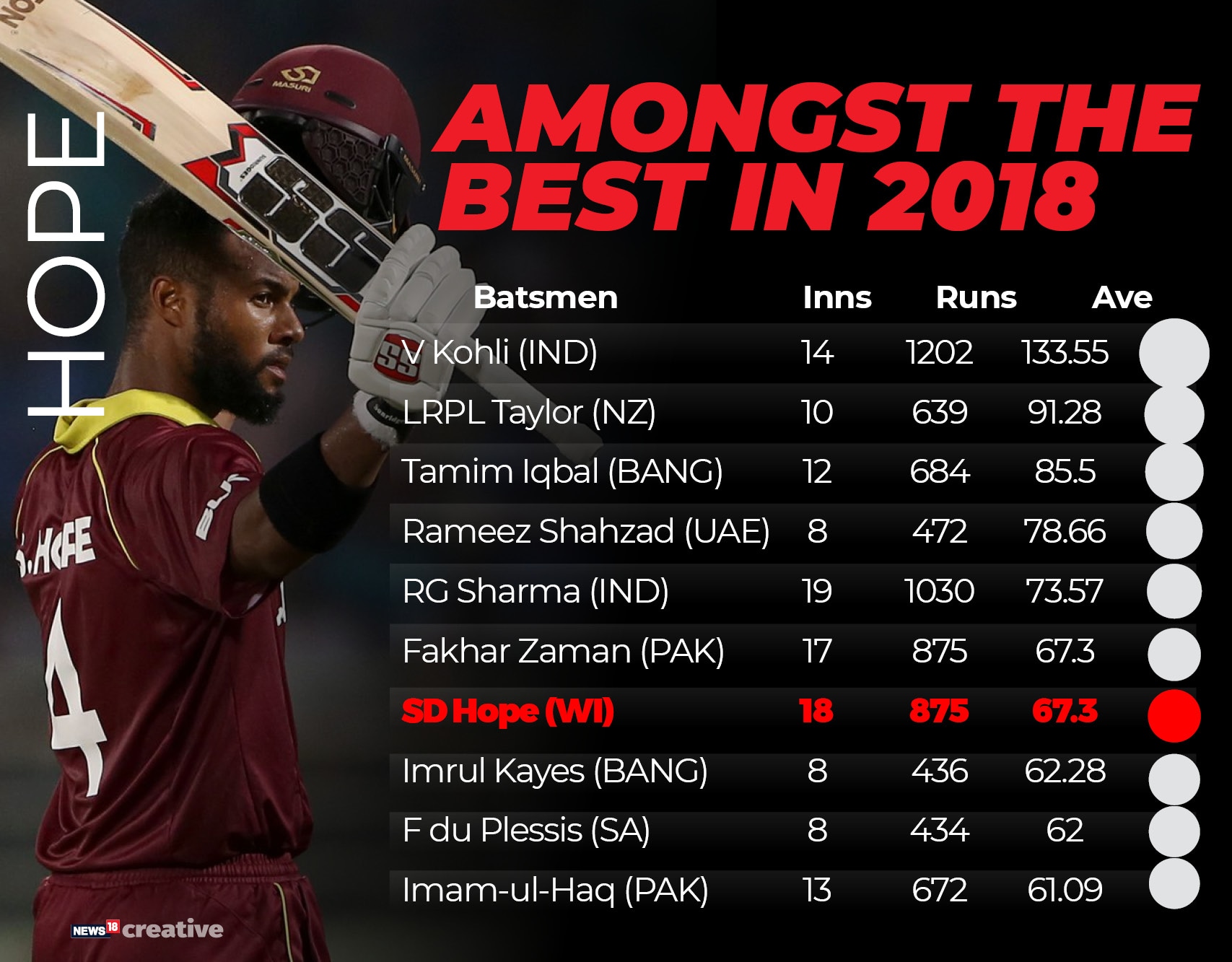 Hope was amongst the 10 batsmen who averaged above 60 in ODI cricket in 2018. In fact, amongst the 67 batsmen who scored above 300 runs in the format, Hope had the seventh-highest average, placing him with the best in the business in the world.

Amongst the batsmen who have a higher aggregate than Hope only two have a higher batting average (Virat Kohli and Rohit Sharma).

Hope was the main run-scorer for the West Indies in 2018. There is a huge gap of almost 27 runs per dismissal between him and Shimron Hetmyer - the West Indian batsman with the second-highest average in the year.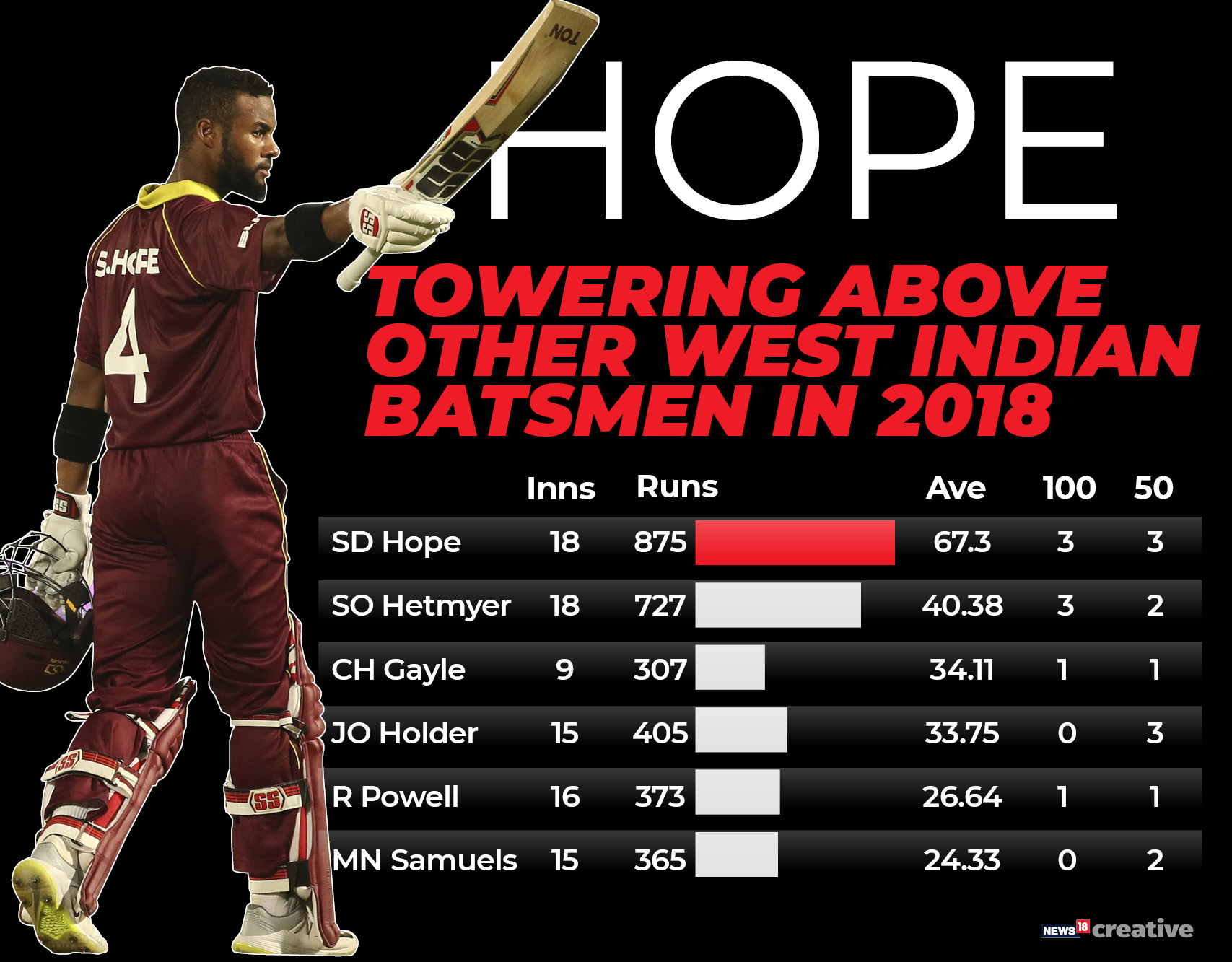 West Indies played 3 bilateral series and one tournament in 2018. Hope was the second-highest scorer in the ICC Cricket World Cup Qualifier in Zimbabwe and the bilateral series in India (marginally behind Hetmyer in both) and the highest scorer for them in Bangladesh.

Hope scored 21.17% of West Indies' total runs in ODI cricket in 2018. This was the fifth-highest percentage of team runs scored in the calendar year (min. 400 runs scored in the year) after Kohli (25.40%), Fakhar Zaman (22.91%), Rohit (21.76%) and Ross Taylor (21.54%).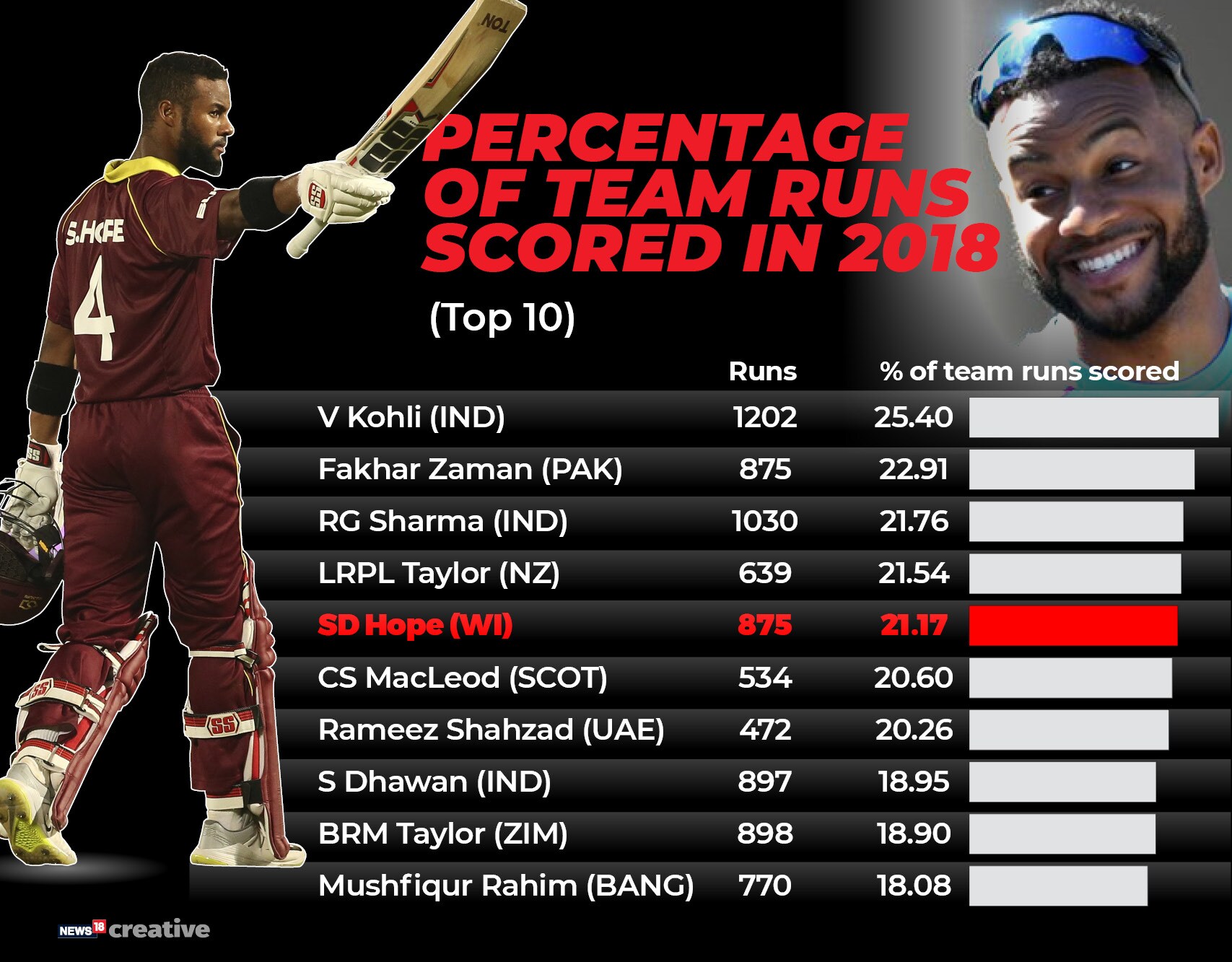 There has been criticism of Hope for his slow scoring rate. When seen in isolation, his strike rate of 74.59 in 2018 (an improvement from 67.26 the previous year in 2017) is under-par and well below the standard norm.

But Hope is part of a struggling West Indian ODI outfit. They won 8 and lost 9 of the 18 ODIs they played in 2018. Their win-loss ratio was only better than Sri Lanka and Australia (who had their worst year in history).

He is the mainstay of their batting line-up and apart from Hetmyer does not have anyone else for support in the top-middle order. No other West Indian top-middle order batsman (apart from Hope and Hetmyer) scored more than 400 runs in 2018. The third-highest scorer for them in the year was Jason Holder (405 runs) who is a bowling all-rounder who bats in the lower-order.

None of their batsmen (again, apart from Hope and Hetmyer) averaged above 35 in the year.

With such an unstable and poor batting line-up, the onus is on Hope to score the big runs. And he has done exactly that. And very consistently.

It is the responsibility of the other batsmen in the team to up the ante and score quickly. To expect Hope to do so is a tad unfair.

Hope's average in winning matches is 72.12 – this is almost 25 runs more than his career average. This is a startling statistic and showcases the team's dependency on him for a win.

Hope ended 2018 with a bang by registering two consecutive hundreds against Bangladesh.

With not too many games left before the World Cup, West Indies would want Hope to continue piling on the runs and start 2019 from where he left off last year.

On Shai, will rely much of West Indies' 'Hope'.

First Published: February 19, 2019, 9:22 AM IST