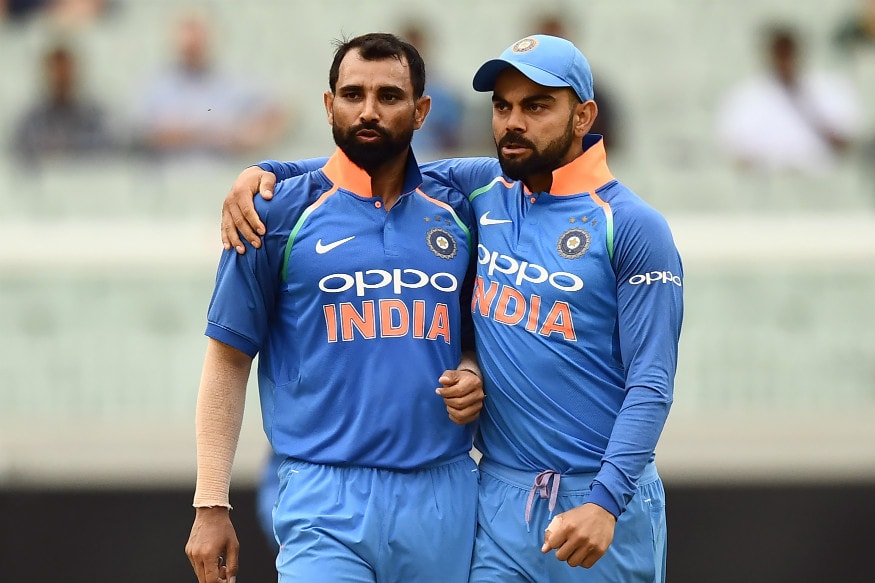 One of the highest wicket-takers of the 2015 World Cup in Australia/New Zealand, Mohammed Shami has been sparingly used in the ODI setup by India despite being a regular in the longest format of the game.
A hit the deck bowler, with skiddy pace and a handy bumper, Shami enjoys bowling on surfaces that offer lateral movement and had a whale of a time at the World Cup.
However since the World Cup, Shami played only 10 ODIs with the first match after that semi-final loss to Australia coming two years hence. It isn't that India moved past Shami but it was the impact of guys like Jasprit Bumrah and Bhuvneshwar Kumar and the need for a bowling all-rounder in Hardik Pandya that kept Shami on the sidelines.
However, as another World Cup looms, Shami is back in India's scheme of things and for the right reasons. He has already notched up 100 ODI wickets - becoming the sixth quickest in the world to the feat.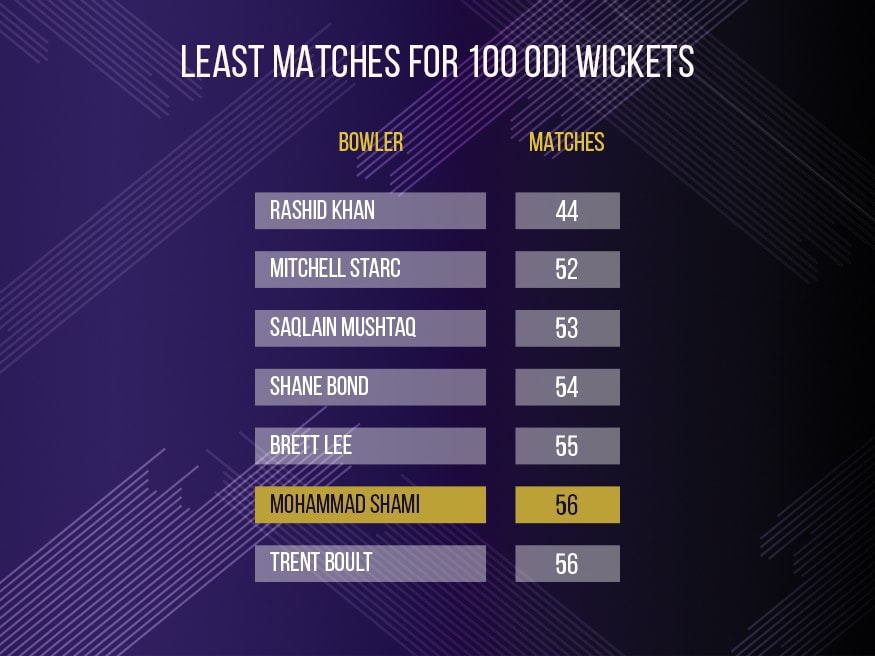 Shami took his 100th wicket in his 56th ODI, which keeps him level with Trent Boult, believed to be a terrific ODI bowler. He is just below the likes of Brett Lee, Shane Bond, Mitchell Starc and Saqlain Mushtaq but the closeness in number of matches suggest Shami is no less effective than those bowlers.
Among Indian bowlers, Shami is fastest to the landmark going past Irfan Pathan's record of 59 matches. Zaheer Khan, Ajit Agarkar and Javagal Srinath are next in the list with 65, 67 and 68 matches respectively to their names.
Shami's feats have come at a career strike rate of 28.1 which is the best for any Indian bowler (min 100 wickets) in the history of ODI cricket.
The problem though is fitting Shami into current ODI side's scheme of things. When Jasprit Bumrah gets back into the side, it would most likely be a toss up between Shami and Bhuvneshwar for that one seamer's slot assuming Hardik Pandya at seven is a must for the best balance of the side.
This is where Shami gets so incredibly good. Bhuvneshwar also reached his 100 ODI wickets recently but took a whopping 96 matches for the same. He has not been the same kind of death bowler either in recent times and economy is the only reason to persist with him over Shami.
That said, against top sides, Shami is a crackjacker of a performer. His numbers against Australia, Pakistan, England, New Zealand and South Africa are top-notch and puts him on par with some of the best bowlers in ODI cricket.
Shami averages 37.30, 19.54, 23.92, 21.40 and 29.75 against Australia, South Africa, New Zealand, Pakistan and England respectively which is quite impressive. On the other hand, Bhuvneshwar's corresponding numbers are 40.87, 52.92, 44.90, 23.0 and 53.50.
Bhuvneshwar hasn't been all that impressive in ODIs although it has seemed like he is an undroppable player from the eleven and as the World Cup approaches and India ponder combinations, Shami could perhaps edge out Bhuvneshwar rather successfully.