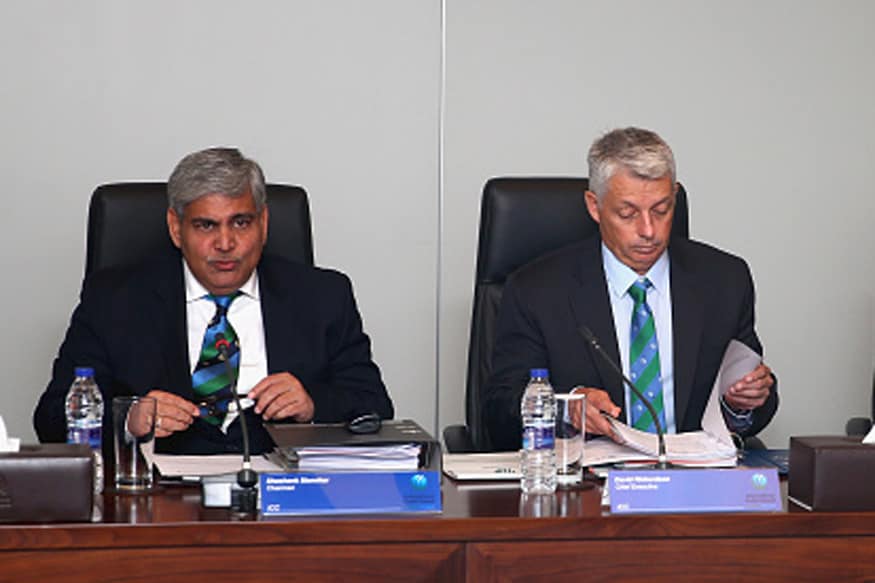 New Delhi: ICC chairman Shashank Manohar has agreed to continue in his post and finish his term till June 2018. Manohar had earlier agreed to only defer his resignation till the annual conference in June when the new ICC constitution consisting of the governance structure and the re-worked finance model will be ratified.
The ICC sent an official mail which said: "Shashank Manohar will continue to function as the Independent Chairman of ICC until the end of his elected term which is June 2018."
Manohar had on Tuesday himself confirmed that his colleagues in the ICC have requested him to complete his two-year term as chairman and not step down after the annual conference in June.
"Of course, colleagues have been in touch with me and I was even approached to continue at last month's executive board meeting. They want me to take back my resignation," Manohar had said.
Speaking to Cricketnext, a source in the know of developments said that the directors wanted him to stay and a meeting took place on the same on Wednesday morning.
"Manohar had said that he will continue till the ICC annual meeting in June, but the directors were keen that he completes the term and made their wish known to him. A meeting took place today as well and an official agreement was reached," he said.
In a surprise move in March, Manohar had tendered his resignation as cricket's top boss citing personal reasons. Ever since taking over as ICC chairman, Manohar has been at the forefront of a move to decentralise the power which earlier saw 'The Big Three', BCCI, Cricket Australia (CA) and England and Wales Cricket Board (ECB), getting the lion's share of the revenue earned.
In a meeting in February, the ICC board members voted in favour of restructuring the revenue sharing model, which would bring an end to the financial dominance of BCCI, CA and the ECB.
But the BCCI — represented by Committee of Administrators' member Vikram Limaye — had protested vehemently against this move, which would lead to a considerable drop in its revenue. In fact the BCCI, under former president Anurag Thakur, had also threatened to pull out of the upcoming Champions Trophy in England.
But the verdict is out and the Indian Cricket Board's dominant position in world cricket came under severe threat after the BCCI was out-voted on revenue model and governance structure at the ICC Board Meeting in Dubai in April.
Manohar had made it clear that a change will surely take place in the financial structure and that is not debatable. And that is exactly what happened as the BCCI only found support from Sri Lanka Cricket's Thilanga Sumathipala when it came to voting for revenue changes and ended up losing 1-9. BCCI was beaten 2-8 when representatives of all other member nations voted in favour of a change in the governance structure.
The BCCI were opposing changes on two counts — ICC's Governance model, which required a change in its constitution with review of full membership, and a two-tier Test structure.
@media only screen and (max-width:740px) {
.quote-box{font-size:18px; line-height:30px; color:#505050; margin-top:30px; padding:22px 20px 20px 70px; position:relative; font-style:italic; font-weight:bold}
.special-text{font-size:24px; line-height:32px; color:#505050; margin:20px 40px 20px 20px; border-left:8px solid #ee1b24; padding:10px 10px 10px 15px; font-style:italic; font-weight:bold}
.quote-box img{width:60px; left:6px}
.quote-box .quote-nam{font-size:16px; color:#5f5f5f; padding-top:30px; text-align:right; font-weight:normal}
.quote-box .quote-nam span{font-weight:bold; color:#ee1b24}
}