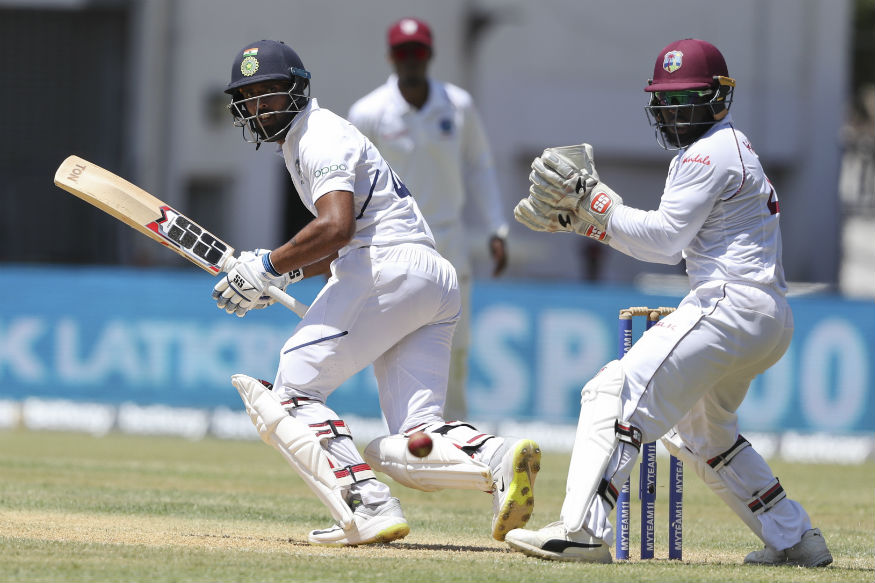 India batsman Hanuma Vihari revealed how advice from head coach Ravi Shastri – who told him to flex his knees more as it would help his footwork – after the first innings of the first Test against West Indies helped improve his batting over the course of the series.
"I thought it (Shastri's advice) improved my game a lot. And to be honest, it is not about the result even. It is about the feel and comfort which I got while batting which was more important," Vihari told FirstPost in an interview.
Vihari went on to score 93 in the second innings and would eventually get his maiden Test hundred in the second Test, something he said also came down to the fact that he could take his time during that match.
"I was confident the second time I was in 90s. In the first Test, I had time in my hand but I was also in a phase where I had to accelerate.
"In the second Test, I was in a phase where I knew I could take a little more time and make sure I reached the landmark.
"In the first Test, I was happy that I could make the contribution. I missed out on a hundred then but nevertheless I got it in the second Test."
Vihari has proven that he has the skills to succeed in the game's longest format at the highest level, but admits he is now working on his fitness too to help him sustain his career.
"More than the skills, I am working on my fitness. That's the team culture. I really want to get better at it.
"That will eventually improve my batting and running between the wickets. That is one area I am very concerned about and working on it."
Vihari finds himself in the Test XI despite a bit of competition for middle-order spots. His form as well as Ajinkya Rahane's showings have kept Rohit Sharma on the sidelines.
"As a team, we are happy that we have this competition within our group. There is a competition for places.
"When senior players like Rohit (Sharma) and Ash (R Ashwin) cannot get into the playing XI then that means we are pushing for places which is a good sign going forward in the Test Championship.
"You have enough players at your bench who could come into the XI at any moment. I am quite privileged to get a spot in the star-studded playing XI."
Vihari will next don India colours during the three-Test series against South Africa and remains undaunted at the prospect of facing the likes of Kagiso Rabada and Lungi Ngidi.
"Every team possess quality bowlers. In international cricket, you hardly find bowlers who are not quality bowlers.
"You don't have to give special attention to certain bowlers. They are good bowlers but you have to stick to your own plans," he concluded. ​