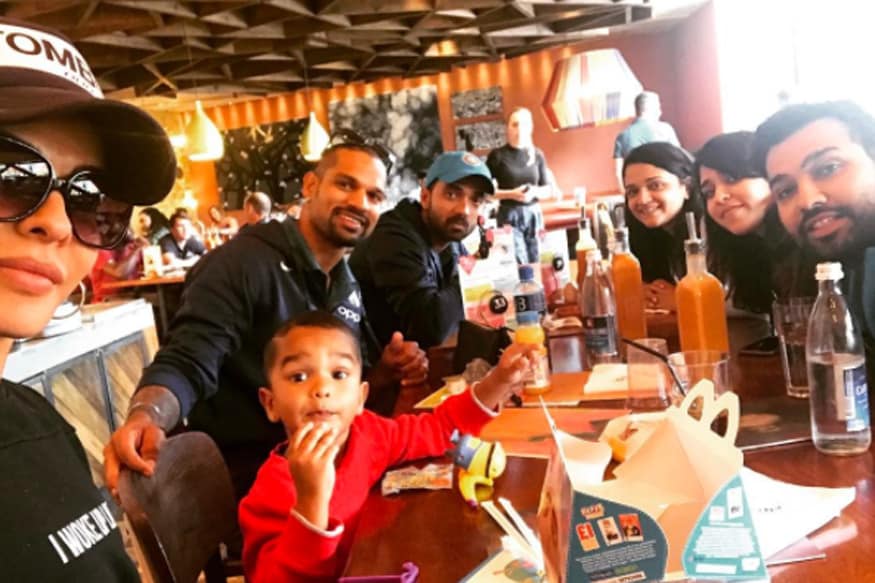 Shikhar Dhawan, who is having a fantastic Champions Trophy, celebrated India's win over Bangladesh with a wholesome lunch with team mates Rohit Sharma and Ajinkya Rahane. The wives of the players were also present.
Shikhar took to Instagram, and shared the photo with caption: Enjoyed having lunch together at stop over before we reach london .@rohitsharma45 @ajinkyarahane 😊😊
Given the nature and style of India's victory over Bangladesh, this celebration was much called for. Apart from the match against Sri Lanka, which was lost more due to the brilliance of the Lankan batsmen than any grave mistake by the Indians, Virat Kohli and his men have put in a rather clinical performance in each of their three victories so far.
The top order comprising of Shikhar Dhawan (317 runs in 4 innings), Rohit Sharma (304 runs in 4 innings) and Virat Kohli (253 runs in 4 innings) have scored a whopping 80 per cent of the team's runs so far. Both Dhawan and Rohit have a century and two half-centuries to their name while Virat Kohli has three half-centuries to his name.
Such has been India's discipline that the likes of Yuvraj and Dhoni haven't been needed to bat in most of the games. Both men though have one half-century under their belt respectively, which clearly shows that the entire batting unit is good health.