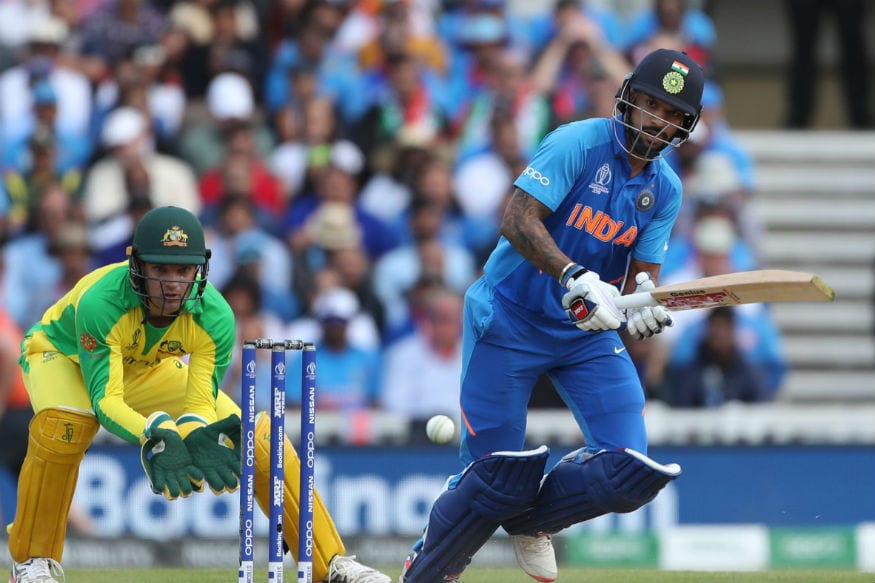 Indian opener Shikhar Dhawan could be out of the World Cup due to a suspected hairline fracture of the thumb. Dhawan had injured his thumb while batting against Australia in India's previous match. He went on to score a hundred but did not field. News agency PTI is reporting that Dhawan could take up to a month to recover.
While official confirmation from the BCCI is awaited, broadcasters Star Sports have confirmed that Dhawan will definitely be sitting out of India's next clash against New Zealand on Thursday in Nottingham.
Cricketnext has learnt that while Dhawan travelled with the team to Nottingham on Monday, he went to Leeds as part of his assessment a day later. A reliable source says no final decision has been made yet and the management is waiting to see what comes out from the assessment which will be provided later on Tuesday.
If Dhawan is indeed ruled out, he will miss almost all of the group stage matches including the ones against New Zealand, Pakistan, Afghanistan, West Indies and England.
The opener suffered the injury in the ninth over of the Australia game when on 24 he was hit by a rising Pat Cummins delivery. He immediately looked in discomfort and called for the physio but carried on seemingly unperturbed. However, as a precautionary measure, he did not come out to field and was taken for scans on Monday.
KL Rahul, who was originally selected as the backup opener, but has come in at No.4 in the first two games is likely to return back to the top in such a case with either of Dinesh Karthik or Vijay Shankar to slot in two-down. It is unclear whether India will send a backup but if that does happen, one of Rishabh Pant, Shreyas Iyer or Ambati Rayudu may make the cut.
Dhawan has been a key player for India especially in ICC tournaments where he has recorded six centuries since first turning up at the 2015 World Cup. He did not have the best of starts against South Africa this time around falling for 8 but more than made for it against Australia. It was his innings that set base for India's massive 352/5. In reply, Australia fell short by 36 runs.
India are unbeaten so far in the tournament with comfortable wins over South Africa and Australia. They next face New Zealand in Nottingham on Thursday before their marquee clash against Pakistan on Sunday.
More to follow..