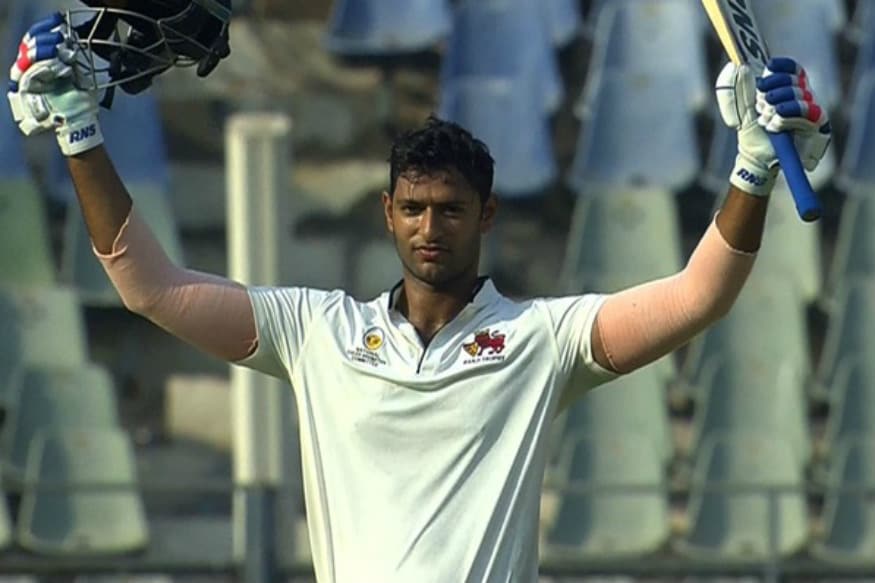 Mumbai's Shivam Dube may not have been able achieve the special feat of hitting six sixes in an over off Baroda's Swapnil Singh in the Ranji Trophy, but he knew his five sixes would have an effect at the IPL Auction 2019 in Jaipur the next day.
Dube went onto to be picked by the Royal Challengers Bangalore (RCB) for a whopping Rs 5 crore at the auction. That made him one of the most sought after persons in Mumbai as he had congratulatory messages and interviews to attend to all through the evening.
"It must've made an impact, because hitting five consecutive sixes isn't easy in the Ranji Trophy as there are no field restrictions in the four-day format," Dube told TOI.
"I'm feeling great that I'll play for RCB. Me and my whole family were following the auction on TV. We were tense before the auction began, because no one had bought me at the IPL auctions in the last two years. This time too, when my name came, no one was bidding for me initially, but then happiness was in store for us! I never expected that somebody will shell out so much to buy me," said an elated Dube.
"I'll get to learn a lot from the likes of Virat Kohli (India and RCB skipper), Gary Kirsten and Ashish Nehra (ex-international players and RCB's bowling mentor). I've never met any of them. It will be a big thing to play under Virat sir," he added.
Dube's performance this season has been a silver lining for the Mumbai side, who otherwise have had a pretty disappointing campaign. The left-handed batsman has scored 489 runs in five games with two hundreds and three fifties at an average of just under 70. With the ball, Dube has taken 17 wickets with a best of 7/53 against Karnataka.
He was key to Mumbai winning the Vijay Hazare One-day Trophy, taking 3-29 in 10 overs against Delhi in the final.
Dube's ability to clear the ropes has seen him get compared to Yuvraj Singh but also earned him high praise from the legendary Sunil Gavaskar.
"It feels great when I'm compared to a legend like Yuvraj, and Sunny sir praises me," he said. The secret to such success? Food. "My dad always made it sure that I ate well, so that I had strength to achieve anything."
Against Baroda, Dube not only batted brilliantly but also was able to take tips from India all-rounder Hardik Pandya.
"I spoke to him about my bowling. I asked him how he bowls around 135 kmph, because I bowl around the 125-130 kmph mark. He told me that my bowling will improve, and my pace can go higher if I work hard on my fitness. I said I'm doing so," said Dube.
A little over a decade ago, Dube had to give up cricket due to financial problems at home, but managed to return to the game after his cousin Rajiv Dube, and uncle Ramesh Dube, stepped in with help.
"Our father had a dairy farm business (they used to rear buffaloes) at first, before he launched his own business of 'washing' jeans. We had a factory in Bhiwandi.
"However, due to my cricket, my father had to quit that business, and put it on rent. Due to financial reasons, I had to quit playing cricket for around four years initially- from when I was 14 till I turned 18. However, I started playing the game again, when I was at 18, after my cousin, and uncle (a corporator from Andheri east and a former MLA from a constituency in Uttar Pradesh) supported me in every way," he revealed.
Dube, like most Indian youngsters, took to the game pretty early in life. "My father introduced me to the game when I was just six. Then I went to Chandrakant Pandit (former India 'keeper and current Vidarbha coach) sir's academy (in Andheri) to learn about cricket. After taking a break from the game for a few years, I resumed training under Satish Samant (ex-Mumbai Under-19 coach)," he recalled.