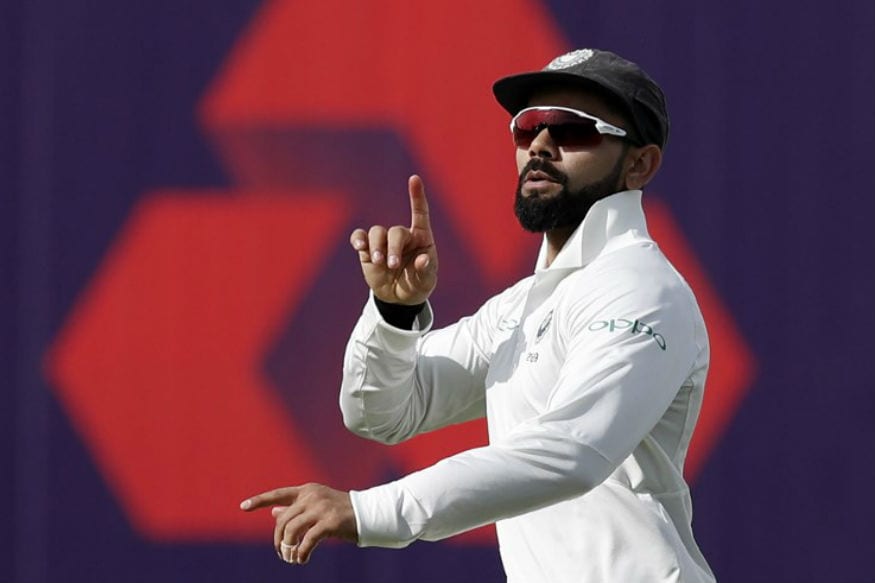 On the first day of the opening Test against England at Edgbaston, Virat Kohli pulls off a stupendous run-out. He blows two kisses to the dismissed Joe Root, play-acts a mic-drop, high-fives a team-mate and mouths some sweet nothings. The action is a piece of brilliance that shifts the balance of the game. The reaction is a moment's inspiration meant to get under Root's skin. The action takes your breath away. The reaction brings forth chuckles (not to mention shakes of the head). To watch Kohli play is to take in a performative experience. You may have come to see the cricket. Here, take some theatrics for free.
A little after 5pm on the second evening, Kohli slaps Ben Stokes to bring up his first Test century in England. Action completed, he supplements it with a befitting reaction. He takes off his helmet, swishes his bat and voices a roar of such primal intensity that it signals both a redemption – after his unfruitful tour in 2014 – as well as a catharsis. The disappointments from the previous tour have been suffocating him from within; in one moment of celebration, he ejects them all in a terrific release.
On each of the four days of the Test, Kohli makes his mark. On Friday, he authors an undefeated 43 – with none of the chanciness that characterised his hundred – and gives India a chance to dream. No Asian team has won a Test at Edgbaston. No Indian team has chased 194 to win a Test in England. But Kohli exists to rewrite the history books. That is his raison d'être. When he bats, one can expect the improbable.
James Anderson pays him the ultimate tribute when he says he will be dreaming of taking Kohli's wicket overnight – a statement that calls to mind the Pakistani spin duo of Tauseef Ahmed and Iqbal Qasim confessing to not being able to sleep before the final day of the 1987 Test in Bangalore – played on a snake-pit – because of the threat posed by Sunil Gavaskar. "Woh Baba Adam ab tak khel raha hai [that old man is still batting]," Qasim had said to veteran writer Ayaz Memon. "Bat hai ya deewar? (does he have a bat or a wall?)"
Kohli has flirted with history before; of late, he seems to flirt with it every other day. His captaincy began with an outrageous shot at glory when India were set 364 on the final day in Adelaide in 2014. Most Indian captains would have hoped for a draw. Kohli was ballsy enough to go for a win, even after India lost their last specialist batsman with 85 left to get. Kohli's twin hundreds in the game, not to mention his chutzpah, set a marker for his stint. "The result hasn't gone our way," he had said, "but we have certainly played the kind of cricket we wanted to."
Earlier this year, in the first Test of the series against South Africa in Cape Town, Kohli walked in with India at 30 for 2, needing a further 178 for victory. He was up against Vernon Philander, Morne Morkel and Kagiso Rabada on a pitch with plenty of spice. He defended aggressively, ran between this wickets like this was an ODI and put away the loose deliveries with ease. Within 39 balls he was on batting on an assured 28. With India needing 137 more with seven wickets in hand, Kohli was once again raising visions of a famous away win.
Few sights can match the thrill of Kohli walking into bat with India in the middle of a tricky fourth-innings chase. This is perhaps more so for Indian fans over 30, especially those Test cricket tragics who obsessed over the game in the '90s. For us, Kohli is a messiah of sorts. Like MS Dhoni pointed us to the promised land in limited-over cricket, mastering the art of the chase and engineering heist after heist, Kohli must do so in Tests. If anyone can heal the scars inflicted by fourth-innings run-chases from the past – whether it be the disappointment of Adelaide '92 or the shock of Bridgetown '97 or the heart-ache of Chennai '99 – it is Kohli. India have found ways to chase tough fourth-innings targets before – Adelaide '03 and Chennai '08 come to mind – but it is Kohli who can turn it into a habit.
In Cape Town, Philander bowled two-and-a-half overs of away-swingers, then trapped Kohli with a beauty that nipped back. India were bowled out for 135, and lost the Test by 72 runs. They would go on to lose the series 2-1.
At Edgbaston, it took Ben Stokes two deliveries to set Kohli up (though Anderson's probing spell outside off no doubt played a part). Stokes' first over of the fourth morning saw one ball swing in and the next curve away. Kohli moved across the stumps for the third and, as with Philander, was trapped in front by the in-cutter. Kohli reviewed – a "might-as-well review" rather than out of conviction – but the tracker agreed with the umpire. India were bowled out for 162. And they lost the Test by 31 runs.
There will perhaps come a time, in the not so distant future, when Kohli will let loose an innings of such incandescence that no set of bowlers will be able to stop him from winning India the Test. He may well set his sights on a target more daunting, while batting on a surface more demanding, against an attack more formidable, and end up triumphant. It will of course help if India's openers can blunt the new ball and the middle order stitch together some useful partnerships.
It will come as a boost if his bowlers don't let a score of 87 for 7 swell into 180. It will be a massive plus if India's slip cordon can hold on to their catches. And it will make a difference if Kohli the captain (and the rest of the team management) offer their players adequate security. In his 36 Tests as captain, Kohli has never picked the same XI in consecutive matches. While this suggests a willingness – eagerness even – to be flexible it also points to a situation where nobody is guaranteed a steady run. One man's lucky break is after all another man's morale-shattering axe.
There is reason for optimism. Despite missing their best bowler in away conditions, despite no other batsman crossing 31 in either innings, India were 32 runs away from winning this Test – in a country where they last won the first Test of a series in 1986. We know no team led by Kohli is going to lack in will. It's now time – like at Johannesburg earlier this year – to find a way.
(Siddhartha Vaidyanathan is a writer based in USA. He fell in love with the game after watching a 20-over exhibition match in Peshawar on a grainy black-and-white TV. He Tweets @Sidvee)