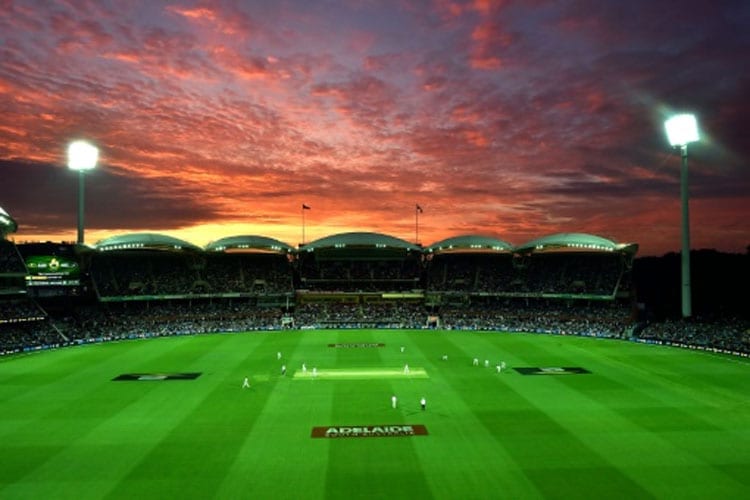 The world's first day-night Test match was a great success, rival skippers Steve Smith and Brendon McCullum agreed on Sunday, after the match at the Adelaide Oval lived up to its much-hyped billing. Thirty-seven wickets tumbled in three days as the pink ball dominated the bat, and the first Test to be played under lights in the 138-year history of the five-day game drew a total of 123,736 fans through the gates.
The tension lasted into the third day as the determined Kiwis battled right to the end. The Australians won the historic match by just three wickets as bowler Peter Siddle cracked the winning runs with a hobbling Mitchell Starc as his partner. It was the first time since 1993 that an Adelaide Test match had not produced a single individual century. It was the first three-day Test match at the famous ground in 64 years -- since the West Indies beat Australia by six wickets.
"The whole Test match was a great innovation, it was a great spectacle, and to get 120,000 people through the gates in three days is absolutely amazing," said Australia's Smith. "It was just a game that was dominated by the bowlers. I thought New Zealand's bowlers bowled just as well as ours."
Kiwi counterpart McCullum was equally excited by the concept, which has attracted high interest around the cricket world. "It's a great concept. As pink-ball cricket evolves, which I'm sure it will in the global game, I think we'll see that pitches won't have quite as much grass on it," he said.
"Overall, it's a roaring success -- 120,000 people turning up over three days. People are voting with their feet. I think it's here to stay, which is great. It definitely brought a different element, even on day one. It certainly asked some different questions. I think, tactically, there?s a lot to learn for captains as we head into the pink-ball era."
International Cricket Council chief executive David Richardson said the day-night Test was part of a package designed to lift the five-day format. Cricket Australia already has plans in place for more day-night Tests during next season's tours by South Africa and Pakistan.