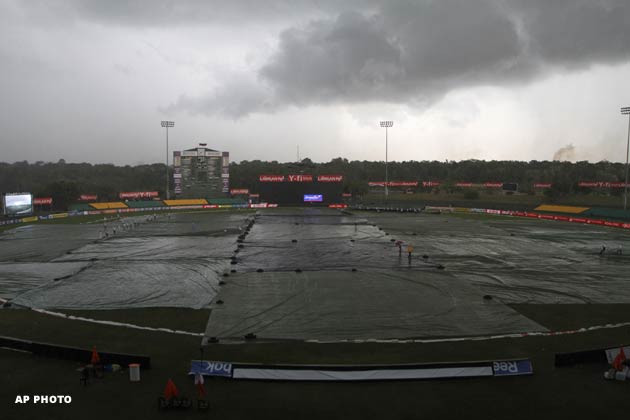 Hambantota: Strong objections by the West Indies players along with chaotic scenes at one of three planned World Cup venues in this southern region has led to the abandoning of the five-match limited overs series also involving Sri Lanka, around noon on Thursday.
While a massive cloud from the Bay of Bengal covers most of Sri Lanka, the West Indies players have become disillusioned with the tour arrangements of the island after the three-match Test series was affected by rain.
Confirming the news, the Sri Lanka Cricket (SLC) has issued a statement saying the tour is being abandoned untill late January. It is also said to be replaced by a three-match series.
By that time, it is hoped that the venues at this port town, Pallekele, near Kandy and Premadasa Stadium Colombo should be completed.
After the disastrous three-match Test series in which more than 650 overs were lost through rain – including two full days at Pallekele and one at Premadasa, the decision to go ahead with the five-match limited overs series has been an accident waiting to happen.
Although nothing official has been released by the West Indies team management, it is understood they have complained to their board over the arrangements for the tour in which the second and third Tests were played at two venues that resembled building sites.
Dressing rooms were found to be inadequate at Premadasa and Pallekele and that at Hambantota is far from ready.
Neither side has been able to hold a full practice session since the third morning of the third Test while tour officials felt the five ODI matches should have been postponed until next month.
However, the Sri Lanka secretariat of the ICC CWC11 organising committee, in a panic, pressed SLC to play the games, despite the venues being two months behind schedule.
Now the ICC are starting to ask questions about the state of the three venues as rain continues to hamper construction. A planned promotion of Pallekele on Saturday has been delayed a week as the rain in the area has caused a major delay in finishing various sections of the stadium.
The biggest concern, however, is here at Hambantota where the TV company have battled to install camera equipment because part of the stadium needed for full match coverage.