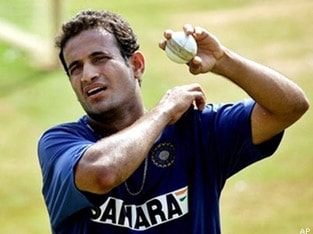 Adelaide: The BCCI may be adamant to stamp out sledging from cricket but India's left-arm seamer Irfan Pathan says he is comfortable with some chit-chat as long as those are within the limits.
A day after BCCI secretary Niranjan Shah said the Board would seek a ban on sledging in next week's ICC Chief Executives Committee meeting in Kuala Lumpur, Irfan was pleasantly inclined in favour of sledging.
"Sledging has been a part of the game and carries a certain charm about it. As a fast bowler, personally, I don't think staring down at a batsman or similar such stuff is bad," he told reporters, adding a rider, "but it should be within limits."
The left-arm paceman, who has not looked back since his heroics in the Perth Test, is absolutely delighted with his form and fitness. He also want fans not to worry too much about a few youngsters who haven't been getting their chances.
"Their time would come. So far only four matches have been played. Quite a few games are still left. I don't think there is need to worry too much. They would have their opportunity," Irfan said.
He also spoke in defence of Virender Sehwag and Yuvraj Singh, while his word on Ishant Sharma's rise was predictable. And the seamer also had a special Valentine's Day message "Happy Valentine's Day to all; send me a lot of roses."
PAGE_BREAK
Meanwhile, manager Vimal Soni clarified that team physio John Gloster had indeed resigned a couple of weeks ago and thus implied that it wasn't as if the physio had decided to leave out of the blue.
Among the Indian players, Sachin Tendulkar stayed away from the outdoor and went for the indoor nets, which has been his routine since the One-Day series began at the start of this month.
He apparently has come to terms with the bounce and movement of Australian pitches and believes all that remains for him to do is to hone a few of his shots in the indoors.
The outdoor nets though held interest for the intensity and ferocity of a few batsmen. Robin Uthappa, who has batted in only two of his four innings so far and in one of them didn't come to face a single delivery, batted as if to take the cover off every delivery.
He seriously put a few running for cover. He kept moving from one net to another before Yuvraj ticked him off to take a break.
Yuvraj himself tried very hard to rediscover his form. He hit big and long but in between there were those usual swishes outside the off-stump and awkward fending off short-pitched deliveries. Irfan and Munaf Patel tested him out in all seriousness.
Captain Mahendra Singh Dhoni was another who unfurled a few of his brutal strokes and so did Manoj Tiwary. Sehwag and Gautam Gambhir, in contrast, took it easy. They have less reasons to worry about their places than a few others in the team.
First Published: February 14, 2008, 5:14 PM IST