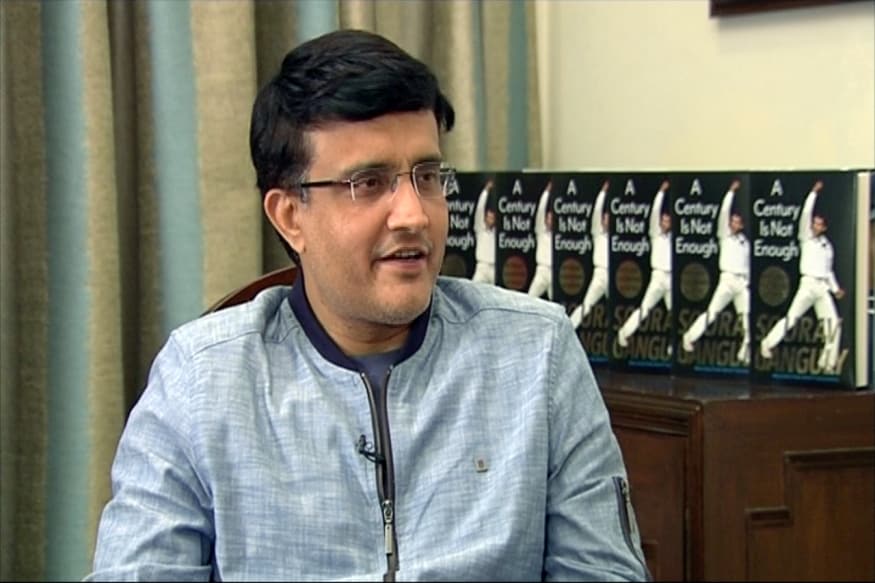 New Delhi: Former India skipper Sourav Ganguly took Indian cricket to new heights after he took the leadership role in 2001. It wouldn't be wrong to say that the it was under his captaincy the Indian team improved leaps and bounds, and got the self-belief to win Tests abroad too.
But like every player hits a low in his career, Ganguly did too. In 2005, he was axed from the team after the arrival of coach Greg Chappell. In an exclusive interview with CNN News 18's Meha Bhardwaj, Ganguly talks about his journey as captain, his comeback, and the current Indian team.
Q: Throughout your career you took a lot of pride in getting these youngsters in the team. Is that the defining Ganguly imprint on Indian cricket?
I had to back youngsters when they came in. I was a ferocious winner. I really wanted to make a difference, and not just be one of those captains who are captain for a few years and quietly fade to the background. I wanted to make a difference. So the young players came in and I had to create a team with them and had to find a way for them to prosper. I believe that I had to take the fear factor away from them. The fact that there is pressure, you cannot put them under so much pressure that they crack and then are unable to perform. So you put some pressure on them to perform, but not beyond a limit. I wanted to create that atmosphere where I challenged them to win games for me. In our journey we will lose some and that is part and parcel of sport, but make sure when we play well, we win and it's not a draw. And the likes of Yuvi (Yuvraj Singh), Harbhajan, Viru (Virender Sehwag) and Zaheer, they were all match winners in their own right and also I was fortunate enough to become captain at a period when myself, VVS (Laxman), Sachin, Rahul and Anil were at their Best.
Q. What is the difference that you see between Virat Kohli and MS Dhoni's captaincy, with respect to yours?
I think Dhoni and Kohli are different personalities. Kohli is very expressive, and so was I. But Kohli has probably taken it one step further. I have to find out, whom does he show that fist to every time a wicket falls.
Dhoni was calm, that doesn't take the nervousness or pressure away from anyone. For Virat Kohli, it's his way of taking pressure away from everyone, and it was same for me. For Dhoni it was to absorb. So every captain is different and I think India is very fortunate to have Dhoni and Virat Kohli. Virat is also in the form of his life, I think the way he's played, he's the best player in the world at the moment. When I see him on the field, I see a lot of honesty. It's like you get what you see with him. Everything is there and also he's a class player. So I have tremendous regard for him and tremendous faith in him that he's going to take Indian Cricket to the next level.
Q. What do you think is the most important aspect of a captain?
Man-management skills in every leader, and not just a captain. Be it a corporate boss, a television network boss, you have to manage individuals differently. It cannot be 'my way or the highway'. Every Individual is different, especially in our country, which is so huge and diverse. Players come from all parts of the country, North, South, East, West, with different habits. There are some like me, brought up in a conservative Bengali household; teetotaler, never went to a nightclub. Some like Venkatesh Prasad who never ate chicken in his life, then there was Javagal Srinath who was told that if he wanted to bowl fast, he had to eat meat. So all came from different backgrounds. The biggest job of the captain is to make sure they play at their best, treat every player differently and just be bothered about what they do on the park. I tried to compartmentalize and treat every individual on their own merit.
Q. You were the one who started using the formula of playing one spinner and play an additional seamer. You left Anil Kumble out from the Trinidad Test. Now you see Virat do that. Does that satisfy you?
It was tough leaving him out. Imagine leaving someone like Kumble out, who's such a match winner. But conditions were different. When we go to England, when you go to Australia they are different. When you play two spinners and you lose the toss, you're actually bowling so much of spin on good flat pitches that you're out of the game. I'm not saying the spinners are not good, but they're not magicians. On the first day of a green pitch, you don't expect Kumble to take 5 for 40. It can't happen.
He might come into the game on Day 4 or 5. But you have to play the first 3 days of the test match to get to day 4 or day 5. So it's about taking decisions on the conditions and I had to do that. That's the reason we started winning outside, because we had the fast bowlers to take wickets.
Q. When you look back at the shirt-waiving incident at Lord's, what do you think?
When I look back at it now, it was crazy. It was a young man's show of happiness. I saw Dhoni do it after winning the T20 World Cup. If Virat wins the 2019 World Cup, he might just walk bare body on Oxford Street because it's in England. So it's nothing more than that, just a show of a young man's happiness, but I'll never do it again.
Q. When one talks about your career, there will always be a talk of Greg Chappell. He just completely changed it around for you. Do you think, why did it have to happen?
That was sad. I don't worry about what happened because I don't play anymore. But I used to think about it when it happened. I was thinking what was the big deal because when you are playing you have a sensitive mindset. You are lot more emotional and I thought about it initially. But for me everyone gets dropped. There are very few who will play forever. In a team sport it is really different because your life and selection is judged by somebody else. In an individual sport you decide.
The sad part was that you felt that you were getting runs and you should get picked and dropped on the basis of how much runs you score, and how many wickets you take. So for a period of six months I felt that that was not the criteria. I felt that even if I score a hundred I won't be picked. That's the tough bit. You might not like me as a player, if you are honest to your job, responsible and say that okay I have picked him up and if he performs, I will change my mind.
I have no clue why he disliked me. I never asked. I was very tentative to ask. By then I had played more than 350 games for India, and as a captain 200 games. I didn't want an explanation. I said when I get my turn, I will try to score runs and, if I don't get my turn, I don't.
Q. When you went to South Africa in 2006, Greg was there at the net practice. How was it like facing him?
In South Africa he was there as a coach...I had lot more experience and had played more test matches than him. I told myself that, I am good enough to make my own mark. I worked hard, played well, and played for next 4 years which I think were my best years.
Q. You had a great comeback series. But if you met Greg now, what would you say?
I won't meet him. In a period of two months everything changed. I was playing county cricket for Glamorgan. It wasn't that I was not turning up for nets or not attending camps, or sleeping at home. I was playing county cricket after playing almost 350 games. I don't want to know what changed because I don't play anymore.
Q. India-Pakistan is one of the biggest on-field rivalry. What made you do well against them?
I did nothing different against Pakistan from what I did against Sri Lanka, Australia or South Africa. I think I did well against Pakistan because I didn't consider it as a do-or-die game. I considered it just another game, just as to play 15-20 years I had to score against Australia, South Africa, Sri Lanka, I had to also score against Pakistan. I never put extra pressure on myself or the team. Maybe the 1997 series of Toronto, where I was man-of-the-series gave me belief that I will deliver against this side. I think belief is the most important thing in life. If you believe you can, then you can. I am a big believer of that. And if you don't believe, half of the battle is lost.
Q. What is the biggest moment of your career?
When I get to hear from people that during my tenure as the captain Indian cricket changed. I think that will remain with me. The runs will remain, I am fortunate to be among the three Indians who have played 100 tests and 300 one-days, Which is Sachin, Rahul and I. I always think that god has been kind enough to make me do that, but what will remain with me is, this team was different. That's what you play for, because it is a team sport.
Q. What are Sourav Ganguly's future plans? Would you fancy becoming BCCI President?
I think I am too young for the post of a president of BCCI at the moment. I am in no hurry. For me, I don't know where the life goes from here. The best things have happened from no where. Like when I became the captain, I didn't expect it. One fine day he decided that he doesn't want to do the job anymore and I was given the job. I joined the administration in 2014 and in 2015 and became the president of CAB, because somebody who was like a father to me — Mr. Jagmohan Dalmiya died. So with these experiences I don't think too far. I just do the best in what I am asked to do.
Q. What is the difference or similarity between your team and Kohli's team?
It is very difficult to compare generations. Every generation in Indian cricket has produced a champion like Sunil Gavaskar, Kapil Dev, Sachin Tendulkar. I think Kohli is the one in this generation. This generation should be compared 7 to 8 years down the line because we became Ganguly's or Dravid's or Tendulkar's after playing for 15 years. Virat is the senior most with Dhoni having 10 years or 11 years of experience. But the other boys, whether it's Ajinkya Rahane or Rohit Sharma or Murali Vijay, have four or five seasons. I would give a little more time and see where they finish and then compare the generation. But what my generation signifies is that he had players Sehwag, Dravid, Tendulkar, Laxman, I, Harbhajan and Kumble, who all played more than 100 Test matches, which is a sign they were bloody good. Longevity at that level for a long period of time is a yardstick to show how good you are. Once these boys get close to it, it be easier to compare.