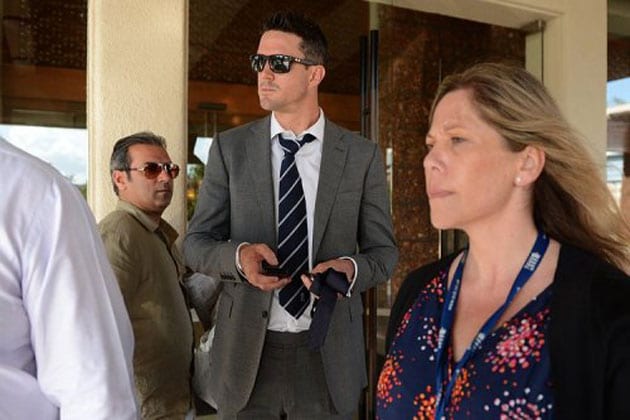 Johannesburg: South Africa have rubbished claims their players provoked the text message row that led to England axing batsman Kevin Pietersen. Pietersen was dropped for the final Test and a one-day international series against South Africa and the World Twenty20 tournament after allegedly criticising England captain Andrew Strauss in texts to South African players. England and Wales Cricket Board (ECB) chief executive David Collier claimed Sunday in a radio interview that the Pietersen texts were a response to messages from the opposition.
But Cricket South Africa (CSA) acting chief executive Jacques Faul poured scorn Monday on the claims by Collier, labelling them "absolute rubbish" in a statement."This is absolute rubbish. What is particularly disappointing is that I had a face-to-face meeting with Collier when in London for the Lord's Test and he did not raise this allegation with me then."I would have thought, as a matter of courtesy and decency, that he would have spoken to me about it before going public in the media," said the South African official.
"It is not the way CSA goes about its business and it is not the way the ECB has done business with us in the past. It is very disappointing because our relationships have always been cordial and constructive."This is an internal ECB matter in which we do not wish to be involved. It served as a distraction to our players that we did not need during the Test series."South Africa-born Pietersen will be in the country this month as part of the Delhi Daredevils squad competing in the fourth edition of the Champions League Twenty20 competition.
Pietersen apologised last week for sending the messages and signed a new central contract with the ECB after the two sides agreed "a process for his re-integration into the England team".Collier said Pietersen, a 32-year-old native of KwaZulu Natal capital city Pietermaritzburg, was only replying to Blackberry Messenger messages sent by the opposition."That is our understanding," Collier told the BBC Radio Five Live Sportsweek programme during an interview. "I have not seen those messages and no one has kept those messages."These were responses to messages from certain members of the South Africa team and I would not condone an England player doing it if it was the other way round. I certainly think they (South Africa) provoked the situation."