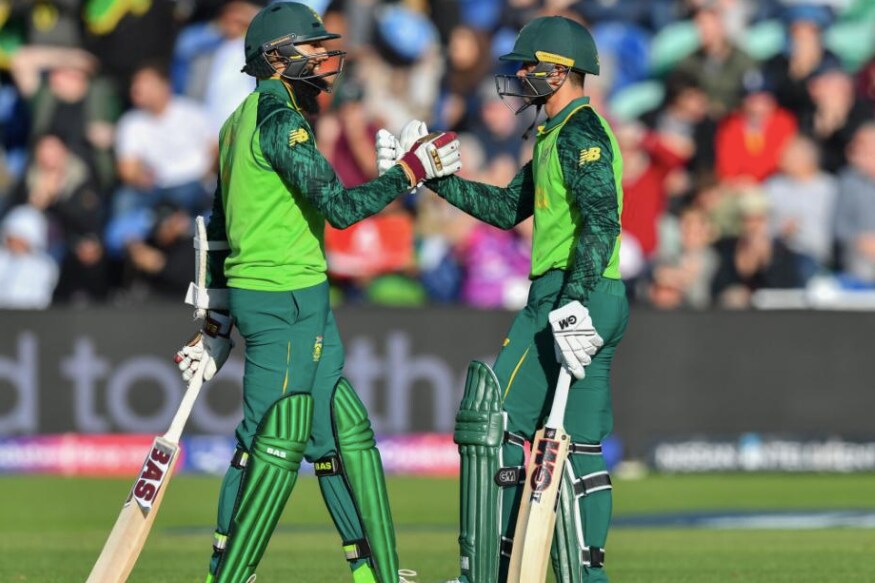 The South African bowlers had set the game up having bowled out Afghanistan for 125 and  Quinton de Kock with his 68 broke the back of the chase to see South Africa win the game by nine wickets (by DLS method) and finally register their first victory in the 2019 ICC Cricket World Cup.
As expected, two one-sided games in the end. Not the kind of Saturday games that you'd like in #CWC19 But glad that SA finally has a win.

— Aakash Chopra (@cricketaakash) June 15, 2019
Well done to the #Proteas. Only one way from here!! — Anrich Nortje (@AnrichNortje02) June 15, 2019
STOP THE PRESS: South Africa have won a game at #CWC19

— Manya (@CSKian716) June 15, 2019
A look at the largest victories (balls remaining) for South Africa in the @cricketworldcup 228 vs BAN, 2003 192 vs SL, 2015 184 vs ENG, 2007 172 vs KEN, 2003 160 vs SCO, 2007 116 vs AFG, 2019👈#MakeStatsGreatAgain #SAvAFG #AFGvSA #ProteaFire #CWC19 — Victor Tarapore (@VictorTarapore) June 15, 2019
Hashim Amla might just lose a lot of fans around the world among live bloggers / tweeters because of this match. #SAvAFG

— Vinayakk (@vinayakkm) June 15, 2019
Amla is an all-time legend, but SA need to boost their net run-rate if they're to stand any chance in this tournament. — Lawrence Booth (@the_topspin) June 15, 2019
If South Africa misses out on 4th place on NRR by .010 points, you can all point and laugh at Hashim Amla for failing tournament chasing basics today v Afghanistan that every WCL participant knows by heart.

— Peter Della Penna (@PeterDellaPenna) June 15, 2019
Minnows like Ireland have done better in World Cups than Afghanistan who have been losing miserably without any impressive show. If Afghanistan are here then so should Ireland, Zimbabwe, and others #CWC19 — Maria Shamim (@Mariaa_54) June 15, 2019
SIXXX!!! Phehlukwayo finishes it in styleeee! South Africa finally gets their first victory this worldcup. Well done Proteas!! #ProteaFire

— Brashna Kasi (@Brashnaa) June 15, 2019
Earlier, it was Imran Tahir and Chris Morris who shared seven wickets between them to run through the Afghanistan batting lineup and set the game up for their batsmen.
Most 4-wicket hauls in the World Cup: 5 - IMRAN TAHIR (18 games) 4 - MITCHELL STARC (13 games) 4 - Shane Warne (17 games) 4 - Shahid Afridi (27 games) 4 - M Muralitharan (40 games)#CWC19 #AUSvSL #SAvAFG — Sampath Bandarupalli (@SampathStats) June 15, 2019
Imran Tahir gets smashed around by the no 9, celebrates the catch on the boundary like Miss World has just DM'd him #SAvAFG

— Radio Cricket (@RadioCricket) June 15, 2019
Chris Morris been our best bowler at the world cup. Showing great control and consistency. Great for us to have him performing with the ball as well, because we're a much better team with him playing — Sthe. the gong (@StheSimelane_) June 15, 2019
everyone waiting for India Pakistan but before that, really curious to see if South Africa can upset Afghanistan today #CWC19

— Gaurav Kalra (@gauravkalra75) June 15, 2019
Another disappointing score for Afghanistan after a promising start.https://t.co/bRQ4pfy7jT#AFGvSA #CWC19 #WorldCup2019 — CricBlog (@cric_blog) June 15, 2019
Dear @ACBofficials:

I am cheering for you every time.

I have updated my Facebook DP with a Support #AfghanAtalan badge.

Come on, give me something.

Losing 4 for 1 in 9 balls is just not done.#CWC19 #SAvAFG#AFGvSA

— Abhishek Mukherjee (@ovshake42) June 15, 2019
This is not the Afghanistan we all know.... they are better than this 😞 @ACBofficials @ICC #CricketWorldCup — Anshuman Rath (@anshyrath) June 15, 2019