New Delhi: Led by inspirational skipper Steve Smith, Australia will look to continue their impressive run against South Africa when they take on the hosts in the first of the four Tests in Durban on Thursday.
South Africa — who are currently ranked one place above Australia at number two in the ICC Test rankings — have a pretty poor record at home against the Aussies and they will be wary of that when the two teams take to the field at Kingsmead.
The Proteas have not won a Test series against Australia at home since 1970 when they whitewashed Australia 4-0. Since then, Australia have won five of the subsequent seven tours of the 'Rainbow Nation'.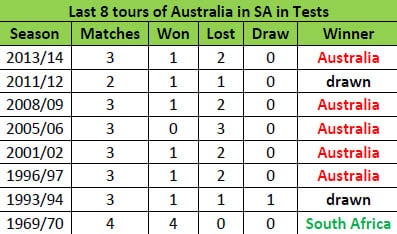 Moreover, South Africa have their highest loss rate against Australia in comparison to any other Test-playing nation. The Proteas have lost a whopping 65% of their matches at home against Australia, who also hold the record of being the only team to have won more matches than they have lost in South Africa since the hosts' readmission.
And to add to South Africa's misery, they do not hold a good record at Durban in Tests — out of the 42 matches the Proteas have won only 14. The hosts have a win rate of just 33.33% at Durban which is their worst among active Test venues.
In the last 10 Test matches at Kingsmead, South Africa have won only thrice - against India in 2006 and 2013 respectively, and the third win was against the West Indies in 2008.

The two teams have locked horns 10 time in the past at this venue and it's safe to say that it is the Aussies who have had the better of their African rivals on more occasion than not. Australia have come out victorious five times, while Proteas have tasted victory in just three off the ten Tests played between the two teams at Kingsmead.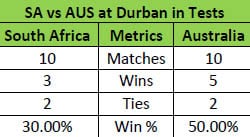 Skipper Steve Smith have also thrown down the gauntlet for the Proteas and he has said that the Aussies will look to exact from Faf Du Plessis' troops for the 2-1 loss they inflicted upon them in Australia in 2016.
"Certainly it's a big series for us. We've had a lot of great contests over the years. South Africa got the better of us at home so we'd love to get them back for that one," said Smith ahead of the start of the first Test.