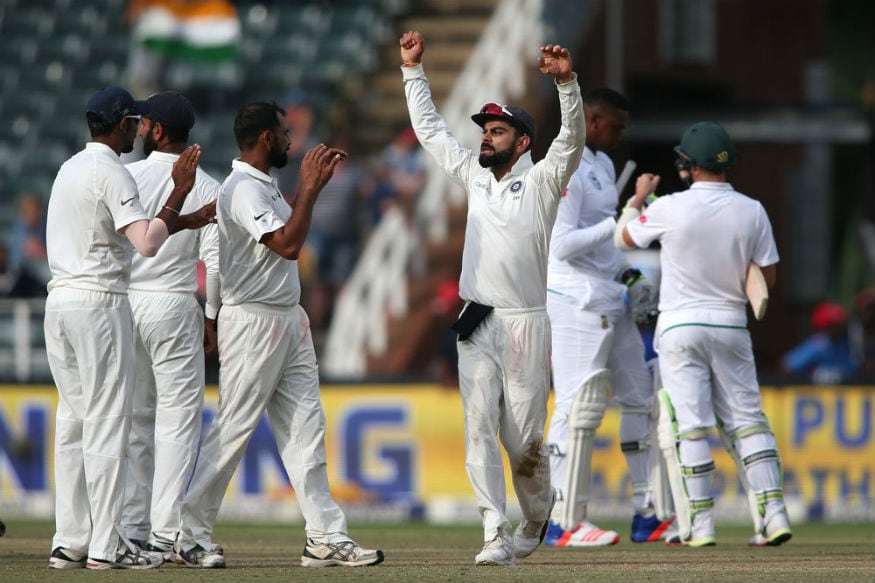 India might have lost the series but a brave performance from Virat Kohli and Co in Johannesburg showed that the team is capable of performing outside the sub-continental as well. As the series comes to an end, we analyses the performance of each and every player who played for India in the three Test matches.
1. Shikhar Dhawan: Rating 2: Verdict: Very Poor
Shikhar Dhawan had a disastrous time as an opener. He played only one game and was dismissed for 16 in both the innings but he looked out of his depth against a quality South African bowling attack. Dhawan's overseas form with the red ball hasn't been impressive and he might find himself under pressure this year with India set to tour England and Australia as well. The fact that he was dropped after just one game also shows that team management might be losing their faith on him.
2. Murali Vijay: Rating 5: Verdict: Average
Murali Vijay has always been among the most reliable batsmen for India in overseas conditions. His technique of leaving the ball outside the off-stump is something that has aided him perform in tough conditions. Though, in this series, Vijay shuffled a lot and went for balls which were outside the off stump. This change in technique was rather surprising considering his previous technique had always aided him. He played some important knocks in difficult times, facing a lot of deliveries but 102 runs in 6 innings at an average of 17 showed how poorly India's openers performed and that was one of the reasons why the team lost the series.
3. KL Rahul: Rating 3: Verdict: Poor
Although this was Rahul's first Test in overseas conditions against quality bowlers, Rahul will be disappointed with the way he went about things. He has a tendency to lose concentration, which is something he will have to work on if he has to cement a spot as an opener in the team. This will be a learning experience for him and no doubt he will get more opportunities this year. Rahul managed to score only 30 runs in 4 innings at an average of 7.50.
4. Cheteshwar Pujara: Rating 6: Verdict: Average
Pujara was another batsman who was expected to perform better than he did. In the first two Tests, Pujara seemed to be in a bit of a hurry and also became the first Indian player to be run out twice in a Test match – achieving the rather unremarkable feat in Centurion. In the final Test, Pujara took 54 balls to get off the mark but played a very important knock in the context of the game. Pujara needs to be given the freedom to play his natural game. He might not be as athletic as some of the other players, but his patience and technique are the qualities that make him India's best bet in toughest of conditions. He shouldn't be forced to change that.
5. Virat Kohli: Rating 8: Verdict: Very Good
For his batting, Virat Kohli deserves a 10 on 10. The Indian skipper was simply in a league of his own and was the only player in both the teams to score a century – an incredible 153 in Centurion. Every time he was at the crease, it seemed India would score runs. His favourite word 'intent' was something he showed in abundance. But his captaincy left a lot to be desired, the decision to drop Ajinkya Rahane for the first two Tests and then Bhuvneshwar Kumar in the second Test was shocking to say the least. His argument too didn't seem to support the decision. In Shastri, Kohli has a coach he wants but sometimes you wonder whether Kohli needs another strong personality in the dressing room to bounce his ideas off. This was one of India's best chances to record a series victory in South Africa and one hopes that Kohli has learnt from his mistakes for the other foreign tours coming up this year.
6. Rohit Sharma: Rating 3: Verdict: Poor
The fact that Rohit Sharma was able to make it to the team in place of Ajinkya Rahane – one of India's most successful overseas performer was a surprise for many Indian fans. His selection was defended, saying he was the 'in-form' player but Rohit found out the hard way that scoring against a quality South African attack in difficult conditions is not as easy as slamming centuries against a hapless Sri Lankan bowling unit. Rohit scored 78 runs in 4 innings, with a best of 47. His shot selection left was questionable on more than one occasion and it will be difficult to for him to replace Rahane in the future.
7. Ajinkya Rahane: Rating 8: Verdict: Very Good
Ajinkya Rahane played only 1 game – the final Test in Johannesburg – which had the toughest batting conditions in the series. But a feisty 48 in the second innings showed why Rahane should be one of the first names on the team sheet whenever India plays a Test match. His fielding abilities, especially in the slip cordon make him indispensable for the team. He must have been under tremendous pressure coming into the team but he showed his class and surely sealed a spot in the playing XI for the foreseeable future. His calm demeanor also makes him a perfect deputy to the aggressive Kohli. He will now be hoping that he won't have to prove himself again and again, and that his impressive overseas record will speak for itself.
8. Hardik Pandya: Rating 5: Verdict: Average
Hardik Pandya scored a fantastic 93 in the first innings to show that he belongs to the Test arena – even drawing comparisons the great Kapil Dev, but he only managed to score 26 runs in the other 5 innings. In fact his run out led to Kapil Dev commenting that Pandya doesn't deserve to be compared to him if he keeps throwing his wicket away. His shot selection too was ordinary in most of the innings. It seems that sometimes his attitude gets the better off Pandya and it is something he will need to reflect going ahead. He is known to be a quick learner and the team management must have had a talk with him about the same. The less said about his bowling, the better as he picked only 3 wickets and averaged 54 in the series.
9. Wriddhiman Saha: Rating 5: Verdict: Average
Over the years the role of a wicket-keeper has changed in world cricket and a good glovesman is also expected to contribute with the bat. Saha might be India's finest stumper at the moment but his batting doesn't seem to offer any hope in foreign conditions. He played only 1 game and scored 8 runs in the two innings. He injured his hamstring and was ruled out of the rest of the series after the 1st Test.
10. Parthiv Patel: Rating 4: Verdict: Poor
Parthiv Patel often finds himself playing in the most difficult of conditions and you might feel a bit unlucky for him. He seemed lacking in confidence and wasn't at his best behind the stumps, he batted in the most precarious of situations – even opening the innings in Johannesburg, but the gutsy Parthiv showed a lot of fight and even hurt his finger, which led to him being taken off the field and replaced by Dinesh Karthik.
11. Bhuvneshwar Kumar: Rating 10: Verdict: Excellent
One of the biggest positives of the series was the fact that India found a true all-rounder in Bhuvneshwar Kumar. Not only was he lethal with the ball – picking 22 wickets at an average of 20.30 in two Test matches, but he was also effective with the bat, scoring 101 runs at an average of 33.66. In fact, his average was second only to Virat Kohli as far as Indian batsmen were concerned. It was indeed shocking to see him dropped for the second Test. Bhuvneshwar has proven himself to be a key bowler for India in all conditions and never deserved to be dropped.
12. Ravichandran Ashwin: Rating 7: Verdict: Good
Ashwin picked up 7 wickets in the two games that he played at an average of 30. The conditions weren't the most favourable for the spinner, but he would be mightily disappointed with his showing in the second innings in Centurion, where he picked up only 1 wicket – that of Lungi Ngidi. The conditions in Centurion were the most favourable for the spinners and Ashwin performed well in the 1st innings, picking 4/113 and keeping India in the game. His batting was up to the mark and it showed why India consider him a genuine all-rounder in the team.
13. Mohammed Shami: Rating 7: Verdict: Good
Shami seemed to be one of the bowlers who had an off and on switch. Sometimes he would run in with intent, spearheading the attack and at other times he seemed to be going through his motions. His fantastic five-for won the Test for India at Johannesburg, where the batsman couldn't get bat on ball when he was steaming in. Some baffling captaincy also seemed to put Shami off, as he simply didn't bowl in the second session despite picking three wickets in the morning session on Day 4 of the second Test. He was key for India in the second innings but his performance in the first innings weren't certainly up to the mark.
14. Jasprit Bumrah: Rating 9: Verdict: Excellent
It would be hard for anyone to say that this was Jasprit Bumrah's first Test series. He made his debut in Cape Town and was thrown in the deep end straight away. The fact that he was preferred over Umesh Yadav and Ishant Sharma shows how much faith the team management has in him. Bumrah certainly repaid that faith as he picked up 16 wickets at an average of 25.21. He bowled the right line and never got carried away with the conditions on offer. He showed patience and was rewarded for that. Going ahead, he is certainly expected to be a key player for India across formats but his workload will have to be managed well by the think tank to ensure he doesn't suffer any injury.
15. Ishant Sharma: Rating 8: Verdict: Good
Ishant Sharma has been one of the silent stars in the Indian bowling attack for the past few years. He again was terrific in the two matches he played as he picked 8 wickets at an average of 18.75. One of Ishant's finest qualities has been his ability to bowl long spells in consistent areas. That might not show in the wicket column, but they play a crucial role in creating doubt in the batsmen's mind. Other bowlers often reap the reward of his hardwork. He has certainly emerged as Kohli's go to bowler when the going gets tough for the team.