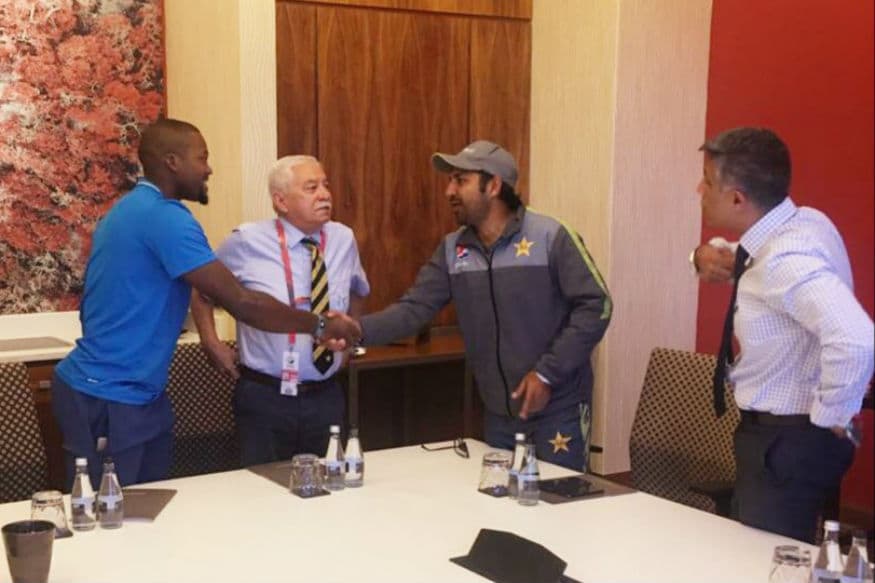 South African fast bowler Andile Phehlukwayo has accepted Pakistan captain Sarfraz Ahmed's apology for a racial comment directed at him during the second ODI of the ongoing series between the teams at Durban. Sarfraz posted a picture of the pair shaking hands ahead of the third game at Centurion, saying he now hopes that the people of South Africa will forgive him as well.
This morning I apologised to Andile Phehlukwayo and he was gracious enough to accept my apology .and I hope the people of South Africa also accept my apology. pic.twitter.com/bco00dGumR

— Sarfaraz Ahmed (@SarfarazA_54) January 25, 2019
The incident occurred during South Africa's chase of 203 in the second ODI, when the stump mic picked Sarfraz referring to Phehlukwayo as the "black guy". The entire taunt translated to "Hey black guy, where's your mother sitting today? What [prayer] have you got her to say for you today?"
After the incident generated an online storm, Sarfraz had posed an apology on his Twitter page saying his words weren't "directed at anyone in particular" and that he had no "intention of upsetting anyone."
For their part, the South African team responded to the situation by accepting Sarfraz's apology though captain Faf du Plessis did point out that in South Africa in particular, such comments can't be made "lightly".
"We forgive him because he said sorry," du Plessis said. "He has apologised and taken responsibility for it. It is out of our hands and ICC will have to deal with it now. When you come to South Africa, you have to be very careful when you make racial comments. I am sure he didn't mean it like that but he has taken responsibility and we will have to see what the outcome of that is going to be. This is not something that we take lightly as a team, but the fact that he apologised straight away means there is regret on his part.
"We're not taking it lightly, but that fact that there was an immediate apology shows there is regret. We can forgive but that doesn't mean we brush it under the table."
du Plessis also provided insight into how Phehlukwayo viewed the events.
"Andy [Phehlukwayo] says he didn't even notice it and thus felt it wasn't really directed at him," du Plessis said. "I suppose maybe because we didn't understand it makes a bit of a difference. But it certainly doesn't sit well with us. There seemed to be immediate regret. We're gracious. We forgive quite easily, except maybe against the Aussies."
The apology though may not be enough for Sarfraz to escape without any sanctions. Currently, the ICC is looking into the entire episode and if Sarfraz is charged, he could receive a suspension of 4 to 8 matches. However, if the matter is resolved by conciliation, according to article 4 of the ICC's anti-racism code, then there won't be any disciplinary action.
In an earlier media release, the PCB had "expressed regret" at the incident, warning their captain that such comments were "not acceptable."
"This incident has also highlighted the importance and significance of player education and training at all levels," the release said. "The PCB endeavors to improve their player education programmes to ensure these types of incidents do not happen again.
"Sarfaraz is one of the most respected cricketers in the world. However, captaining Pakistan is a massive honour and any hurtful remarks by any cricketer, let alone the captain, are not acceptable to the PCB."