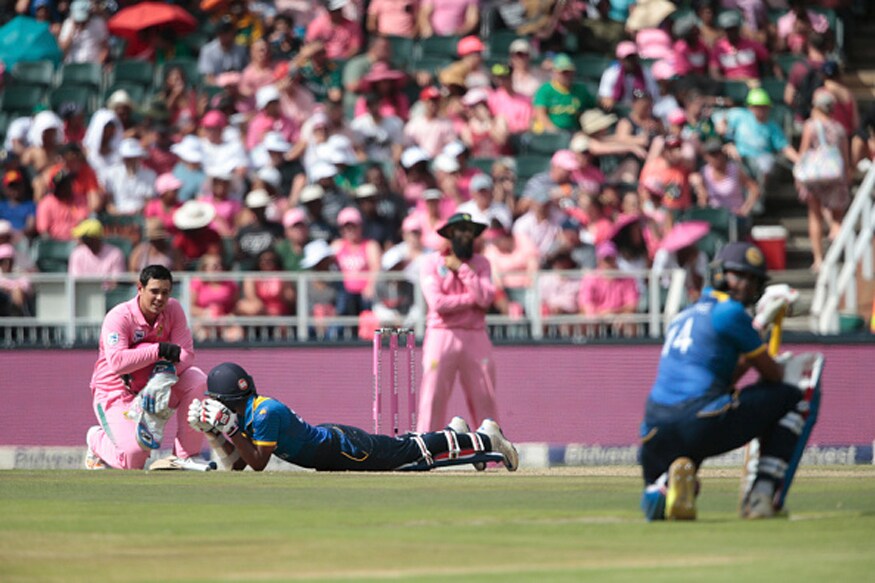 Johannesburg: A swarm of bees halted play and left the teams prone on the pitch during the third one-day international between South Africa and Sri Lanka in Johannesburg on Saturday.
Sri Lanka had just lost their fourth wicket with the total on 115 in the 25th over when, with new batsman Asela Gunaratne about to face his first ball, the slip fielders dropped to the ground.
Other players followed and there was a short delay. At one time all 13 players and both umpires were lying face down on the field as the bees buzzed about.
Play resumed but midway through the 27th over the bees converged on a helmet which had been placed behind wicketkeeper Quinton de Kock and the umpires stopped play.
Ground staff at Wanderers Stadium emptied the contents of two fire extinguishers into the swarm.
The players returned after a delay of more than 20 minutes but again left the field because there were still bees in the area where de Kock needed to stand.
@media only screen and (max-width:740px) {
.quote-box{font-size:18px; line-height:30px; color:#505050; margin-top:30px; padding:22px 20px 20px 70px; position:relative; font-style:italic; font-weight:bold}
.special-text{font-size:24px; line-height:32px; color:#505050; margin:20px 40px 20px 20px; border-left:8px solid #ee1b24; padding:10px 10px 10px 15px; font-style:italic; font-weight:bold}
.quote-box img{width:60px; left:6px}
.quote-box .quote-nam{font-size:16px; color:#5f5f5f; padding-top:30px; text-align:right; font-weight:normal}
.quote-box .quote-nam span{font-weight:bold; color:#ee1b24}
}