Over the years Sri Lanka has visited India 7 times to play Test cricket with the first ever tour taking place in 1982. With their 8th in offing, we at CricketNext take a look at the history of Test cricket between the two countries Indian soil.
Sri Lanka has a rather miserable away Test record against India, with the tourists yet to register a win on Indian soil. The two teams have met 17 times in India in Tests, and India has won 10 and seven have ended in a draw. Here is a look at all the past Test series results between the two teams in India,
Sri Lanka in India, 1982: Only Test ends in a draw
Sri Lanka's first match in India was a rather close affair and only time visitors came close to a win on Indian soil. Batting first, the tourists scored 346 with Duleep Mendis scoring a fine ton (105). Dileep Doshi took 5/85 for India and Kapil Dev took 3/97.
India in reply scored a mammoth 566 with Sunil Gavaskar and Sandeep Patil scoring big tons. Gavaskar ended on 155 and Patil on 114. Sri Lanka batted well in the second innings, with Mendis scoring yet another ton, supported by Roy Dias (97) and Anura Ranasinghe (77) as they reached 394.
India needed only 175 runs to win, but Sandeep Patil's run out triggered a mini collapse. India were 90-4 when Patil was dismissed at 46, and eventually India ended on 135/7.
Sri Lanka in India, 1986: India won the three match series 2-0
The first match of the series in Kanpur was a rather dull draw, Sri Lanka scored 420 batting first, with contributions from Ravi Ratnayeke (93) and Sidath Wettimuny (79), Roy Dias and Arjuna Ranatunga too scored half-centuries. Interestingly, the game also saw the debut of the current Indian bowling coach Bharat Arun, who ended with figures of 3/76. India in reply piled on a massive 676/7, with Gavaskar scoring 176, Mohammad Azharuddin making 199 and captain Kapil Dev scoring 163.
The second Test in Nagpur was a completely one-sided affair with India winning by an innings and 106 runs. Sri Lanka were dismissed for 204, thanks to Shivlal Yadav's brilliant spell of 5/76. In reply, India made 451, with Mohinder Amarnath and Dilip Vengsarkar scoring 131 and 153 respectively. Sri Lanka were dismissed for just 141, with Maninder Singh ending with figures of 7/51 as hosts won by an innings.
The third Test in Cuttack was also an innings victory for India. Vengsarkar was in his elements again as he played a fine hand of 166 and helped the hosts reach 400. Sri Lanka in reply were dismissed for 191 & 142 in their two innings, with Kapil Dev and Maninder Singh getting 4-fors in the first innings, and then Ravi Shastri ending with figures of 4/11 in the second innings.
Sri Lanka in India, 1990: India won the only Test to win the series 1-0
Yet another one-off Test and yet another innings victory for India, this time batting first, Ravi Shastri's 88 helped India reach 288, which by no means looked like a threatening score. But Venkatpathy Raju ran through the Sri Lankan batting, ending with figures of 6/12 as the Islanders were dismissed for 82. Second innings saw a marginally improved performance from the Lankans, but still they were dismissed for 198, with Kapil Dev ending with figures of 4/36. This match was also Marvan Atapattu's debut match but it was far from a memorable one as he was dismissed for a pair.
Sri Lanka in India, 1994: India won the three match series 3-0
This was yet another one-sided series as India registered an innings victory in all the three matches. In the first match at Lucknow, Sidhu and Tendulkar smashed tons to help India reach 511. Then Kumble's 4/69 helped the hosts dismiss Lanka for 218. Following on, they were dismissed for just 174, with Kumble taking 7/59 in the second innings.
The second game at Bengaluru saw a similar trend, as India scored 541 batting first, with contributions from Sidhu (99), Kambli (82), Tendulkar (96) and Azharuddin (108). However, again Sri Lanka were dismissed for 231, with India's pace duo of Manoj Prabhakar (4/82) and Kapil Dev (3/73) doing the maximum damage. Following on, Sri Lanka were dismissed for 215, with Kumble picking 3/64, and Raju, Kapil Dev and Rajesh Chauhan picking up two wickets each.
Sri Lanka's poor batting continued in the third match, this time they batted first but were dismissed for 119, again spin doing the maximum damage, with Raju picking 5/39. The match though is a special one in Indian cricket's history as Kapil Dev finally broke Sir Richard Hadlee's record to become the highest wicket-taker in Test history. Kapil's 432nd victim was Hasham Tillekaratne.
Kapil Dev celebrates after picking up his 432 Test wicket in Ahmedabad (AFP Photo)
Azharuddin's fine knock of 152 guided India to 358. Sri Lanka in the second innings batted relatively better but were still dismissed for 222. Raju this time picking 6/87. India convincingly won the series 3-0.
Sri Lanka in India, 1997: Three match series ended 0-0
The current Sri Lankan team will be hoping to take inspiration from this performance of the Lankans as some solid batting from the visitors helped them draw all the three games. This was also among the strongest of Sri Lankan teams to have visited India, led by Arjuna Ranatunga and having the likes of Chaminda Vaas, Sanath Jayasuriya, Muttiah Muralitharan and Arvinda de Silva in their prime.
First match saw Sri Lanka bat first, and an Atapattu ton helped them reach 359. For India, Sidhu and Ganguly scored tons as the hosts declared at 515/9. Aravinda de Silva stayed unbeaten on 110, as Sri Lanka reached 251/6 before the game ended in a draw.
Sourav Ganguly was in great form during the series and scored two massive centuries (AFP Photo)
Rain played spoilsport in the second Test in Nagpur, with only India able to bat and score 485 before rain intervened.
The stage was set for a decider in Mumbai, and Sri Lanka's decision to bowl first backfired as India reached 512, thanks to tons from Ganguly (173) and Tendulkar (148). Atapattu and Jayasuriya batted well for the Lankans but none of the batsmen converted their starts as they were eventually bundled out for 361. India declared on 181/9 in their second innings, and at one stage seemed would scrape through to a win but bad light and rain aided Sri Lanka, as they ended on 166/7.
Sri Lanka in India, 2005: India won the three match series 2-0
The first match in Chennai was interrupted by rain for the first three days, and then India batted first, and were dismissed for 167, with Vaas picking 4/20.
The second game in Delhi saw India post 290, with Tendulkar scoring 109. Atapattu and Jayawardene batted well for the Lankans, but they were dismissed for 230, thanks to Kumble's terrific spell of 6/72. Irfan Pathan opened the innings in the second innings as India scored 230, with Pathan scoring 93. Sri Lanka needed 436 to win, but Kumble and Harbhajan took 4 and 3 wickets respectively as the Lankans were dismissed for 247 and India comfortably won by 188 runs.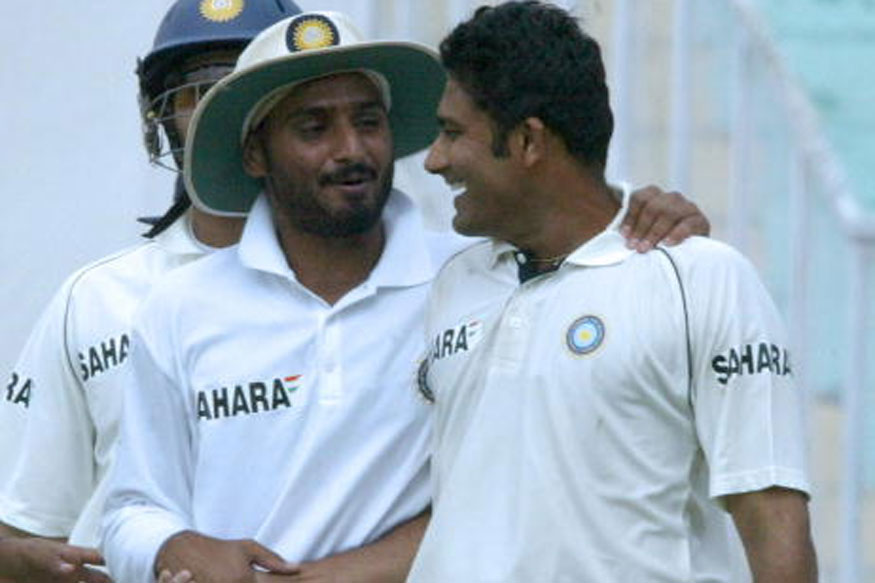 The Indian spin pair of Anil Kumble and Harbhajan Singh destroyed the Lankans (Getty Images)
The final match at Ahmedabad saw Virender Sehwag captain the Indian side after Dravid missed out the game. India batted first, as Laxman's fine knock of 104 supported by Pathan's 82 saw India reach 398. Harbhajan registered 7/62 as Sri Lanka were dismissed for 206. India declared their second innings at 316/9, Sri Lanka needed 509 runs to win, but Harbhajan's 5-for helped India dismiss the visitors for 249, as India comfortably won by 259 runs.
Sri Lanka in India, 2009: India won the three match series 2-0
The first match in Ahmedabad ended in a draw. Batting first, Dravid (177) and Dhoni (110) tons helped India reach 426. However, Mahela Jayawardene scored a mammoth 275, and a ton by Prasanna Jayawardene helped Sri Lanka reach 760/7. India batted well in the second innings with Gautam Gambhir scoring 114 and Tendulkar staying unbeaten on 100.
The second Test at Kanpur, saw India's top 3 – Gambhir (167), Sehwag (131) and Dravid (144)all score big tons as India reached 642. Sreesanth then took a 5-for as the Lankans were dismissed for 229, following on, they were dismissed for 269 as India registered a convincing innings victory.
The final match in Mumbai will be remembered by Indian fans for Sehwag's special knock of 293, where he missed the triple ton by just 7 runs. That would have made him the first cricketer to score three triple tons.
Sri Lanka made 393 batting first with Dilshan scoring a ton and Angelo Mathews scoring 99. Sehwag tormented the Sri Lankan attack as he scored 293 off just 254 balls. Dhoni too scored an unbeaten ton. Kumara Sangakkara scored a fine ton but couldn't help the visitors avoid an innings defeat as Zaheer Khan's 5/72 meant Lanka were dismissed for 309.