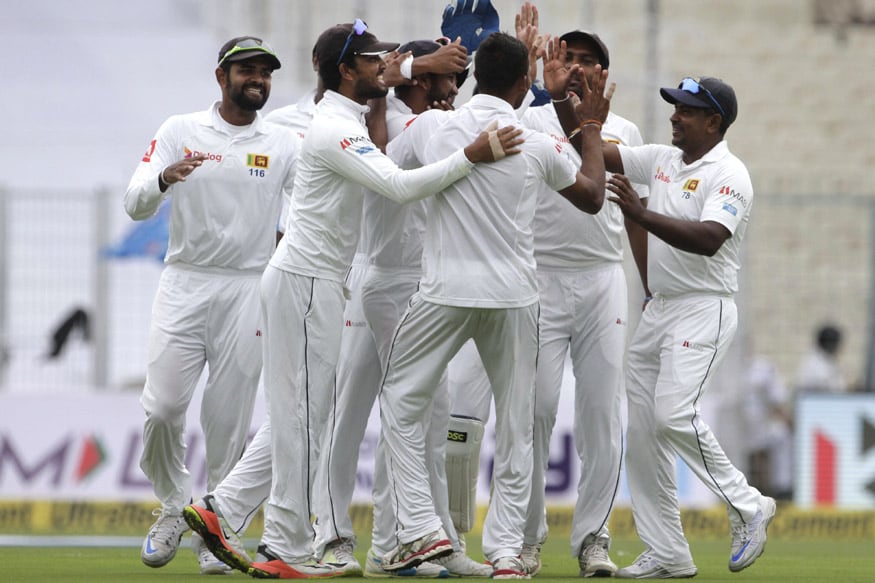 A peek into the future. That's what Indian cricket got under blue sky and sunshine on the third day at Eden Gardens. They were in a similar position against Australia in Bangalore last March, but on a pitch that gave the spinners the same kind of extravagant assistance that the pace bowlers got in overcast conditions on the first couple of days here.
In Bangalore, after bowled out for just 189, India were magnificent on day two, keeping Australia to 197 for 6. Virat Kohli rotated his bowlers, and no one ceded an inch as the Australians were made to battle for every run. It was that discipline shown that day that paved the way for the turnaround that followed.
This has been a very different, stop-start Test. And any sense of optimism India felt after the last four wickets added 93 quickly dissipated as Sadeera Samarawickrama, one of the most exciting young batsmen in the game, got going with a flurry of shots. It took Bhuvneshwar Kumar a while to find his range, and Mohammed Shami was equally erratic with the new ball. The early incisions that India invariably made on the tour of Sri Lanka were absent here, though both openers fell to Bhuvneshwar in quick succession to give India a route back into the match.
In vastly different batting conditions, Sri Lanka scored a lot faster than India had. You couldn't really be too harsh on the Indians for that. Sri Lanka bowled a lot of deliveries outside off stump that could be left alone, even if a couple of batsmen fell for the bait. With such a small score to defend, India had to attack the stumps more and try to get wickets. There were unlucky with a few edges that streaked through the slip cordon, and didn't help themselves when Shikhar Dhawan at first slip shelled a simple chance with Lahiru Thirimanne on 25. Sri Lanka were on 70 for 2 at the time, and Thirimanne's partnership with Angelo Mathews was worth 36.
They would go on to add 99, by a distance the biggest partnership of the match. Kohli's angry reaction, throwing the ball into the turf, after he caught Thirimanne, was indicative of India's frustration as the afternoon wore on. Shami bowled one jaffa after another, with not an ounce of luck, while Umesh Yadav came back to pick up the wickets of Thirimanne and Mathews.
If India are still in the contest, it's because both batsmen failed to kick on when well set. Thirimanne could point to an excellent delivery from round the wicket that held its line, but Mathews played a nothing shot to short cover. If it's an overcast morning on Sunday (November 19), India's pace bowlers can regroup and come again.
The weather, however, looks certain to stymie any hopes of a result. Even if the rain stays away, and it's supposed to on Sunday, the light here fades so fast that it's almost impossible to see play continuing after 4pm. Realistically, we can expect another 150 overs of play, with two innings not yet complete.
With tours of South Africa, England and Australia to come over the next 15 months, India know this will be their fate when the batsmen fail. When they do, it's imperative that the bowlers keep them in the game as they did in Bangalore. At Eden Gardens, India were decent, but nowhere near as clinical as they needed to be. The intensity glimpsed against Australia just wasn't there. The captain and coach have to ensure that the snarl comes back, and soon.